3 Reasons Queretaro is Right for Your Manufacturing Site
The city of Queretaro, located in one of Mexico's smallest states of the same name, has become a big deal in manufacturing. The urban area surrounding the city has a population of 1.3 million people, many of whom have come to the area for jobs in the fast-growing manufacturing sector.
From 2003 to 2013, the area saw a 208 percent increase in foreign direct investment, supporting growth from 428 companies to more than 1,300 within that ten-year period. And Queretaro shows no signs of slowing down. In 2018 manufacturing employment grew from 79,326 (20%) to 91,564 (22.7%) people. This metro area has plenty to offer manufacturers looking for specialized experience and global connectivity.
A fast-growing economy
The state of Querétaro stands among the top 10 richest Mexican states. More than 95% of the active population is employed, and much of that employment is in manufacturing. In fact, manufacturing accounts for approximately 32 percent of the state of Queretaro's economy, most of it located in or around the capital city.
The city is home to an aerospace cluster that includes 30-plus year veteran Airbus. The manufacturer has invested roughly USD $100 million in its three decades in Mexico, most recently including a commitment to double production capacity at its Queretaro plant and build a $12.5 million maintenance, repair and operations center for helicopters.
Meanwhile Bombardier, which opened its plant in the city in 2007, closed 2018 "with a great year," Carlos Robles, Vice President of Operations of Bombardier Mexico, told El Financiero. The company wrapped up a four-year $50 million investment in the plant that's updated the manufacturing processes behind production of the Global-7500 aircraft. That growth led to a 53 percent increase in employees last year, for a total of 2,000 people.
But aerospace isn't the only job provider here. In April 2019 alone three new automotive projects were announced: a major plant expansion for Tier 1 supplier Martinrea, a 600 employee hiring boost for auto interior component manufacturer Mitchell Plastics, and a $25 million expansion for die-cast and extrusion supplier Exco Technologies Limited.
Investments from companies like these, as well as in the appliances, biotechnology, food processing, and plastics industries, have pushed Queretaro's GDP to grow faster than the national average in recent years. Data from the Citibanamex State GDP Growth 2017-2018 report saw Querétaro among the leaders with a 5.1% growth rate compared to the national figure of 2.9%.
A highly trained demographic
One of the major reasons behind the metro area's booming business growth is the local investment in its people. Hugo Mandujano, former director of Investment Promotion for the State of Querétaro, Mexico, gave credit to Querétaro's growth to the local government's commitment to have the highest percentage of educated people in the whole country. The infrastructure supporting this goal includes more than 100 training centers, 22 universities and technical schools, and 52 research and development facilities. As a result, illiteracy levels in the state are very low, at only 3.32%.
In 2006, a commitment to local training proved critical in securing Bombardier's investment in the city. According to Mandujano, that led to the establishment of the National Aeronautic University of Querétaro, a higher education institution providing specialized training for the aerospace sector. The benefits of the school, and other training centers like it, have helped the region rapidly grow to a hub for specialized manufacturing.
This specialized training also means that Queretaro job seekers are eager to join the local manufacturing sector and may be willing to do so at a wage equal to or below the industry median.
Global connectivity
Supporting the metro's growth is its connectivity to the global community. The city of Queretaro is a 2-hour drive to Mexico City along Mexico's interstates 45 and 57. It sits 570 miles south of the Texas border, and 924 miles to Houston, Texas. It's also home to the Queretaro Intercontinental Airport, the country's fastest-growing airport, and has access to international rail service and seaports in the Gulf of Mexico. The city of Queretaro is a logistics center providing access to the world.
The region also recently earned new credit for connectivity to its name: broadband leader. An analysis of mobile broadband speeds in Mexican cities conducted by OpenSignal, a wireless coverage mapping specialist, found that Querétaro had the second fastest download speeds provided ample 4G coverage.
A strong support system
Companies looking for the right site for expansion into Mexico will find plenty to appeal to them in Queretaro. The metro area continues to push to build the type of infrastructure that will support manufacturers in getting product easily out to any market. With its experienced workforce and competitive industry clusters, Queretaro may have something to offer every manufacturer.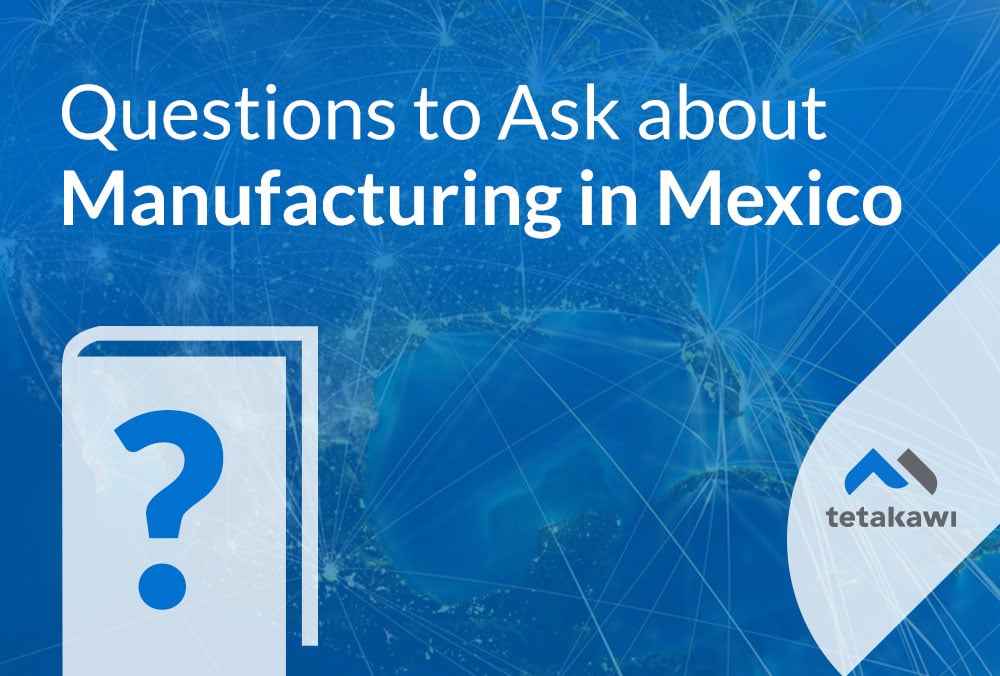 Start your journey into Mexico today!
50+ Questions to ask before expanding into Mexico
Thinking about expanding into Mexico? Step 1 of your due diligence process is answering all of these questions. Over the last 33 years, thousands of companies have used this guide to accelerate their expansion into Mexico.