Trends from 2016 that impacted manufacturing in Mexico
For businesses conducting their operations in the U.S., China or considering expanding to Mexico, understanding the current trends within the manufacturing industry and partnering with organizations equipped with knowledge surrounding the economic and industrial climate is essential to long-term success. As the first quarter of 2016 comes to a close, it is valuable to take a look at some of the emerging themes that will define the industrial sector this year, and even add to the appeal of manufacturing in Mexico:
1. The rise of ecommerce
One trend that will shape the manufacturing landscape this year is the growth of ecommerce. As online technologies emerge to accommodate both consumers and businesses dependent on digital channels that broaden their access to goods and services, the manufacturing industry will be positively impacted. In fact, SupplyDemandChain Executive stated cloud technology and ecommerce capabilities make it easier for companies to connect, maintain and manage relationships with suppliers, distributors and manufacturers online throughout every stage of the manufacturing process.
Mexico is a prime location for companies to tap into the efficiencies ecommerce provide. Econsultancy reiterated this point by sharing research that found Mexico's ecommerce industry has grown 400 percent over the last five years. Additionally, Area Development AT&T announced plans to invest $3 billion to extend its high-speed mobile Internet service to Mexico. The expanded network will cover 100 million consumers and businesses by the end of 2018, and will serve as an essential piece of infrastructure that promotes ecommerce activity in the country.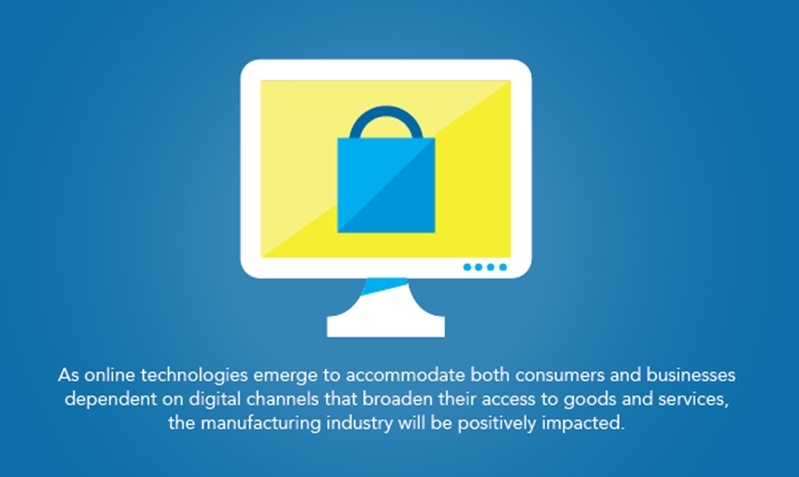 2. A heightened focus on nearshoring
Ecommerce will contribute to the speed and efficiency of manufacturing logistics. However, smart business owners are increasingly interested in shortening supply chains altogether. In fact, Manufacturing Business Technology Magazine predicts that in 2016, more companies will prioritize "right-shoring," This entails locating their manufacturing and distribution activities where they can be performed with both quality and efficiency, in a destination that is logistically convenient. Moreover, Supply Chain Brain cited data from an AlixPartners survey of 248 manufacturing executives that found 32 percent of respondents had recently near-shored production or were in the process of doing so.
For companies that supply customers in the U.S., Canada or South America, Mexico stands out as the only real strategic destination to perform manufacturing activities. Considering the country's close proximity to the U.S., and participation in the North American Free Trade Agreement, businesses that hope to supply North and South America can create invaluable supply chain efficiencies by manufacturing in Mexico. Research from AlixPartners underscores this fact, as 31 percent of respondents chose Mexico as their most attractive near-shoring destination, which was an increase from 28 percent the prior year. Even more, research from Chase showed it takes five weeks and costs $4,300 to ship a 40-foot container from China to the U.S, compared to only one week and $1,800 to do so from Mexico.
3. Auto industry growth
The auto industry is growing, and manufacturers who plan strategically stand to benefit. In fact, IHS predicts a 2.7 percent uptick in global auto sales, totaling 89.8 million in 2016. As the health of the auto industry continues to rise, more manufacturers will want to tap into this flourishing market, and there is no better place to do so than in Mexico.
According to USA Today, data from WardsAuto found Mexico produced roughly one in five of all vehicles manufactured in North America in 2015, which was double the production from the country in 2004. This rate is expected to increase to one in four by 2020, and there are a number of reasons Mexico's automotive manufacturing industry is booming in particular:
Low labor prices coupled with a skilled workforce creative a strong cost efficiency for automakers.
The country's participation in NAFTA means manufacturers can import and export parts and finished products quickly and easily.
Mexico's maquiladora system, which enables manufacturers to work with a shelter services company, adds to the ease of entry there.
The country's close proximity to the U.S. gives manufacturers in Mexico access to a high-demand market for automobiles.
The Mexican government is heavily invested in its manufacturing sector, and has devoted funds to education and infrastructure to spurn the automotive sector.
4. Technological transformation
The manufacturing landscape is rapidly changing, which translates to impactful technological transformations throughout the industry. According to PwC, today's manufacturers must embrace technological advances to improve plant productivity, compete against other companies and remain top-of-mind among their customers. PwC outlined some of the technological changes that will affect manufacturing through 2016 and beyond. They include:
"Manufacturers must embrace technological advances to improve plant productivity."
Internet of Things: The modern factory will be a connected one that leverages the power of the Internet of Things to link machines, sensors, computers and humans to create advanced levels of information monitoring, collection, processing and analysis.
Robotics: Since 2013, the number of shipments of multipurpose robots in China doubled to about 75,000 in 2015, and this trend is expanding to Europe and North America. In many cases, robots can actually complement rather than replace workers to create safer, easier and more efficient work environments.
Augmented reality: Recent advances in computer vision, computer science, information technology and engineering give manufacturers the ability to provide real-time information and guidance to workers as they perform complex tasks on the factory floor. While these tools assist workers, they also assess the accuracy and timing of each task and notify operators of quality risks.
3D printing: Some manufacturers are using 3D printing to create parts in small lots for product prototypes, which can reduce design-to-manufacturing cycle times and have a positive impact on the economics of production.
As more companies come to rely on these advanced technologies for their manufacturing operations, it makes sense to station production in a location that grants access to strong infrastructure and a skilled workforce. In this light, Mexico is a competitive choice due to its highly skilled and educated populace that produces workers who are equipped to operate these technologies.
5. A greater focus on data
Finally, manufacturers in 2016 will consider data an integral asset to running their businesses. In fact, Manufacturing Net shared data from Deloitte and the Council on Competitiveness, which revealed manufacturing executives identified predictive data analytics as the most critical technology to long-term growth. Not only does data fuel advanced technologies including robotics and the IoT, it allows manufacturers to make smarter business decisions and coach their workers to be more productive.
As the importance of data in manufacturing continues to rise, companies must choose manufacturing locations, such as Mexico, that provide the infrastructure and workforce to tap into this invaluable resource. One example of how Mexico is emerging as a leader in the digital, data and connectivity spaces was shared by AlphaGalileo. According to the organization, Mexico is the first country to commercialize light fidelity connection technology, which enables transmission of audio, video and Internet of up to 15 megabytes per second through a service called LedCom. Li-Fi technology transmits data wirelessly through visible LED light, eliminating the need for modem and Wi-Fi signals, which may be ideal for a manufacturing environment that utilizes data and advanced technologies.
Each year, manufacturers can set themselves up for success by taking the time to understanding the changes in their industry and ensuring they are producing goods in a location that is well-equipped to keep up with the trends. Manufacturing in Mexico is a wise decision for businesses that hope to take advantage of ecommerce, tap into the booming auto industry, move their operations closer to high-demand markets, leverage advanced technologies and utilize data to become more efficient.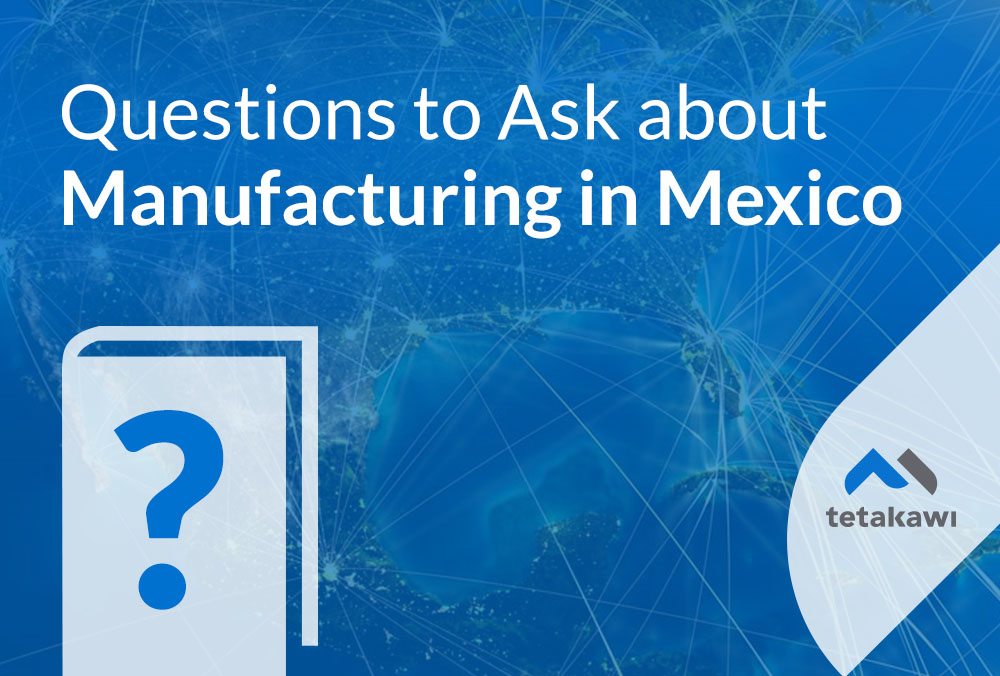 Start your journey into Mexico today!
50+ Questions to ask before expanding into Mexico
Thinking about expanding into Mexico? Step 1 of your due diligence process is answering all of these questions. Over the last 33 years, thousands of companies have used this guide to accelerate their expansion into Mexico.