San Luis Potosí is growing its manufacturing base fast, thanks to a powerful combination of easy access to labor, customers, and suppliers. From 2018 to 2019, this centrally located state in Mexico saw public investment of more than $2 billion USD and millions in foreign direct investment. With this growth, San Luis Potosí continues to strengthen its connectivity and clusters, scaling up the benefits that manufacturers can find here.
The manufacturing industry in San Luis Potosí makes up approximately 25% of the state's GDP, compared to about 18% for the rest of the country. As of December 2019, the state had exported more than $15 billion USD worth of goods, exceeding the previous year's total on a steady upward trajectory. A significant portion of those exports—more than $11 billion—around automotive components. However, other manufacturing sectors are taking route here, including machinery fabrication, food production, and textile manufacturing.
Manufacturers across a range of sectors are discovering the benefits that San Luis Potosí has to offer. To determine if this fast-growing region could benefit your future operational site, we outline a few of those benefits below.
A convenient location in central Mexico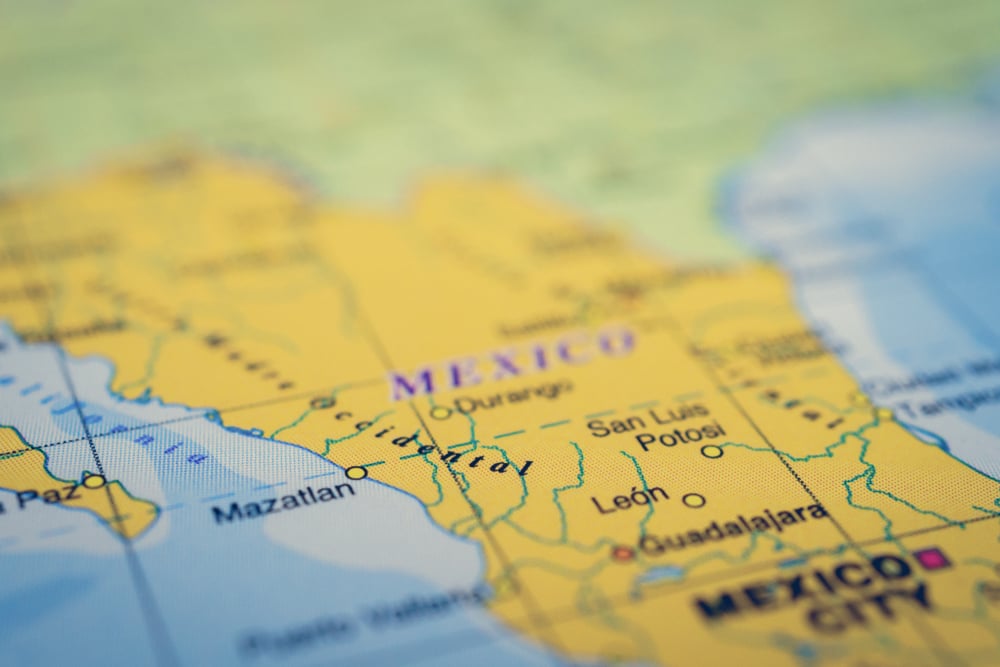 San Luis Potosí, the capital city of the state of the same name, has a central position in northeast Mexico, between the engineering and manufacturing hubs of Mexico City to the south, Monterrey to the north, and Guanajuato to the west. A part of Mexico's Bajio region, this strategic location offers manufacturers tremendous access to a concentrated supply chain.
Gustavo Puente, Minister of Economic Development in San Luis Potosí (SEDECO), has commented that by working closely with nearby OEMs and suppliers—including Toyota, Honda and Mazda in Guanajuato, Nissan in nearby Aguascalientes, Volkswagen in Puebla, and suppliers throughout Queretaro—San Luis Potosí provides manufacturers with an ideal location.
As is the case with so much of Mexico, the state also affords easy access to customers in the United States. Companies can reach Laredo, Texas via an 8-hour drive or arrive in the United States after a 1- to 2- hour flight from Ponciano Arriaga International Airport. The state also boasts the largest intermodal terminal in Mexico, supporting easy rail transport of freight. This convenient location is just one benefit to manufacturing in San Luis Potosí.
Big demand from fast-growing automotive supply chain
Here, in the heart of this manufacturing-focused region, BMW made big news when it announced its investment in the region. Today, the $1 billion USD plant is the source of employment for more than 2,500 people in the region. However, that launch was only the last of a long string of investments strengthening the local automotive cluster. The region has been home to a General Motors plant since 2008. The OEM makes its Chevrolet Trax, GMC Terrain, Chevy Equinox, and GMC Denali here and employs more than 1,800 people.
Today, more than 200 additional companies serve the automotive industry. This tremendous growth has led to the development of a local automotive cluster made the state the second most specialized automotive component producer in the country.
However, that rapid growth shouldn't fool investors into thinking the area is oversaturated with automotive manufacturers. Indeed, as Greg Laskey, vice president of purchasing for Toyota North America, commented during the recent International Congress of the Automotive Industry in Mexico, growing demand for more North American-manufactured components presents an opportunity for OEMs to expand their supply chain in Mexico at all tier levels.
The latest company to take that challenge is auto parts maker Premium Guard Inc., which has made plans for a $27 million plant in San Luis Potosí set to provide aluminum injection products for Ford, General Motors, and Volkswagen by the first quarter of 2021. At the same time, Metal Technologies is expanding its local plant with $26 million investment that will create 175 jobs to better supply brake, steering and engine component demand.
Access to a qualified workforce
The San Luis Potosí metro area is home to a population of 1.2 million people, and has steadily increased about 1.5% in recent years. The state itself has a population of 2.8 million, with about 1.2 economically active individuals. About 20% of this economically active group is employed in manufacturing, creating an available pipeline of semi-skilled laborers.
The state has worked hard to support this pipeline with skills training through its support of several training, innovation, and research centers. These include the Institute for Scientific and Technological Research, which supports research in advanced materials, as well as the state Universidad Autónoma de San Luis Potosí.
Corporate supported training and innovation
The dense cluster of manufacturers has also given rise to more focused research and training centers. For example, BMW Group has imported from Germany its "dual vocational training program" to build the skilled workforce that it needs. Since 2015, the facility has held collaboration agreements with five educational institutions across the state, resulting in the specialized training of more than 350 apprentices in skills including Mechatronics, Production, and Automotive Mechanics. The training program has focused on building interest among women in more technical careers within the automotive industry.
In addition, Cummins Inc., a manufacturer of power solutions, has a Research and Development Center at its manufacturing facility in San Luis Potosi. The advanced labs were designed to create a campus experience where the company's products are "remanufactured" for like-new performance after experiencing wear in the field. It's a sustainable process that requires know-how in robotic and manual methods for additive manufacturing, including laser deposition, thermal spray, and welding. The company works closely with the National Council for Science and Technology in Mexico, technical universities, government, and external research and development centers to support this work.
State support for foreign investors
Mexico's federal government provides strong support for foreign direct investors through the establishment of the IMMEX program, pursuit of free trade agreements, and a business-friendly climate. San Luis Potosí adds to this a range of tax incentives to foreign direct investors debating the benefits of operating here.
Of course, getting the full range of benefits available from manufacturing in San Luis Potosí depends upon a strategic approach to your site selection. With insight into the local resources available, companies can ensure a timely launch that maximizes all available benefits.
Think that San Luis Potosí might be right for your manufacturing operation? Contact Tetakawi today to begin your dive into a customized site selection analysis.
Subscribe
Sign up and stay informed with tips, updates, and best practices for manufacturing in Mexico.