Aircraft Supply Chain Finds Labor Solutions in Mexico
The aerospace manufacturing industry has suffered its share of setbacks since the COVID pandemic slashed air travel and new aircraft sales, but there's another growing threat on the horizon: labor shortages.
In addition to ongoing challenges in material procurement, the aircraft supply chain is now reporting difficulty finding welders, machinists, and other workers to produce parts ranging from turbine blades to engine castings. While aerospace companies like Boeing are taking steps to boost production, Boeing suppliers' labor problems are putting the OEM at risk of turning out partially completed planes.
Airbus and Boeing suppliers can prove their reliability as a partner by expanding their manufacturing footprint to Mexico, where a trained workforce is ready to get to work.
Supply chain problems in aviation
Reports indicate that a wide range of the smaller manufacturers that supply the aviation industry face steep labor shortages. Two years after U.S. aerospace companies shed 57,000 employees, they are having a hard time rebuilding their workforce. As companies like Boeing Co. gear up for a production boom that Bloomberg News calls the aviation industry's steepest ramp-up in modern aviation history, the aircraft supply chain shows signs of stress.
As Bloomberg reports, approximately two-thirds of suppliers surveyed by RBC Capital Markets cite labor shortages as the biggest risk to aerospace recovery. Aerodynamics Advisory notes that worker shortfalls of 10% to 20% are expected, with foundries Howmet Aerospace Inc. and Precision Castparts Corp., which produce jet-engine components, reducing staff by 17% and 40%, respectively, during the downturn.
Raytheon Technologies Corp., an Airbus and Boeing supplier, is watching shortages of welders at casting companies in its supply chain. As Greg Hayes, CEO of Raytheon, noted on the Q4 2021 earnings call, less than 100 of the company's 13,000 product suppliers are causing the company concern. "[B]ut it only takes one to miss a shipment."
With former staff having retired or moved into new industries taking their knowledge and specialized skillsets with them, many suppliers are now in a bind. While companies like Raytheon are pointing to the need to raise wages to attract labor, finding labor is only part of the problem. The specialized training needed to become a precision machinist, for example, doesn't happen overnight.
Fortunately, there are steps that suppliers can take to strengthen their labor force and more reliably serve aerospace OEMs and Tier 1 suppliers.
How Mexico labor supports aircraft supply chain
Aircraft suppliers have long found that manufacturing out of Mexico can help address both cost pressures and labor needs. The country has several massive aerospace manufacturing clusters with extensive experience delivering quality components to Boeing, Airbus, and other OEMs through a dense supply chain encompassing all tiers of production.
While Queretaro is well known as a hub of aerospace manufacturing, mainly through establishing the Bombardier facility there and that company's support to the Aeronautical University of Queretaro. However, Sonora has quickly grown its reputation for aerospace manufacturing. Today, the state is the second-largest aerospace cluster in the country.
Sonora has been an automotive hub for decades but has since become known for aerospace turbine production. While some of this expertise grew out of the strength of the region's automotive manufacturing infrastructure, the aerospace specialty also owes its roots to Sonora's shared border with Arizona, the fourth largest aerospace cluster in the U.S. This megaregion has created tremendous synergy and opportunity across the two states.
There are now 69 aerospace companies established in Sonora, which together employ more than 20,000 people. However, much of this production is centered in two key locations.
Aircraft supply chain in Guaymas
Aerospace manufacturing has exploded in the coastal city of Guaymas, where costs are comparatively lower than in the capital and companies gain access to deep-sea ports. The coastal city is home to a population of more than 51,000 in the immediate vicinity and a strong educational infrastructure. That includes facilities such as the Advanced Technology Training Center (CEFTA) located within the Roca Fuerte Manufacturing Community. CEFTA provides hands-on opportunities for students to learn the complex machining skills that aerospace component manufacturers need. This training can help manufacturers shorten onboarding time for new laborers.
From the Roca Fuerte manufacturing community, Boeing suppliers Ducommun Aerostructures, Inc. assembles and paints spoilers, and BAE Systems manufactures avionics solutions. Arizona-based Walbar Engine Components produces turbine engine components for nearly all of the top engine OEMs. It's a demonstration of the wide breadth of services that can be found in Guaymas.
Aircraft supply chain in Hermosillo
Sonora's capital, Hermosillo, also has a strong aerospace manufacturing presence. In fact, the city is home to the Sonora Institute for Aerospace and Advanced Manufacturing (SIAAM), a specialized training center that has trained technicians to work for the main companies in the aerospace sector. Compared to Guaymas, Hermosillo offers a much larger potential workforce with a population of more than 930,000. The city also offers more real estate for suppliers ready to get to work in as little as 90 days. The Rio Sonora Manufacturing Community is among the newest locations to provide Class A industrial real estate and build-to-suit space.
From Hermosillo, Figeac Aero Mexico performs aircraft metal processing and treatment and assembly, T.E. Connectivity Aerospace delivers aerospace sensors and electronics, and Latécoère Mexico engineers next-generation lightweight structural assemblies and aerospace fasteners.
Strengthen your global competitiveness
Material challenges also continue to plague the aircraft supply chain, but Mexico offers some level of flexibility in component sourcing as well. The country's 14 free trade agreements, connecting Mexico to more than 50 countries, make an easy location from which to import and export goods with partner suppliers worldwide. Mexico also provides a low-cost entry into the nearby U.S. market due to the cost savings for North American manufacturing afforded by USMCA.
With labor shortages plaguing so many industries, it's time for manufacturers to think outside of traditional ways of doing business. For many parts of the aircraft supply chain, this may mean going to where workers are available rather than hoping to attract a workforce that isn't there.
To learn more about how a diversified manufacturing footprint can help your company, contact Tetakawi today.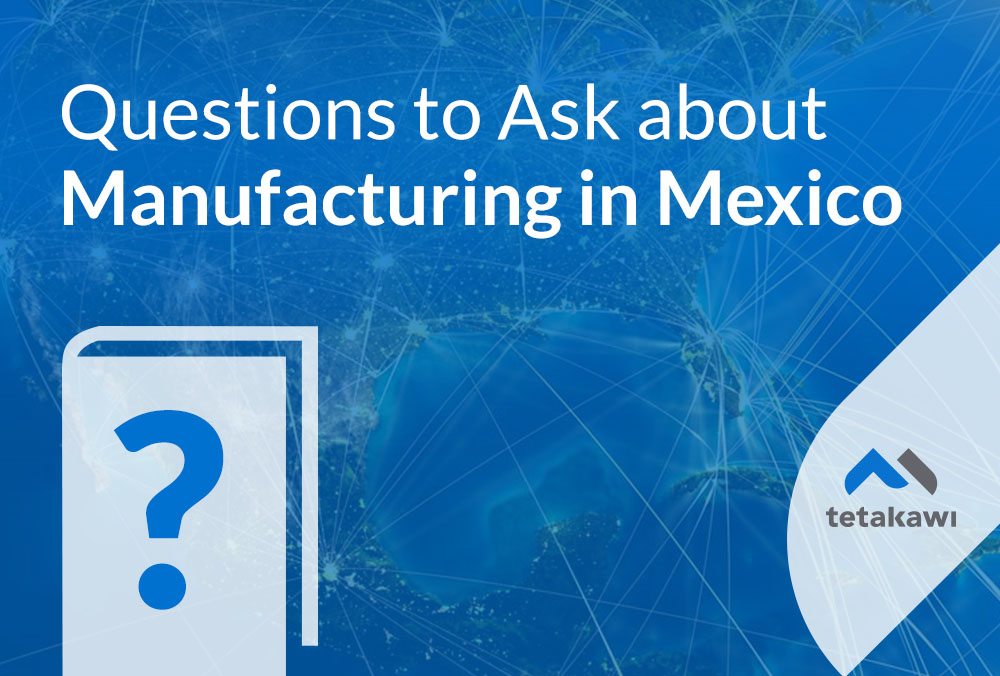 START YOUR JOURNEY INTO MEXICO TODAY!
50+ Questions to ask before expanding into Mexico
Thinking about expanding into Mexico? Step 1 of your due diligence process is answering all of these questions. Over the last 33 years, thousands of companies have used this guide to accelerate their expansion into Mexico.