Tetakawi, the largest provider of shelter services in Mexico, is hosting an informative workshop in Atlanta. With over three decades of experience, Tetakawi has earned its place in the manufacturing sector, providing valuable solutions to businesses interested in expanding into Mexico. This event, while hosted in Atlanta, has already attracted companies from Texas, California, and Florida, demonstrating the widespread appeal and significance of manufacturing opportunities in Mexico.
Why host an event about Mexico manufacturing in Atlanta?
Atlanta, like many regions in the U.S., is recognized for its manufacturing growth and innovation, boasting a wealth of skilled labor and diverse industries. However, the broader challenges faced across the U.S., such as labor constraints, have led to obstacles for businesses nationwide, sparking interest in exploring additional capacity.
Mexico emerges as a compelling solution to these universal challenges, offering opportunities that align with the needs of various regions. Tetakawi's workshop is designed to explore how Mexico can be a strategic advantage for companies looking to expand and create additional manufacturing capacity. While hosted in Atlanta, the content of this workshop resonates with the current labor dynamics and challenges faced by companies across the U.S., making it relevant for businesses from other states as well.
Who should attend this workshop?
Companies Exploring Mexico:

If you're considering manufacturing in Mexico or looking for alternative venues, this workshop provides the insights you need.
Consultants and Site Selectors: Enhance your knowledge of Mexico's primary manufacturing locations and strategies for client success.
Private Equity Firms: Learn strategies to enhance the financial performance of manufacturing companies in your portfolios through Mexican opportunities.
Leaders in Manufacturing: CEOs, Presidents, Plant Managers, and other key decision-makers will benefit from the comprehensive overview.
Supply Chain Professionals: Gain an understanding of how manufacturing in Mexico can influence supply chain dynamics.
International Business Managers: Those managing international operations can learn about the regulatory and logistical aspects of expanding into Mexico.
Event details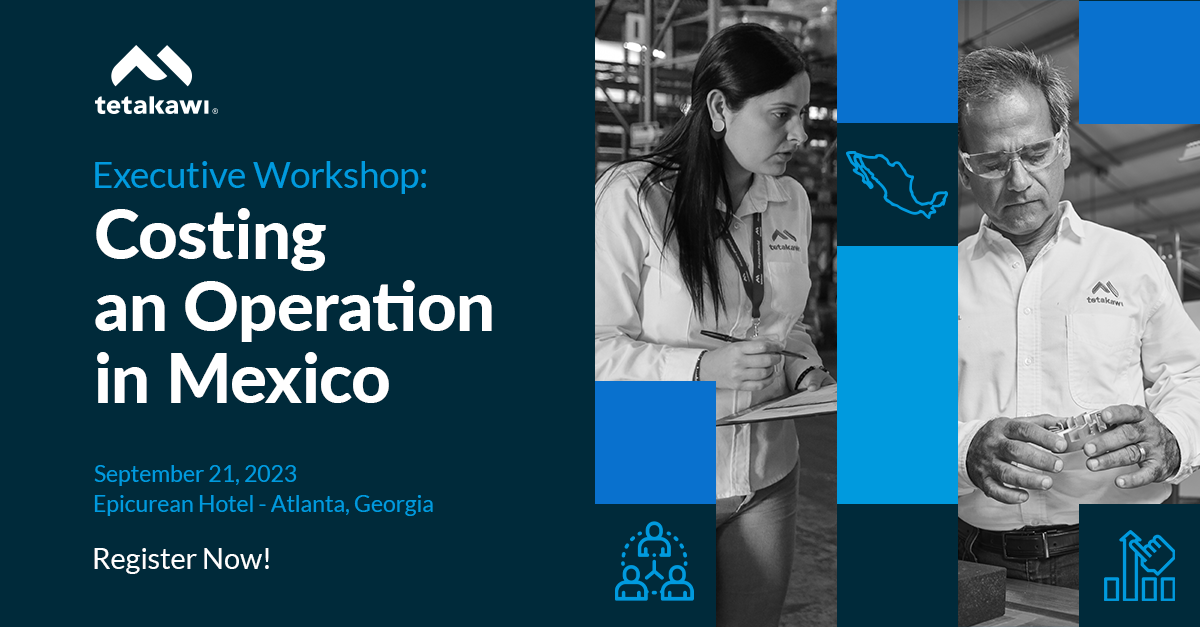 Location: Epicurean Atlanta, Autograph Collection - Epicurean Theatre, 1117 West Peachtree Street Northwest, Atlanta, GA 30309
Date: Wednesday, September 21, 2023
Time: 8:30 AM – 12:30 PM EDT
Price: $150 (Group discounts available)
Register for the Atlanta workshop today!
What will you learn?
Cost Factors Associated with Manufacturing in Mexico: Understand various cost components, including labor, overhead, and logistics.
Labor Market Overview: Explore Mexico's workforce availability, productivity, labor relations, and cost structures.
Establishing and Running a Manufacturing Operation in Mexico: Learn processes for site selection, legal framework, operational setup, and ongoing support.
Comparing and Evaluating Different Venues in Mexico: Evaluate Mexico's primary manufacturing locations based on your specific needs.
Enhancing Financial Performance for Manufacturing Companies: Discover strategies to optimize cost-effectiveness.
Navigating Regulatory and Compliance Requirements: Understand legal and regulatory aspects.
Supply Chain Management and Logistics: Learn about supply chain dynamics, including sourcing, transportation, and distribution.
Success Across the U.S.: Dallas and Palo Alto Workshops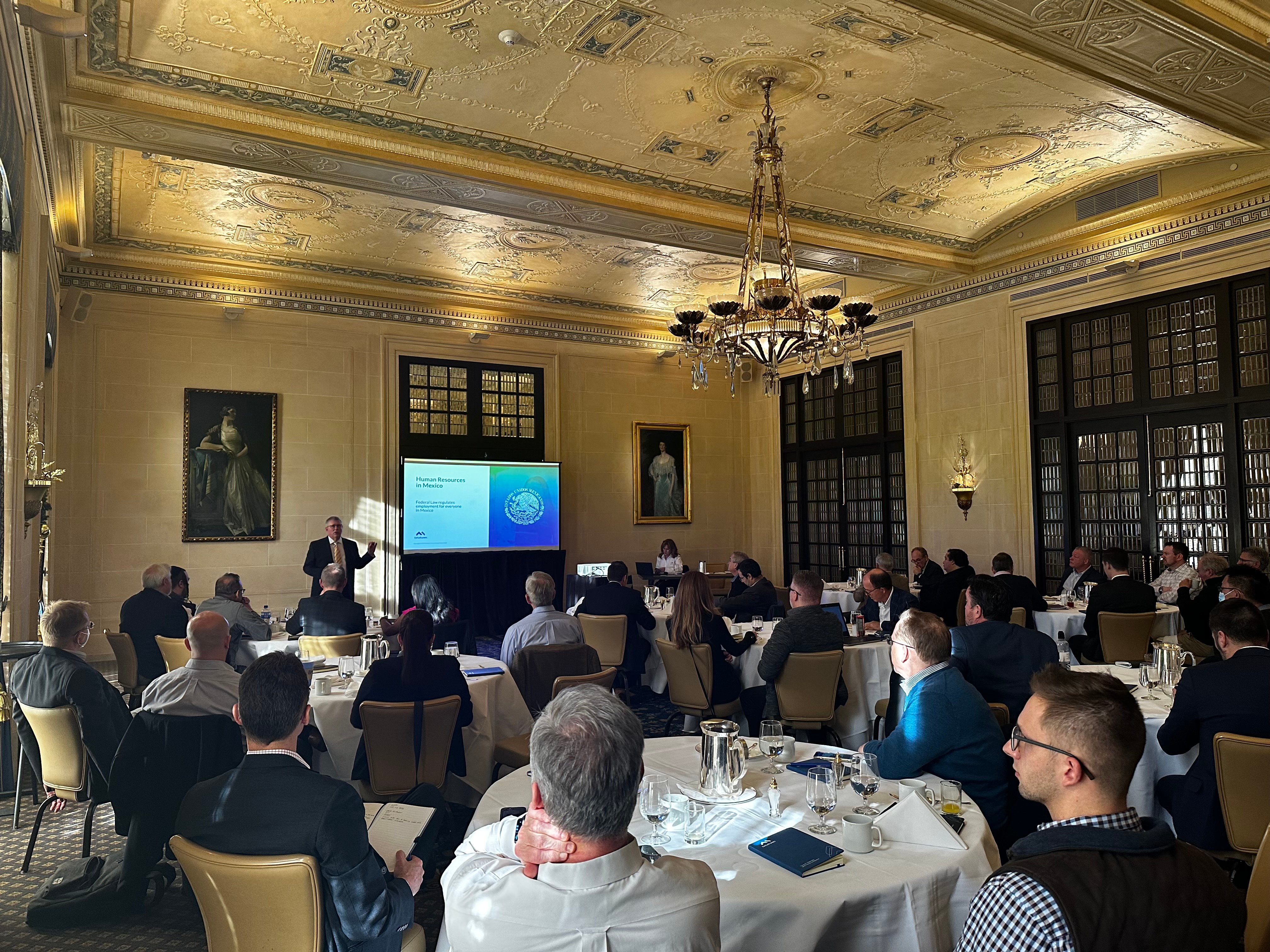 Building on the success of similar events this year, Tetakawi has already hosted well-received workshops in Dallas and Palo Alto. These gatherings have brought together companies, consultants, private equity firms, and industry experts, all seeking to enhance their understanding of manufacturing opportunities in Mexico.
Participants have praised the actionable insights, networking opportunities, and expert guidance offered at these workshops. The Atlanta event promises to continue this tradition of excellence, extending the conversation and knowledge-sharing to a wider audience interested in exploring manufacturing solutions in Mexico.
Join us in Atlanta!
This workshop is an unparalleled opportunity to gain insights into the advantages of expanding into Mexico. Designed for a broad audience, it offers actionable insights that transcend regional boundaries.
If you are interested in expanding into Mexico but unable to attend, please contact us to learn about additional upcoming workshops or to schedule a call.
Register today at Tetakawi Atlanta Workshop to learn from the largest provider of shelter services in Mexico.
Subscribe
Sign up and stay informed with tips, updates, and best practices for manufacturing in Mexico.