If you follow recent auto industry news, you'll see a lot of talk about auto manufacturing in Mexico. Politicians, industry leaders and consumers constantly share their opinions about the advantages and challenges the country holds for business, while more and more major U.S. brands move facilities across the border.
One thing companies should recognize, though, is automotive manufacturing in Mexico did not spring up overnight. While there are events - like the election season - that have brought the issue to the forefront, Mexico's commitment to providing the labor and resources necessary to attract foreign partners is built on years of investments in infrastructure, local populations and trade agreements. The end result is a nearshoring option businesses can rely on for future growth.
The Past
Auto brands around the world have used Mexican manufacturing plants for years. Automotive World reported Nissan Mexico recently celebrated its Ciudad Industrial del Valle de Cuernavaca facility's 50th anniversary. Before moving to Mexico, Nissan only had plants in Japan.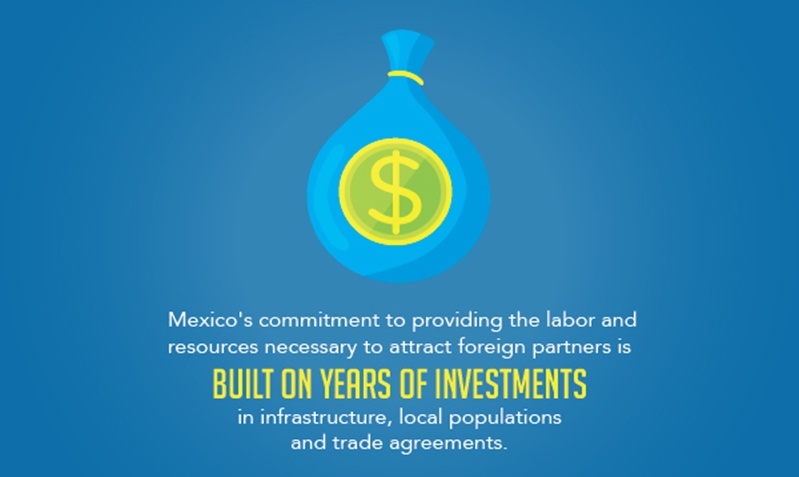 While global businesses have been in Mexico for decades, the country didn't fully attempt to be a world manufacturing leader until the 1990s, according to PricewaterhouseCoopers. The country's leadership in manufacturing came from the signing of the North American Free Trade Agreement (NAFTA) that opened up faster and more cost effective options for manufacturers. During reconstruction of its production market over the past couple of decades, Mexico aimed to take advantage of its geographic position and population eager for employment. The country borders U.S. consumers and offers sea ports for other foreign territories. Now the country has free trade agreements with 44 countries, more than most foreign competitors.
Mexico also started building manufacturing communities close to the U.S. border and in other territories with abundant resources. As manufacturing became successful, the government invested in infrastructure so employees could drive to work and business could easily make shipments.
The Present
The 2009 world recession slightly slowed Mexico's progress - while affecting numerous other industries as well - but the region has come back strong. PricewaterhouseCoopers says the country is the eighth-largest auto producer in the world and climbing, with major brands like Nissan, Honda, Mazda and Ford opening facilities throughout the region. Most automotive manufacturing that takes place in Mexico is for foreign partners. Steel Times International said 80 percent of vehicles produced in the country are exported to other markets, with 7 out of 10 of those exports sent to North America.
"Most manufacturing that currently takes place in Mexico is by foreign partners."
It seems the trade agreements and labor force serve as a strong incentive for foreign investment in the area. Mexican government programs also work to encourage innovative products and educational facilities to keep the country in pace with future opportunities.
USMCA, or the new NAFTA is the renegotiation of NAFTA that seeks to modernize the agreement's stipulations, and improve situations for companies and their employees throughout North America. The automotive sector saw most of the main changes, specifically part origins, automotive labor, sourcing from non-trade countries, and duty-free tariffs. Other additions include, the sunset clause and settling trade disputes.
The Future
With the United States-Mexico-Canada Agreement, USMCA, on its way, automotive manufacturing in Mexico is still scheduled to maintain the same pace as a high performing manufacturing center. Future investment in the country could be a hurdle in regards to the agreement because of the implemented higher wages, and the higher rates for a part's country of origin. Although it's too early to tell and the agreement, if passed, will be partially implemented in 2020 and fully implemented in 2023, the similarities between USMCA and NAFTA might provide slight changes to Mexico's automotive manufacturing industry.
One thing is certain, labor forces in Mexico are often more skilled than other offshoring options. World Finance described how Mexican employees will soon get new opportunities in the form of white collar jobs as more research and development takes place in the country. Local populations become increasingly educated and businesses can profit from an eager and skillful workforce.
Growth has been consistent in the region for some time but manufacturers may face obstacles. Government investments in manufacturing may plateau as U.S. demand for new facilities slows down. If a company does want to open a new plant in the country, it would be smart to work with a Mexican shelter service that can identify which region currently holds the resources necessary for production.
Subscribe
Sign up and stay informed with tips, updates, and best practices for manufacturing in Mexico.