Automotive Companies Expanding into Mexico Under USMCA
Trade is being reimagined under a renegotiated North American Free Trade Agreement, and for automotive industry companies considering expanding into Mexico the news has some silver linings.
The United States-Mexico-Canada Agreement (USMCA), signed on November 30, 2018, is currently working its way through the legislative bodies of all three countries. While there remains some pushback within Congress and concern among automotive industry representatives, overall support is positive because the agreement provides a degree of certainty around the future of automotive manufacturing in North America.
While an early glance might show a playing field slanted toward U.S. production, in the long term experts predict little overall impact on the attractiveness of manufacturing in Mexico.
What is changing
The new agreement updates rules or origin clauses established under NAFTA. While USMCA strengthens requirements for production within North American, it also makes the rules far less straightforward.
There are four main requirements that impact the automotive industry. For starters, automobiles' regional value content (RVC) will have to meet a threshold of 75% North American content, up from 62.5% under NAFTA.
In addition, automotive parts thresholds will rise to between 60% and 75% North American content, compared to between 50% and 60% under NAFTA. Specifically that includes 75% of core parts (such as engines, transmissions, body, suspension and steering); 70% of principal parts (such as tires, glass, mufflers, brakes and seats); and 65% of complementary parts (such as catalytic converters, windshield wipers, switches, and headlamps) will need to originate in North America. Automotive industry producers also will be required to source 70% of steel and aluminum for core parts from North America.
The parts thresholds present good news for automotive parts suppliers in Mexico. The country already produces a high percentage of parts for vehicles sold within the United States. This only stands to rise as products previously sourced from Europe or Asia are moved to North America manufacturing facilities.
(Figures in USD billions)
| | | | | |
| --- | --- | --- | --- | --- |
| | 2015 | 2016 | 2017 | 2018 est. |
| Total Local Production | 82.0 | 85.0 | 92.0 | 94.0 |
| Total Exports | 67.7 | 62.2 | 73.5 | 75.0 |
| Total Imports | 42.0 | 40.0 | 49.1 | 52.0 |
| Imports from the U.S. | 30.0 | 28.3 | 29.7 | 31.1 |
| Total Market Size* | 56.3 | 62.8 | 67.6 | 71.0 |
*Total market size = (total local production + imports) - exports
Source: National Auto Parts Industry Association (INA) & United States Department of Commerce, Bureau of the Census, Foreign Trade Division.
The labor rate impact
The fourth requirement under USMCA is that at least 40% of vehicles sold under the agreement must originate from factories where workers earn a minimum of $16 an hour.
This last point shouldn't be a cause concern for companies considering moving into Mexico, where auto assembly technicians currently earn an average $7.34/hour. In fact, the requirement falls in line with President López Obrador's prioritization around raising wages and reforming labor practices, moves that could help keep more highly trained workers in the country.
A study by the Colegio de Mexico found that the wage gap between the U.S. and Mexico actually widened under NAFTA. To help change this, USMCA mandates that Mexico formally give workers the right to form independent unions to ensure that required wage increases take place. The phase-in time for USMCA's requirements gives U.S.-based automotive industry manufacturers plenty of time to adjust to the cost increases that will support a stronger living wage for more skilled workers.
Determining the lesser cost
Companies operating with the automotive industry see that meeting these new requirements isn't as cut and dry as simply moving facilities back into the U.S. Players in the automotive industry may find they need to make tough choices under the new trade deal:
· Absorb the higher costs as lost margin.
· Renegotiate part supply deals, passing costs to suppliers.
· Raise finished vehicle prices, passing costs to consumers.
· Change product mix to make less expensive offerings.
For many companies, the outcome is likely to be a combination of the above. In fact, experts predict that while some companies may move operations from Mexico to the United States, others might find that the USMCA's duty-free benefits simply aren't worth the cost of complying with the 75% North American content requirement and producing more cars in higher-wage factories. Companies that ignore USMCA rules can simply absorb the 2.5% car tariff applied by the World Trade Organization to other countries that export to the United States and continue business as usual.
Experts with Foley & Lardner LLP note that all players in the automotive industry should begin today to evaluate how the USMCA will impact their current activities, possibly as early as January 2020. Indications show that USMCA will be ratified by each country by mid-2019 and come into effect January 1, 2020, for the first phase. That means now is the time to design a strategy for managing costs with up and downstream business partners.
Each company should work with an expert to perform a complete cost analysis before making a decision on where to manufacture. With its skilled labor and the ease of transporting into the United States, it's highly likely that Mexico will remain a preferred location for manufacturing. In the long term, experts predict, Mexico's export orientation and openness is likely to remain unchanged.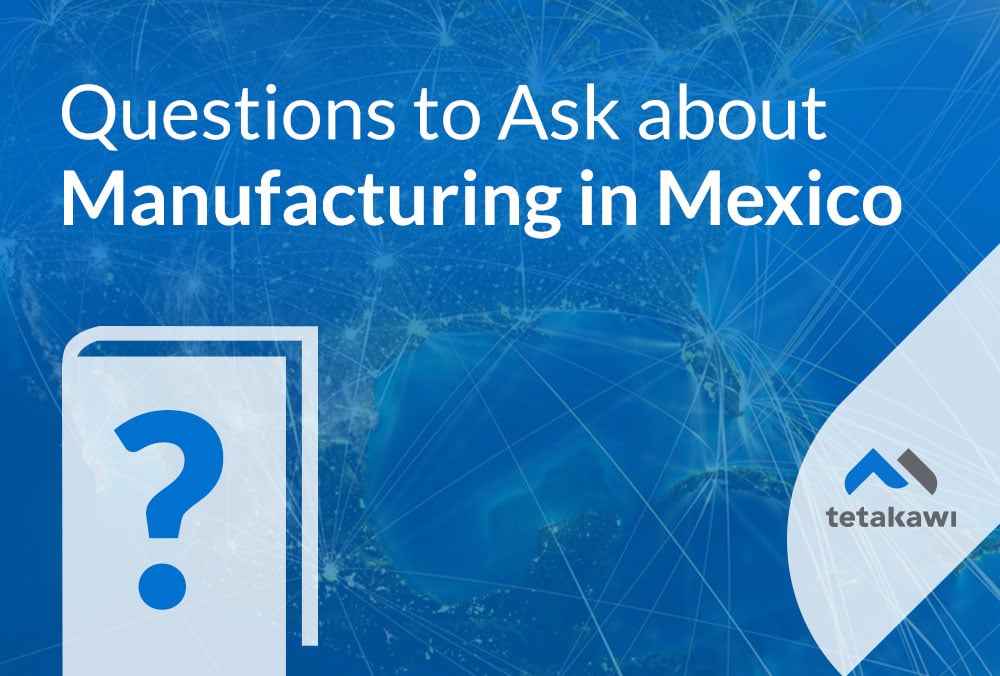 Start your journey into Mexico today!
50+ Questions to ask before expanding into Mexico
Thinking about expanding into Mexico? Step 1 of your due diligence process is answering all of these questions. Over the last 33 years, thousands of companies have used this guide to accelerate their expansion into Mexico.