Automotive Manufacturers Reinvest in Mexico
Automakers contending with coming regulatory changes atop an already evolving marketplace are looking at a wide range of solutions to strengthen their positions. For Honda and Mazda, the answer is to reinvest in Mexico. By retooling their Mexico operations, both companies are looking to streamline production and boost their business efficiency.
Honda put vehicle production in a plant of its own
On September 7, Honda de Mexico, S.A. de C.V., announced it is shifting production of its HR-V crossover SUV from its Guadalajara plant to its Celaya plant by early 2020. The Guadalajara plant will focus solely on manufacturing motorcycles, power products and service parts. Honda expects the move to optimize its production operations in Mexico and improve overall business efficiency.
This year the HR-V saw its first sizable design changes in several years, including refreshed rear and front-end styling; the addition of Sports and Touring trim models; and technology upgrades ranging from a center screen system to standard Apple CarPlay and Android Auto on certain models to expanded safety features through the Honda Sensing suite.
Honda de Mexico, which has had a footprint in the country since 1985, employs more than 7,000 people in Mexico, more than 5,000 of them in Celaya. The company's Celaya plant was launched in 2014 with production of the subcompact Honda Fit. Today, that facility also manufactures HR-V engines, making the HR-V production move a reasonable choice.
Mazda gets Salamanca ready for its next crossover
Meanwhile, Mazda is retooling its plant in Salamanca, Guanajuato, to manufacture both its new CX-30 crossover alongside its latest generation of Mazda3 sedans. The two vehicles share the same platform, making the co-location a common-sense choice. But Mazda Mexico president Miguel Barbeyto offered Automotive News México another reason for the decision to expand production in its Salamanca plant. According to Barbeyto, Salamanca Mexico's free-trade agreements with dozens of nations around the world make it an ideal location from which to efficiently distribute Mexico-made vehicles globally.
In fact, Mexico has more free trade agreements than any other country in the world. It's a strong partner to more than 50 countries, with agreements reaching into Europe, South America and Africa.
Already the Salamanca plant has capacity to produce 250,000 vehicles annually. Mazda de Mexico Vehicle Operation first began producing the Mazda2 there in 2014 and the facility has since become a key location for Mazda. Salamanca is expected to continue to play a role in driving the company's global business strategy.
Flexibility boosts production efficiency
The changes made at Mazda reflect changes underway in China and Japan as well. CEO Akira Marumoto explained to Automotive News that by reconfiguring certain plant aspects, facilities are being geared to rapidly ramp production up or down as needed to match demand. In theory, a plant will be able to change the product mix from 0 to 100 percent, although operation swings would typically be less dramatic. For Mexico, that means Mazda can count on its Salamanca plant to source any vehicle in the future and to feed the growing U.S. demand for crossover vehicles.
The company already is known for having some of Japan's most flexible production lines in part through use of "just-in-time" production. This key component of the Toyota Production System is based on the idea of producing only what is needed for the next process in an ongoing flow. It's about having all the tools and materials in place to respond methodically as soon as the demand for a product arises. Mazda has exported master craftsmen to help apply these strategies to boost production at its Mexico plant.
Ready to reconfigure your methods?
It's easy for companies already benefiting from the low-cost, high skilled labor available to support production in Mexico to overlook new ways to boost efficiency. While the automotive industry is feeling unique pressure from a market hit by price increases and a dramatic need to innovate (including growing demand for electronic vehicles, shared rides, connected vehicles and autonomous vehicles), any organization can benefit from looking for areas to improve.
Another component of the Toyota Production System is the concept of kaizen, typically translated as "continuous improvement." Always looking for problems to solve can dramatically boost productivity. Sometimes, however, it takes an objective third-party to identify those areas ripe for productivity boosts. If you're ready to focus on the manufacturing that you do best, consider reaching out to Tetakawi to learn how you can better streamline your support processes.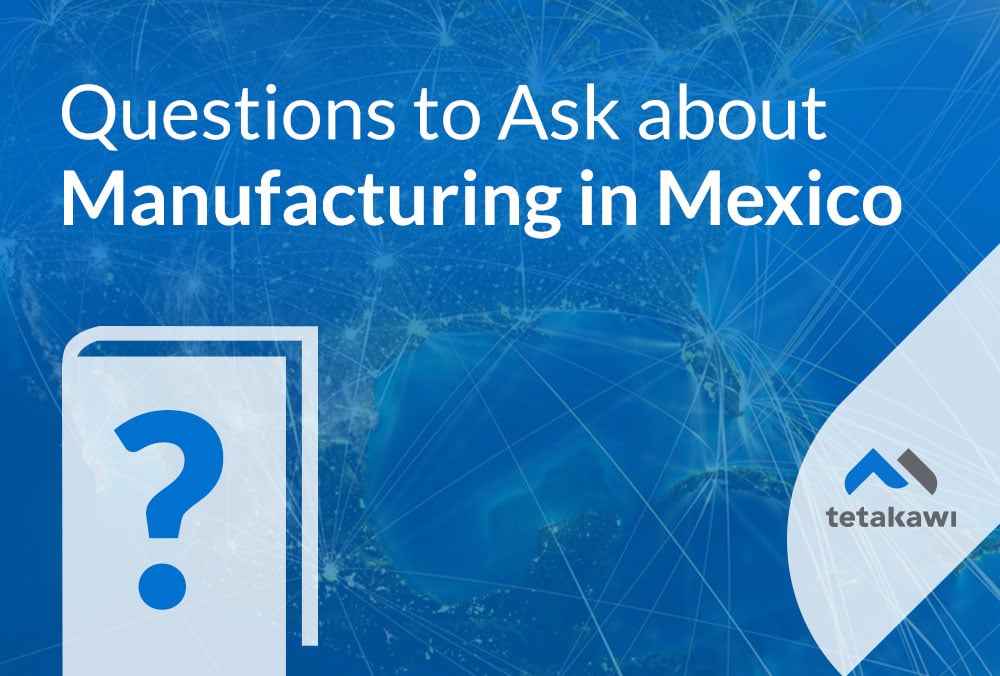 Start your journey into Mexico today!
50+ Questions to ask before expanding into Mexico
Thinking about expanding into Mexico? Step 1 of your due diligence process is answering all of these questions. Over the last 33 years, thousands of companies have used this guide to accelerate their expansion into Mexico.