Automotive Manufacturing in Mexico will Continue to Flourish
Automakers worldwide have realized the offshoring advantages of manufacturing in Mexico, and many consider . As ProMexico pointed out, investment announcements by BMW, KIA Motors and Toyota in late 2015 translated to a projected increase of 50 percent in the production of light vehicles by 2020. Mexico's automotive manufacturing sector will continue to grow, and businesses spanning from Tier 1 suppliers and OEMs are smart to consider moving their operations to to Mexico.
Mexico Automotive Manufacturing on the Rise
Recently, Mexico's automotive manufacturing outlook has achieved a spike in success. According to USA Today, data from WardsAuto revealed Mexico produced roughly one in five of all vehicles in North America in 2015, which was double the production in 2004. This rate is expected to increase to one in four by 2020. Dennis DesRoisers, president of DesRoisers Automotive Consultants near Toronto, also told USA Today that Mexico is growing in terms of investment in the industry. "The U.S.' South and Mexico are winning the battle," said DesRosiers. "Over half the capacity and 80% to 90% of investment dollars are going to the U.S. South or Mexico."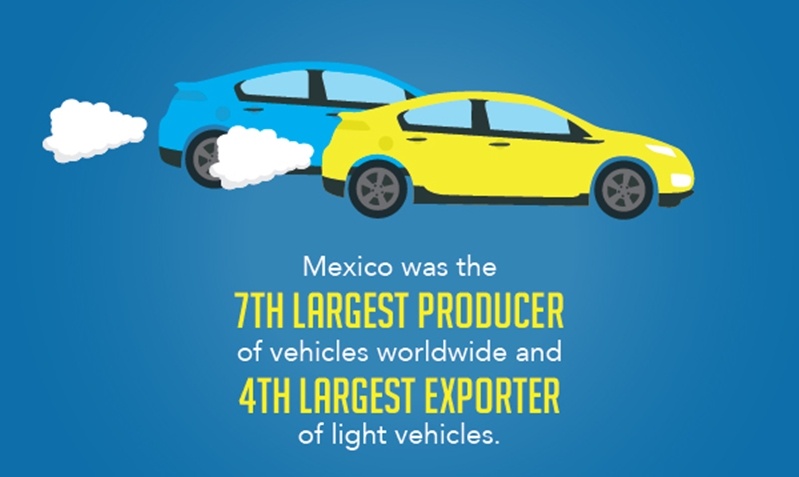 WardsAuto predicts new automotive manufacturing will add 1.2 million units of capacity in North America overall by 2020, but much of this growth will be concentrated in Mexico, as companies like General Motors, Ford, Toyota, Honda, Volkswagen, Audi, BMW, Hyundai and Mazda all increase their capacity there. USA Today shared data from the Center for Automotive Research in Ann Arbor that noted in total, projected investments from automakers will reach $7 billion in Mexico, compared to $10.5 for the U.S. and a mere $750 million in Canada.
One automaker that is illustrative of this trend toward growth and increased investment in Mexico is Ford. Despite political rhetoric, the company still has plans to build a new assembly plant in Mexico and increase factory output from the country by more than double. More specifically, Ford plans to add 500,000 units of annual Mexican capacity starting in 2018, a project that will likely exceed $3 billion. The company will build two new models in the new factory, including a hybrid car that can run on battery power at low speeds for short distances. Last year alone, Ford built 433,000 vehicles in Mexico, which was 14 percent of its total North American production.
Other U.S. companies are growing in Mexico, for instance, GM also announced plans to invest $5 billion and double its Mexican capacity by 2018. Other automakers increasing their presence in the country include Honda, which recently began producing the subcompact Fit model in the country by investing $800 million into a new assembly factory, and Kia Motors, which will open a new small-car plant in Mexico this year.
A Reflection on the Broader Industrial Sector
While automotive manufacturing is certainly spearheading the growth of the country's industrial sector, other sectors including medical device, appliance, electronic, energy, furniture, HVAC and and aerospace manufacturing are also prominent. As a result, the growth of the Mexican automotive industry and manufacturing as a whole, has led to a continental shift in terms of where highly skilled products are made.
In fact, International Business Times cited data from Markit Economics that revealed U.S. manufacturing hit its lowest level since September 2009 in February 2016. The Purchasing Managers' Index for the industry was 51.0, which was lower than the projected 52.5. The U.S. is not alone in this decline, either. AutoServiceWorld shared insights from a report by BMO Financial Group that found roughly 2.3 million cars and light trucks were built in Canada last year, which was a 5.5 percent reduction from the previous year. Furthermore, Scotiabank forecasted a flattening of Canadian auto sales for 2016.
"More automakers are looking to North America for nearshoring opportunities, and Mexico is winning."
Why Mexico?
WSJ reported in March 2015, that more automakers are looking to North America for nearshoring opportunities, and Mexico is winning as the most desired destination. The wave of investment has turned the country into the world's seventh-largest car producer, surpassing Brazil in 2014, and the fourth-largest exporter just after Germany, Japan and South Korea. There are a number of reasons Mexico's automotive manufacturing industry is flourishing, and why this growth will likely continue for years to come:
Cost: Manufacturing in Mexico is much more cost effective than other locations, including China. For one, labor is 80 percent cheaper than in the U.S. Additionally, the average cost of real estate in Mexico is roughly $4.74 per square foot, compared to $9 per square foot in the U.S. To make matters even more appealing, manufacturers can import and export goods cheaply due to the country's close proximity to the U.S. and participation in the North American Free Trade Agreement.
Diversification: Mexico has a very diverse economy that can accommodate businesses across multiple industries.
East of Entry: Manufacturing in Mexico is much more accessible than in other countries. Due to the similar culture and language, strategic location between the U.S. and Latin America, favorable business climate and access to shelter services through the maquiladora system, companies can enter the country very easily. In fact, data from Chase indicated it takes a total of six days and six procedures to start a business in Mexico, compared to 33 days and 13 procedures in China.
Customers: Manufacturers in Mexico have a strong, profitable customer in the U.S., which is just a short distance to the north. However, as the fifth-largest exporter of computers, the sixth-largest aerospace supplier and the seventh-largest automotive manufacturer, businesses there can do business with a growing base of OEMs and Tier 1 suppliers that depend on access to a local supply of goods.
Labor: Mexico's workers are not only cheap, they are also highly skilled. For instance, 115,000 engineers in the country graduate on a yearly basis, there are 3 million citizens enrolled in postsecondary education and the country has a 93 percent literacy rate.
Above all, the Mexican government has made it a priority to invest in its manufacturing sectors, and the growth of the automotive industry in Mexico has been both a cause and a reward for this focus. As more companies move to Mexico, infrastructure will continue to improve and the offshoring advantages will be even more apparent.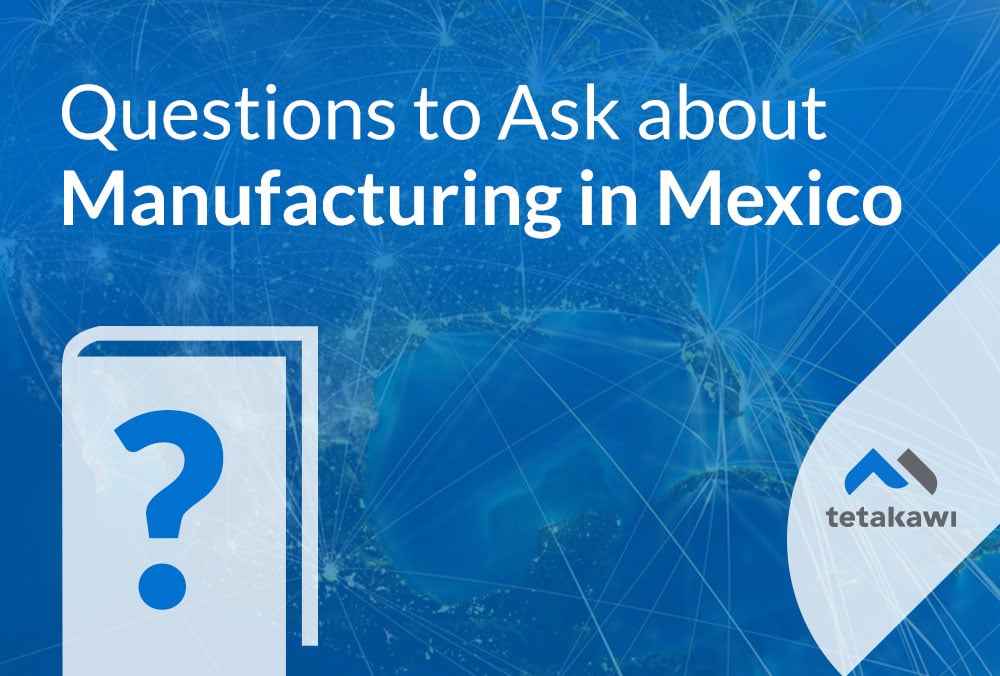 Start your journey into Mexico today!
50+ Questions to ask before expanding into Mexico
Thinking about expanding into Mexico? Step 1 of your due diligence process is answering all of these questions. Over the last 33 years, thousands of companies have used this guide to accelerate their expansion into Mexico.