The Benefits/Advantages of Manufacturing in Hermosillo, Sonora, Mexico
How Hermosillo is Investing in Manufacturing
Maybe it's the location, less than 200 miles to the U.S. border. Maybe it's the young average of the city's eager workforce. Or maybe it's the lengthy history of manufacturing in the region. More likely it's a combination of these and other factors that have made Hermosillo, the capital of the State of Sonora, one of the fastest growing metropolitan areas in Mexico and a hub for manufacturing excellence.
In less than 30 years, the city has more than doubled to roughly 70 square miles. Reports indicate that its rate of growth is now faster than the underlying population. That type of rapid growth is pushing developers to build thoughtfully. They city is putting in place renewable energy solutions, rehabilitating the vibrant city center, and adding new capacity to support increasing manufacturing investment.
Connecting manufacturers
Hermosillo sits along Mexico's Interstate 15, which takes goods and travelers to the U.S. and Canada via highway I-10. It's a relatively short drive to the border; less than 250 miles to Tucson or 350 miles to Phoenix. This location has developed strong cross-border trade between Hermosillo and much of Arizona, and the Mexican government was worked hard to encourage this connection. In fact, the Mexican government has designated portions of this area a "Hassle-Free-Zone." Travelers meeting certain conditions can enter the country without an importation permit, easing the transport of goods from the U.S. to Mexico.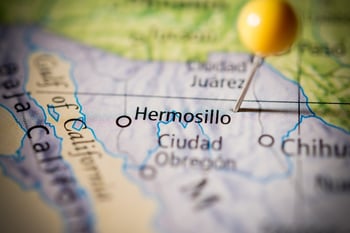 But the city's prime location also affords it robust connection to major industrial cities in Mexico and the rest of the world. The Hermosillo International Airport serves more than 1.3 million travelers each year. The city sits only a 60-minute drive from Guaymas and its deep-water port. Hermosillo is also a hub for international rail service via the Ferromex rail line, which transports goods both domestically and internationally.
Connectivity that supports business is crucial to the region, and that goes well beyond transportation. Earlier this year, the state launched a USD $135 million solar farm providing 100 megawatts of energy, enough to power 100,000 homes. State officials expect to have more than 1,400 megawatts of installed capacity by 2020, supporting more than Hermosillo's total demand.
And because demand for manufacturing centers continues to ground, the HermoSur Manufacturing Community broke ground in May 2019. The center will cover 80 hectares of industrial-zoned land and 4 million square feet of class A manufacturing space. In addition to leading utilities and excellent security, it will provide amenities including employee transportation, medical treatment services and a sports complex, all meant to attract more world class manufacturing to the growing metro.
Manufacturing excellence
Hermosillo shifted its focus from agriculture to manufacturing back in the 1980s, when Ford Motor Co. established a plant there. Ford's presence has only grown—today it employs 3,650 people and recently announced plans to move production of its Transit Connect van from Spain to Hermosillo by 2021—but it's no longer alone. Ford has attracted a broad assemblage of automotive component suppliers, which have, in turn, attracted other manufacturing interests.
For example, Sonora is now home to one of the fastest growing aerospace industry clusters in the country. More than 18 percent of the country's aerospace parts are It manufactured here. Recent additions include AT Engine Mexico, a joint venture between Aerotech Peissenberg Corp. and Chihuahua-based Grupo Punto Alto. The pair invested USD $267 million in developing a plant in Hermosillo's Norte industrial park to manufacture turbine components for General Electric and Rolls Royce engines.
These types of ongoing manufacturing investments serve to strengthen the support network in place that attracts more foreign investors. For example, in September 2019, TE Connectivity, an automotive electrical component manufacturer, announced its investment in the State University of Sonora's new Higher Technical University educational program in Plastic Molding. It's this type of commitment to manufacturing excellence that continues to strengthen the local skillset.
Competitive workforce
Including the notable University of Sonora, but there are 17 universities in Sonora altogether, resulting in a well-educated workforce. This large number of higher education institutions is one reason that Sonora is among the highest-ranking Mexican states for post-secondary education enrollment. What's more, the population for the urban area—approximately 857,024 people—skews young, at 30 years old on average. And significant portion of that working population already has industrial experience.
In fact, Tetakawi has found that hiring technically experienced staff in Hermosillo can be easier than in many other regions of Mexico. In a survey conducted for its Hermosillo Labor Market Report, about one-third of the employees Tetakawi interviewed reported having experience working for a foreign-owned maquiladora. That experience commands competitive pay, with nearly half (45%) of all direct labor workers in Hermosillo earning about 2.7 times the minimum wage, equivalent to roughly $88.36 Pesos per day. The field report notes, however, that is fairly consistent with the national average and nets employers a powerful bang for their buck.
Invest thoughtfully
Manufacturers looking to grow in a thoughtful way will find that Hermosillo has much to offer. Local government and higher education institutions are eager to invest in the people and businesses driving the Sonora economy. The metro area's already expansive network of manufacturers—with accessibility to stamping, metal fabrication and component suppliers—only adds to the support new investors may expect to find here. By working with a trusted partner, manufacturers can create a sound strategy for successfully expanding into Hermosillo.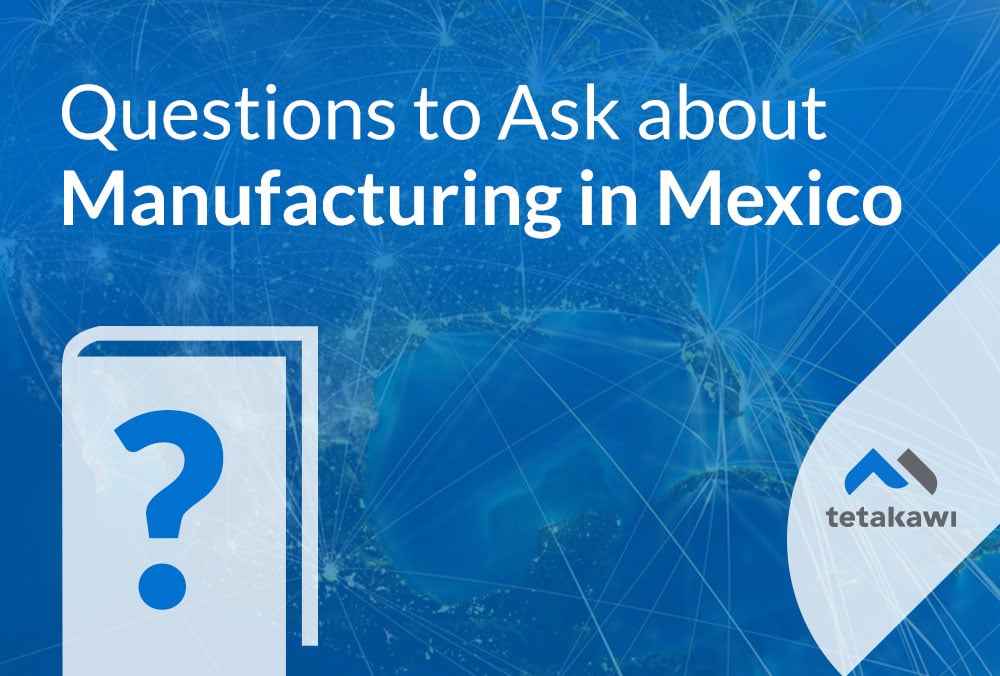 Start your journey into Mexico today!
50+ Questions to ask before expanding into Mexico
Thinking about expanding into Mexico? Step 1 of your due diligence process is answering all of these questions. Over the last 33 years, thousands of companies have used this guide to accelerate their expansion into Mexico.