Advantages/Benefits of Using Manufacturing Shelter Services in Mexico
There seem to be a million balls to juggle in the early days of launching a business, but throwing in the regulatory and cultural nuances of operating in another country may leave you feeling that you're juggling chainsaws. Fortunately, this is one more area where Mexico offers expanding companies and entrepreneurs a unique advantage: the shelter service model.
Rather than launching a standalone business, joint venture or contract manufacturing presence, foreign manufacturing entities can opt to work with a shelter service provider that acts as the employer and manufacturer of record in Mexico. The shelter manufacturing model combines a legal framework and a range of services that remove the regulatory and financial burdens for foreign manufacturers operating in Mexico.
Six big benefits to working with a Shelter in Mexico
Shelter service providers help navigate uniquely Mexican start-up hurdles such as IMMEX registration and ensuring permit compliance, but many other benefits are available:
Faster startup. Shelter companies can eliminate many of the common hurdles to ramping up operations. For example, your

shelter service provider

already has an IMMEX Certification. That means foreign companies enter the country as a division of the shelter company, reducing the time spent waiting for permits. Based on its decades of experience in helping manufacturers set up operations in Mexico, Tetakawi has found that firms that partner with

Mexican shelter companies

can ramp up their Mexican operations for production within about 90 days and in some cases, even as fast as 30 days.
Less exposure. Because the shelter service provider acts as the employer and manufacturer of record in Mexico, manufacturing entities face less risk. An experienced shelter provider can manage internal risk by handling HR responsibilities, accounting and other administrative tasks.
Lower costs. Mexico's income and value-added tax authorities give incentives to foreign companies that establish a manufacturing presence in Mexico through a shelter service provider. Those incentives include a four-year reduction on income taxes and a nine-year release from having a permanent establishment status in Mexico. In addition, companies working under a shelter service provider may benefit from reduced operational costs. By providing the same services to a range of manufacturers, shelter companies create economies of scale that help them lower the cost of certain processes.
Complete compliance. The

shelter manufacturing model

provides a legal framework that removes much of the risk for foreign manufacturers operating in Mexico. Experienced providers will ensure companies are following all laws regarding labor and employment, trade, tax, environmental impact, social security, immigration and other applicable laws. Skipping a step here can be For example, not registering employees for social security and insurance on the day they were hired can lead to penalties as high as $18,000 USD.
Higher employee retention. Insight into the local labor market can give manufacturing companies an advantage in not only recruiting skilled labor but also reducing turnover. Tetakawi, for example, tracks preferred recruitment methods in a range of localities to create targeted hiring strategies for its clients. Insight into average wage, types of benefits and expected bonuses in certain regions helps reduce staff renewal rates.
Improved productivity.When manufacturing entities are able to trust a Mexican Shelter Company to recruit a skilled workforce and manage the startup details, companies can focus exclusively on the operational aspects of their business that they do best.
How to select the right Shelter Company in Mexico
The key to enjoying these benefits, however, is to select a shelter service provider that is right for your company's needs. Tetakawi's survey of the service providers market has identified six types of services available from shelter companies in Mexico:
Full-service Mexico shelter companies provide the most complete array of services, from help starting up and real estate leasing to accounting and HR assistance.
Full shelter services only provide administrative support from start up on but aren't in the business of offering real estate.
Mexico shelter company for start-ups help foreign manufacturing entities get up and running before the foreign manufacturer sets up its own in-house support team.
Contract manufacturing plus some shelter services are available with subcontracted workers who support a company on an as-needed basis.
Real estate companies that also offer shelter services are focused on the rental and sale of Mexican industrial real estate but may offer some level of administrative support as well.
Pick and choose shelter services allow manufacturing companies to select service offerings that meet their very specific needs.
Want to more reasons to work with a shelter service provider? Schedule time to talk with Tetakawi about the solutions it can offer your business.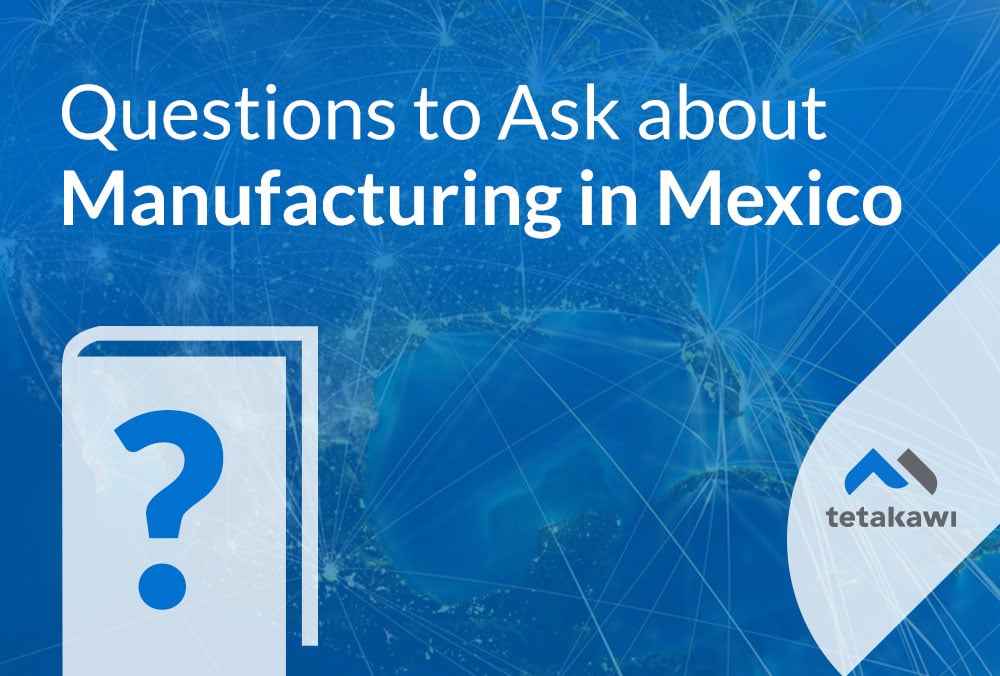 START YOUR JOURNEY INTO MEXICO TODAY!
50+ Questions to ask before expanding into Mexico
Thinking about expanding into Mexico? Step 1 of your due diligence process is answering all of these questions. Over the last 33 years, thousands of companies have used this guide to accelerate their expansion into Mexico.