Choosing A Shelter Services Provider in Mexico? Ask These Questions First
Mexico's shelter manufacturing model combines a legal framework and comprehensive services that remove regulatory and fiscal burdens and significantly reduce your risk – but with a range of providers available, how do you choose the best provider for your business?
Essential Questions to Ask When Choosing A Shelter Services Provider
Companies choosing to use a shelter service provider when establishing their manufacturing operations in Mexico receive many benefits while avoiding the complexities of entry. Ultimately, the devil is in the details – each provider offers a combination of service and quality at a given price, but not all providers offer the same depth of service. Make sure your working relationship runs smoothly and profitably by asking several specific questions to ask to evaluate the scope and extent of service your provider supplies.
1. What services do you offer in specific functional areas such as human resources, import/export, financial, and others?
Your provider should be able to offer a comprehensive and detailed list of the services they have available and the associated pricing. It should be clear what actions the provider will handle versus the steps you will be required to take on your own.
At Tetakawi, we offer an extensive menu of advisory services and support services that cover every operational, administrative, and employee management function. Contact us for details on exactly which services your business can make use of when you choose us as your shelter service provider.
2. What are the cost savings I'll see?
Your provider should be able to outline the savings you'll see in areas such as rent, labor, human resources, as well as other operational costs. Detailed information on the costs of building and operating in Mexico are notoriously difficult to determine accurately, but a reliable service provider should be able to provide this information.
At Tetakawi, we offer a detailed cost estimation service that explains the critical cost factors, teaches you common pitfalls to avoid, and provides a backbone for financial analysis. You'll also receive a sample cost estimation using inputs from your specific data. This estimation will prepare you with a complete cost forecast and the ability to create new estimates as your business changes and scales.
3. What risks are mitigated by using your shelter services?
Reduced risk is one of the main reasons companies choose to work with a shelter service provider. As an expert in manufacturing for your business, your team can focus on production without focusing on administrative and regulatory distractions that are unrelated to your core competency.
Tetakawi's shelter services are a combination of a legal framework and comprehensive support that remove the regulatory and fiscal burdens of operation. The benefits are significantly reduced operational and financial risk that arises from several advantages of our service. These benefits include a shorter learning curve, faster startup, less exposure, lower costs, more flexibility, total compliance, and high employee retention.
4. How are employee satisfaction and retention managed?
Savings on labor costs is a crucial benefit of choosing to work with a service provider. Good providers typically have access to large labor networks as well as established systems for managing the employee lifecycle from start to finish. A standalone company would otherwise have difficulty tapping into such networks and systems.
Employee satisfaction is vital to managing a stable workforce. Beyond recruiting, selection, hiring, and training, Tetakawi employs a detailed employee relations management team. This team works to deploy surveys, promote favorable working conditions, and implement enrichment programs that improve employee retention.
5. How do your services accommodate our company's specific needs?
All shelter service providers supply a range of options. The most critical factor in whether the relationship will work for you is if those options are suited to your company's specific needs. Be sure to look for flexibility in your provider's offerings. Are they able to tailor their services or are their packages standardized to include elements you may not need?
Our approach begins with a needs analysis. Once we understand your company's requirements, we can customize our offering to what your needs dictate. Our service can be as simple as providing data to resolve a critical strategic question, or as complex as managing your operation from start to finish.
Contact us to learn more about how our shelter services can help your business expand into Mexico.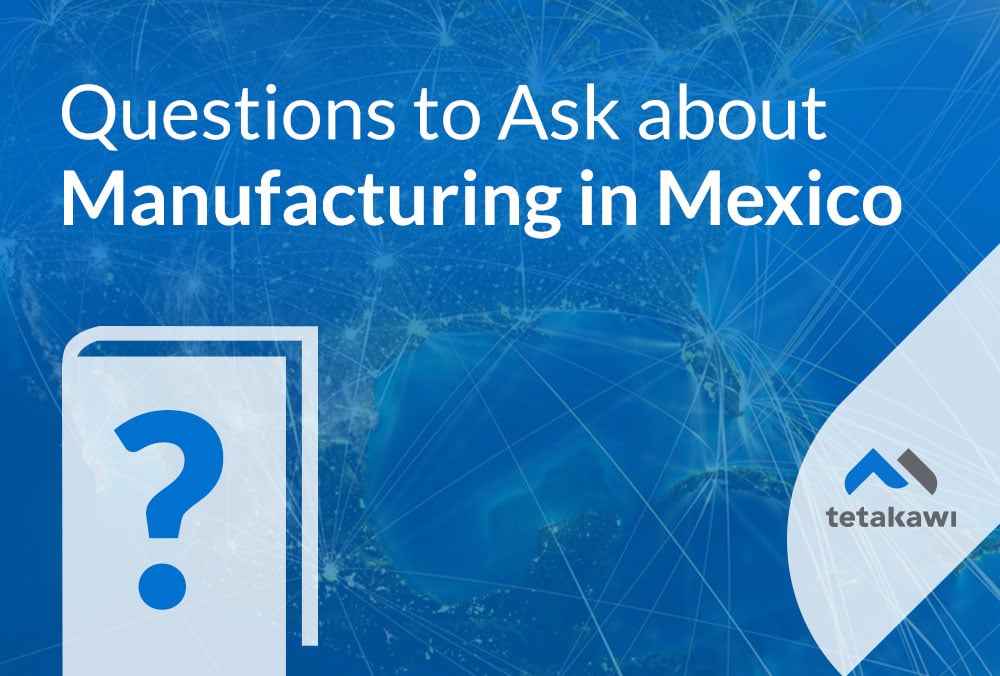 Start your journey into Mexico today!
50+ Questions to ask before expanding into Mexico
Thinking about expanding into Mexico? Step 1 of your due diligence process is answering all of these questions. Over the last 33 years, thousands of companies have used this guide to accelerate their expansion into Mexico.