EMS Low-Cost Production Increasingly Favoring Mexico
As wages continue to rise in China and fuel costs escalate worldwide, some North American manufacturers are starting to re-evaluate their global operations to determine if production locations are optimal. This is reinvigorating the discussion among EMS providers about whether China or Mexico is the best site for lower-cost production.
Both locations have inherent pros and cons, but unlike a decade ago when the World Trade Organization welcomed China as a new member, a comparison of China with Mexico can no longer be based solely on input costs, i.e., labor and transportation. Global electronics supply chains have evolved to be much more complex, and OEMs are demanding faster and more solutions-focused services from EMS suppliers. At the same time, the economies of North America and Asia have changed dramatically since 2000, with growth slowing in the West just as thousands of poor Chinese people are joining the middle class.
The decision for EMS providers, then, turns on cost strategy and customers — the best location, under the best circumstances, is the one that satisfies both.
According to Sonny Newman, President of Electronic Evolution Technologies Inc. (EE Tech), based in Reno, NV, the company's Empalme, Sonora Region, Mexico, location gives it unique strategic advantage over competitors without a Mexico manufacturing location.
"The strategic advantage that our customers enjoy with us in Empalme versus Reno is a lower labor and overhead cost out of our Mexican production facility," Newman says. "By taking a few more weeks to have the product built in Empalme versus Reno, a customer can save a substantial amount. Unfortunately the material cost is the same, and that represents a large percentage of the builds, but when you are producing thousands or even hundreds of thousands of units, that savings adds up very quickly."
To deliver this savings advantage, EE Tech works collaboratively with The Offshore Group to run its Mexico operations. The Offshore Group is what is known in Mexico as a "shelter," or outsourced manufacturing support company.
"The strategic advantage that we have operating in Mexico is made possible by our partnership with The Offshore Group. They handle the functions of our operations that, although not related to actual manufacturing, are critical to our being able to be and remain up and running profitably. Because they handle things like managing our payroll and worker benefits, our import and export operations and worker transportation, as well as maintaining our manufacturing facility, we can focus on our manufacturing mission, which is where we add lasting value for customers."
Doug Besse, who is CIO and global supply-chain manager for Creation Technologies, a global EMS provider based in Canada, also says his company takes a customer-centric approach to making plant-location decisions.
"Creation Tech looks at it and says that we really need a Mexican manufacturing location for different reasons than we need an Asian location," Besse says "It's different customers looking to do different things. Large North American OEMS are looking at Asia and saying, 'We want to be in Asia, so we should manufacture in that location.' Then there are OEMS in North America who say, 'I have a high labor-cost concentration in my product, but my market is in North America, and I want to be a market leader in North America' — they tend to look at Mexico as a manufacturing alternative."
Evolving Beyond "China Hype"
According to a 2011 report based on a research project by Charlie Barnhart & Associates (CBA), "China and Mexico both possess many world-class manufacturing facilities capable of producing any electronic product being designed today. The question therefore is not one of capability but fit. Which country best fits the manufacturing needs of a particular OEM? For OEMs selling high volume products in the 3Cs (consumer, computer, communications) sector, the answer is undoubtedly still China. For mid-market USA-based OEMs selling lesser-volume products, the answer has become less clear. Many of these companies have been caught up in the China hype only to have become frustrated."
That frustration stems from multiple factors, including: steadily rising wages, reduced export tax credits, longer lead times due to greater distance and more shipping requirements; language and time-zone barriers; and the uncertainty of doing business in a country that — although becoming more Westernized economically — is still a Communist country with an authoritarian government that keeps a heavy hand in commerce.
"The composition of the EMS markets in China and Mexico are quite different," according to the CBA report, China vs. Mexico: An Objective Comparison for Midmarket Electronics OEMs. "While the Chinese market is comprised of both indigenous and global companies, Mexico is comprised almost exclusively of non-Mexican service providers primarily from the United States."
Figure 1 shows the top 10 EMS companies from 2010 and whether they have a facility in China and/or Mexico. This list appears in the CBA report but is derived from the annual Top 50 EMS Providers list produced by Manufacturing Market Insider.
Figure 1: Top Tier EMS Footprint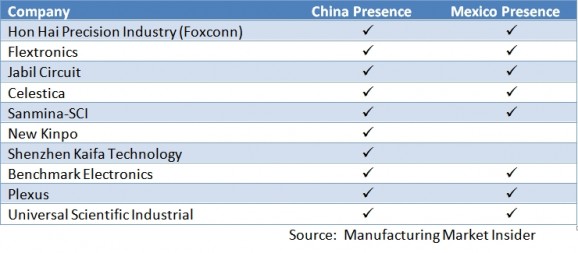 For mid-market EMS providers, though, it's expected that EMS production in Mexico is increasing and will continue to do so, according to CBA. The past decade saw a dramatic shift in electronics manufacturing to China in pursuit of lower assembly costs, including for LV/HM (low volume/high mix) assemblies. But CBA and others have documented a growing return to a regional approach by some North American based OEMs that is benefiting Mexico.
"Our research has identified a trend of electronic OEMs returning to a regional approach to their manufacturing," states the CBA report. "Regionalization is defined as when OEMs build their product in the region into which their product will be sold. In other words, they choose to build in region for region."
The number of EMS companies, both indigenous and foreign owned, operating in China is still too vast to list, according to CBA. The list of EMS in Mexico in comparison is fairly short and is included in Figure 2. (This is not an all-inclusive list, but does reflect what CBA believes to be the vast majority of EMS companies currently operating a facility in Mexico.)
Figure 2: List of EMS with Operations in Mexico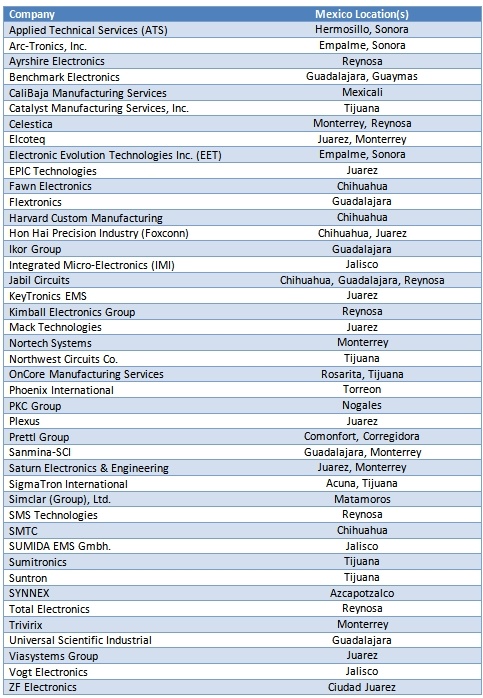 EE Tech's Strategic Advantage
EE Tech produces two-thirds of its sales volume at Empalme and about one-third of it in Reno. This is about 90 percent of unit volume in Mexico — more than 6 million printed circuit boards per year.
Newman says EE tech chose Mexico because it was "looking for a solution that was going to be a price leader in North America not competing with the 10,000-plus shops already set up in Asia."
"Our customers usually do not compare us to Asia. If they want Asia, they go there as there are still some advantages of going there if your supply chain is steady and large. However, if our customers are looking for some sourcing in North America that comes close to Asia pricing and better than the United States, Mexico is a great fit. Not only is it very competitive, it also is just a couple of days away via ground shipment, and none of our customers have more than a three-hour time difference. The staffing and technical expertise is an added bonus."
Pros and Cons In Both Locations
Ultimately, leading EMS providers are finding themselves weighing multiple factors before expanding operations in either China or Mexico. Sometimes, comparing the pros and cons of each location requires exceptional considering.
For example, Creation Tech sees Mexico as a viable option, but has some concerns.
"We would certainly look at Mexico as a manufacturing location," Besse says. "Since we are focused on a niche market, we are seeking the right location. Because we are a private company, we are more cautious about entering Mexico these days, but the interest is definitely there."
Creation Tech's supply base is 65 percent North American, 30 percent Asian, and 5 percent from elsewhere. Despite the fact that most of its suppliers are in North America, Creation Tech's desire for an eventual Mexican location is customer driven.
"Depending upon the customer and how they structure their manufacturing, it can be cheaper to build in North America. It's not as simple as saying, 'We should just buy it in Asia.'"
Creation Tech provides services for high-mix, high-complexity, medium-volume electronic assemblies or total box builds (all commercial). The company's customers are primarily North American OEMs looking for manufacturing services for North American or overseas markets. Besse says a growing segment of customer OEMs want to get their products into Asia, mostly China, because Asia by far is the largest market opportunity — but the bulk of customer products are still built and purchased in North America. A Mexico location would provide those customers with access to a Western Hemisphere low-cost manufacturing area; lower shipping costs; and a more favorable time zone — but it still comes down to the importance of those factors in the OEM's overall strategy.
"Are those issues of time and distance so overpowering that I can't overcome them, or do I have the process and people to deal with it? I lot of OEMs will say, 'I have an office in Asia already and I am prepared to deal with the complexity because Asia.' When you are looking at it from a cost point of view, Asia is still less expensive than Mexico. The labor-cost gap is steadily shrinking, and most likely will continue to do so over time, but as of this moment, when you do a straight comparison of manufacturing from a cost standpoint, Asia is the leader."
Mexico: Growth Opportunity
Despite the attractiveness of a growing market in Asia, Mexico represents a growth opportunity for Creation Tech because of its commercial niche, and when safety is no longer a concern, the company likely will establish a location in Mexico.
"In the past, companies have moved manufacturing to China because of cost savings, and on the consumer side, I don't think we'll ever see it come back," Besse says. "However, on the commercial/industrial side, the cost of Asia versus Mexico and even North America, that gap is closing. We are also very interested in looking at the shelter business model that is available to companies that manufacture in Mexico. Using such as service provider is not a possibility in China."
China is still a huge growth market, he says, but some customers are bringing products that they moved to Asia years ago back to North America because it is now no longer economically feasible to produce them there profitably.
The CBA research concludes that neither China nor Mexico provides a full service solution across the manufacturing life-volume continuum, and each is best suited for specific manufacturing processes, but: "Volumes appear to matter more in China than Mexico. One respondent offered a quantification of the optimal build volumes in China this way: 'The volumes need to be minimum revenue of US$3M to get into a decent Tier 2 EMS, and above US$10M for consideration at a Tier 1 EMS.' "
CBA has documented that the regional approach is "gaining traction as this approach is now more cost-effective than a cross-hemispheric solution. The only known remaining exceptions are the extremely large consumer, communication and computing sector relationships, which are now atypical to the balance of the EMS/ODM industry.
"The return to regionalization, which is how the outsourcing industry actually began, should continue to benefit Mexico, especially in serving North American-based OEMs and also global OEMs that are selling their products into the North American market. Clearly this is influenced by the type of products, location of end markets, and volume levels as mentioned above."
Newman with EE Tech says the company's Empalme location in The Offshore Group's Bella Vista Industrial Park is definitely part of the company's future growth strategy.
"We still will primarily do all of the upfront prototyping, engineering, purchasing, and planning out of our Reno facility, but we will use our Empalme site to produce the volume at an economical North American price. Most of our new customers are coming to us because they ultimately want to use our Mexico price for volume builds.
"The hidden benefit to this is that we do most of all of the procurement of parts, planning, finance, customer service, and logistics out of the Reno facility, which ultimately creates business and jobs in Reno. I feel that if our Mexico facility did not exist, we would probably have about 75 Reno employees instead of the 150 that we have today. Operating in Mexico under The Offshore Group's Shelter Plan has allowed us to successfully bid and take on volume work that we might have otherwise had no shot at winning."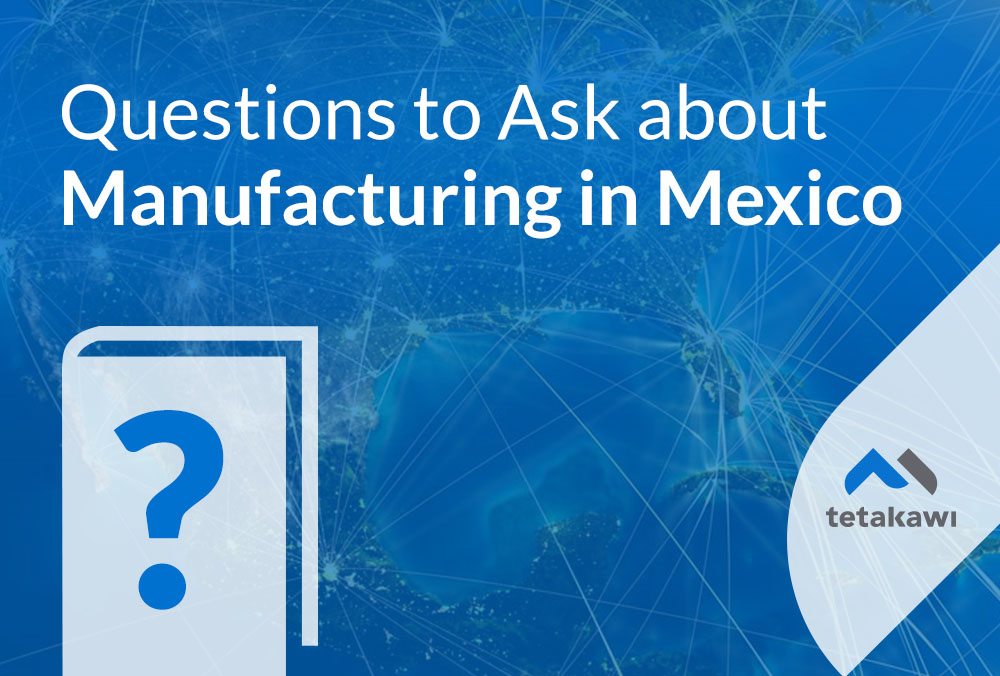 Start your journey into Mexico today!
50+ Questions to ask before expanding into Mexico
Thinking about expanding into Mexico? Step 1 of your due diligence process is answering all of these questions. Over the last 33 years, thousands of companies have used this guide to accelerate their expansion into Mexico.