Furniture manufacturing has been on the rise in Mexico over the past decade, and one company is investing a hefty sum to expand its operations there.
According to FurnitureToday, Ethan Allen Interiors is constructing a $15 million, 300,000-square-foot facility, which will more than double the size of its upholstery manufacturing operation in Mexico.
The interior design company, which manufactures and sells home furnishings, said the new plant will be adjacent to company's existing 260,000-square-foot facility in Guanajuato, Mexico. Ethan Allen expects to break ground within the next month or two and begin production in the next 18 to 24 months.
The company also plans to continue investing in its North American operations. Ethan Allen's Mexico facilities make upholstery for its North American and international markets, and also provide most of the upholstery for its Maiden, N.C. operations.
Furniture manufacturing on the rise in Mexico
More companies like Ethan Allen will expand in or move their operations entirely to Mexico due to the country's offshoring advantages. According to the 2013 Anderson Bauman Tourellot Vos report, "The American Furniture Industry: Industry Watch Update," more and more companies are being pressed to move their operations to convenient locations closer to high-end markets. Due to the fact that Mexico offers better logistical options when shipping furniture to the U.S., Mexico exported exported roughly $743,176 worth of finished furniture products in January of 2015.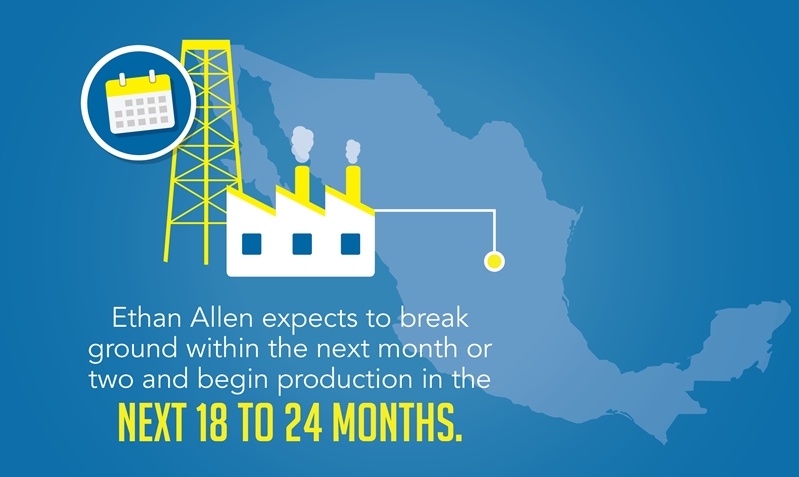 Seahawk Designs is an example of a furniture manufacturing company that began manufacturing in Mexico due to its location near high-demand markets, skills labor and low overhead costs. According to FurnitureWorld, the company announced plans last year to shift much of its production from China to Mexico. The company cited faster delivery times, more control over product customization and proximity to the company's research and development center in Southern California as key reasons for the decision.
"I am impressed with the growing quality of production in Mexico and numerous cost and production efficiencies because it is closer to our customers and corporate headquarters," Seahawk Designs CEO William Jahn told FurnitureWorld. "By manufacturing just across the border, it opens a whole new world of design, customization and delivery options for clients. We were blessed to have found a manufacturing partner who had run plants in the United States and really understands the importance of quality and service. They have a highly skilled and well-trained workforce and they have done a wonderful job over the past few months as we have tested their abilities on beta projects."
Jahn also added that China is losing its competitive advantage in many industries because labor prices there are rising. Additionally, distance from high-demand markets leads to inefficient supply chains and long delivery times. As a result, furniture manufacturers are unable to customize products to customers' needs. With this in mind, Mexico is an ideal location for an industry that requires such a high level of craftsmanship and customization.
These offshoring advantages considered, Ethan Allen is likely to see much success with its expansions in the country.
Also read about how furniture manufacturing businesses are moving to Mexico.
Subscribe
Sign up and stay informed with tips, updates, and best practices for manufacturing in Mexico.