Guadalajara's Manufacturing Economy
Guadalajara is known as Mexico's technology hub, and for a good reason. The capital of Jalisco in western Mexico has earned its reputation for supporting innovation in manufacturing. This technology focus also supports Guadalajara's main industries, including electronics, medical devices, and automotive manufacturing.
Discover what manufacturers operating in Guadalajara already know: there's a reason this populous city has become an epicenter for business and manufacturing in west Mexico.
Guadalajara, Mexico, at a glance
Guadalajara, the capital of the Mexican state of Jalisco, has a population of 5.2 million people and growing, making it the second-largest metropolitan area in the country. The city sits roughly midway between Mexico City to the south and the manufacturing hubs of Saltillo and Monterrey to the north, to which it is connected via Highway 54.
The Don Miguel Hidalgo Y Costilla International Airport in Guadalajara is the third most active in the country, with direct flights to many Mexican and American cities. However, the city also sits just three hours north of Mexico's largest port, the Port of Manzanillo, which manages the most imports heading into central Mexico. This range of options makes it easy to move freight from this manufacturing city to around the world.
These are just a few of the factors supporting manufacturing in Guadalajara. While commerce and tourism employ about 60% of the population, industry—manufacturing, in particular—has been the main engine of economic growth and the basis of Guadalajara's economic importance nationally. The result is that Guadalajara has the third-largest GDP in Mexico.
Manufacturing industries in Guadalajara
Guadalajara is perhaps best known for its long history serving the electronics manufacturing industry. Electronics manufacturing services (EMS) in Guadalajara has a huge economic impact on the city and broader region. It's home to more than over 140 electronics companies and the world's biggest concentration of electronic contract manufacturers and is the country's main producer of software, electronic and digital components in Mexico.
Manufacturers in Guadalajara include companies like Haier Electronics, the world's leader in appliance manufacturing; APS, a manufacturer of ATM and payment systems; and circuit board designers and producers Sanmina, IKOR, and Grupo Gollet, among others.
This strong electronics manufacturing history offers tremendous synergy with the trend hitting Mexico's other strong manufacturing industry: automotive. The trend toward electric cars, as well as more complex cars powered as much by semiconductors as more traditional engine parts, is pushing the electronics manufacturing demand in new directions. This growing electronics industry in Guadalajara may, however, require that more suppliers establish operations here.
In a similar fashion, the medical device manufacturing industry has grown here. Manufacturers include Flex, a manufacturer of sensors for connected medical devices; Plexus, a provider of diagnostics and other life sciences devices; and Electri-Cord, which provides hospital grade cables.
Unlike other low-cost electronics manufacturing countries, Mexico has also built up a reputation for training the talent to support research and development of new tech-based products. Tech companies from Silicon Valley, among other U.S. cities, are moving their engineering and other technical operations to Mexico in general, and Guadalajara most notably.
Investment in Jalisco
Fostering the development of manufacturing projects in Guadalajara is a high priority, as the sector contributes to thousands of jobs. The state government takes an active role in encouraging the foreign direct investment that supports the manufacturing industry and the programs it encourages, including the development of workforce training, infrastructure, and other measures.
In December 2020, the governor of Jalisco, along with governors of several neighboring states that makes up the Federalist Alliance, launched the Civil Association of the Invest in Mexico Facilitation Board (IMFB) with the objective of supporting foreign investment in Mexico through regional incentives and support. The organization is headed up by the Secretary of Economic Development for Jalisco, Ernesto Sánchez Proal.
The states within the alliance are focusing on investment opportunities in aerospace, automotive, medical device, and electronics manufacturing, among other industries, to secure Mexico's role in advanced manufacturing and Industry 4.0.
"Many times, trade exchanges between economic regions can be much more dynamic than national agreements," commented Enrique Alfaro, Governor of Jalisco, at the launch of the organization.
As a case in point, Jalisco has also recently secured a partnership commitment from the state of Colorado. Yet in announcing the partnership, Colorado Office of Economic Development and International Trade Director Betsy Markey noted that the recently ratified U.S.-Mexico-Canada Agreement plays a key role in supporting strong cross-border trade. "International partners play a vital role in Colorado's economy and USMCA provides long-term stability in our North American trade and investment partners," Markey said. "Jalisco's strong agricultural industry and focus on growing tech-enabled industries make it a great partner for Colorado."
Mexico's technology hub
Many large manufacturing firms have been attracted to Guadalajara due to its reputation as a tech hub. Technological research is a priority across Jalisco, meaning that manufacturers are able to find not only the semi-skilled labor they need within this populous region as well as the engineering know-how required to support product development.
As a point toward the state's reputation, the Mexican Institute of Industrial Property recently ranked Jalisco second in the country in terms of the number of patents and inventions created here. Many of those innovations were in support of the medical device, automotive, and electronics manufacturing industries.
This tech focus emerges in ways beyond research investment. It's also evident in the investment in education. Guadalajara's metropolitan area includes more than 20 universities, many producing software experts or engineers. Estimates indicate that Mexico graduates roughly the same number, if not more, engineers than the United States, and Guadalajara is a major contributor here.
Academic institutions range from the Universidad Autónoma de Guadalajara to the more technically oriented Tec de Monterrey. The city also hosts The American School Foundation of Guadalajara, which has 1,420 students in pre-school through twelfth grade; it's the only US-accredited school in the metropolitan area.
The city has a number of privately supported research centers, which Mexican government funds often support. These include a branch of the Advanced Technology Center (CIATEQ) in the suburb of Zapopan. The center features a Center for Electronics, Innovation, and Development that supports project development around electronics, software, renewable energy technologies, and artificial intelligence. It has a laboratory for prototyping electronic cards and a 3D digital printing laboratory.
The cosmopolitan city has also served as a trial for the Internet of People Jalisco project, through a collaboration of the Jalisco Institute of Information Technology, the University of Guadalajara's Center for Innovation in Smart Cities, the Institute of Electrical and Electronics Engineers, and its Internet of Things initiative, and the state Ministry of Innovation, Science and Technology. The project seeks to make the state the first and true region of "connected people" in the world. It's meant to improve business and social connections by breaking down communication barriers. For a city that aims to be on the forefront of technological innovation, a new way of connecting—with business partners and potential employees—promises exciting possibilities.
An eye to the future
Guadalajara has an eye to the future, both in terms of technology and growth. Manufacturers here will find that the city also offers an appealing and cosmopolitan place to live and work. While it has a strong ecosystem of manufacturing here, the evolution of these fast-paced industries means there's ample room for new players to meet supply needs.
If you're ready to learn more about how Guadalajara might meet your manufacturing needs, Tetakawi can help. Our site selection and custom advisory services can help you determine the right strategy for a launch into Mexico. Contact us today.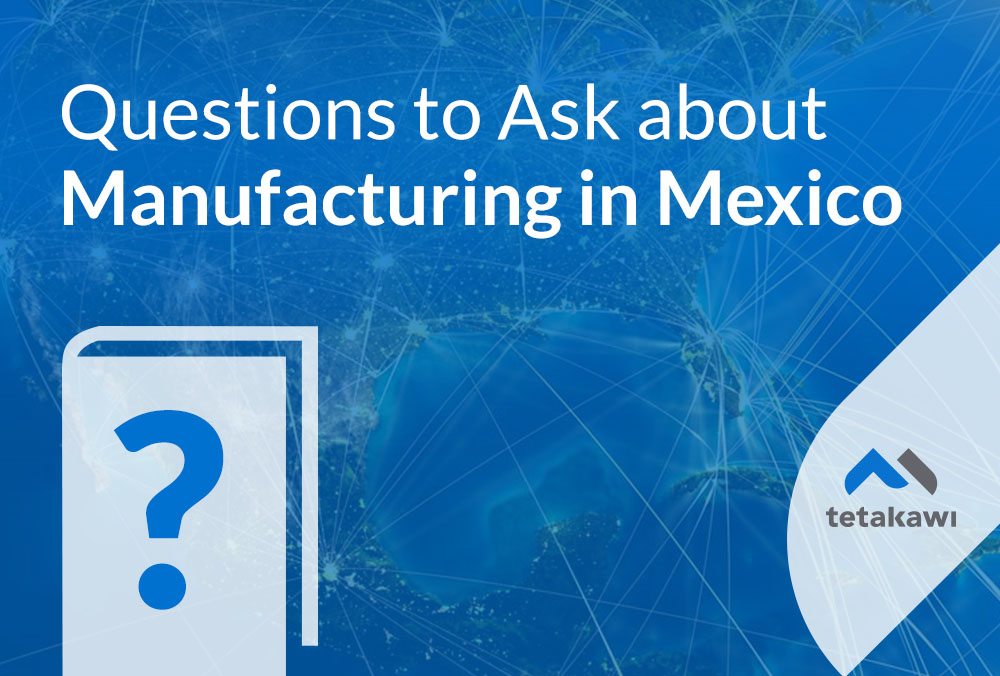 Start your journey into Mexico today!
50+ Questions to ask before expanding into Mexico
Thinking about expanding into Mexico? Step 1 of your due diligence process is answering all of these questions. Over the last 33 years, thousands of companies have used this guide to accelerate their expansion into Mexico.