Guadalajara's Manufacturing Economy
Guadalajara is the capital of the Mexican state of Jalisco. It has a population of 1,564,514, and is the second largest metropolitan area in the country. It is first in terms of high tech manufacturing and design. Guadalajara is an epicenter for business and manufacturing in west Mexico.
In 2007 FDI magazine referred to research demonstrating that Guadalajara was the top ranking major Mexican city. The report also highlighted that it has the second strongest economic potential of any major North American city, only Chicago scored higher. Guadalajara was deemed "the city of the future" due to its young population, low unemployment rate and large number of foreign investment deals; it was also found to be the third most business-friendly city in North America.
Guadalajara, Jalisco
The city's economy is based on two main sectors: commerce/tourism and industry. While commerce and tourism employ about 60% of the population, industry, manufacturing, in particular, have been a main engine of economic growth and the basis of Guadalajara's economic importance nationally. This is true even though these economic activities employ about a third of the population. Guadalajara has the third largest economy in Mexico, and possesses one of the best infrastructures for industrial development in the country; it contributes thirty-seven percent to the state of Jalisco's total gross production.
Guadalajara is the third largest GDP in Mexico. The city has services to accommodate a wide range of businesses such as: electronics, aerospace, automotive, medical, and others. There are also other traditional industries such as shoes, tobacco, textiles, logistics and transportation, beverage and food processing. Guadalajara has been able to attract globally known companies involved in information technology, innovation, and services. A sampling of these firms include Jabil Circuits, FoxConn, Kodak, Hewlett Packard, Flextronics, Sanmina, Honda, and IBM.
Electronics manufacturing services (EMS) in Guadalajara has a huge economic impact on the city with a large number of international firms having manufacturing facilities in the area. The economy is continually growing due to an increase in foreign investment and a recent boom in manufacturing. It is now called "high-tech Mexico" with over 140 electronics companies and the world's biggest concentration of electronic contract manufacturers.
Security and a law enforcement policy in Guadalajara is well-established to defend all projects with a constructive influence on the city's population in terms of economic development and job creation. NAFTA regulations also establish effective Mexican IP protection regulations that ensure patents and other intellectual assets are securely developed and protected internationally.
Guadalajara Business Climate
The City stands out as one of Mexico's most attractive destinations for foreign direct investment, and is the most important market in the country's occidental region. It is culturally appealing and cosmopolitan in character.
There are many advantages to doing business in Guadalajara such as: access to a educated, skilled and capable workforce; a good transportation network; a well-established supplier base. It is also close to the main Mexican domestic markets, and has all of the amenities of a big city. Industrial activity in Guadalajara is diversified; it is important to note that Guadalajara is one of the most important non-border locations for manufacturing in Mexico, often compared to Monterrey and other industrial cities stretched along the NAFTA highway.
Guadalajara has a lot to offer the electronics industry in terms of a deep-rooted electronics manufacturing support base, educated workers, cooperative business environment, and competitive labor rates. Additionally, the local supply base is good for sheet metal, plastics, painting, and cable and harnesses, providing the necessary parts for conducting successful and efficient manufacturing processes.
Effects of the Recession on Guadalajara
Mexico's electronics manufacturing industry bloomed with the signing of the NAFTA agreement in the 90's. Most of the major contract electronics manufacturing (CEM) companies established operations in Guadalajara; the region offered many corporeal benefits since other semiconductor, computer, and telecom manufacturers had already situated local high tech manufacturing capabilities there.
From 2000 to 2003 the industry suffered the negative impact of the relocation of many manufacturers to Asia. As a result, Guadalajara amended its central competencies and has been flourishing in transitioning to advanced supplementary value projects: high/low-volume mix, engineering, testing and custom solutions.
Through the fostering of technical programs in universities, the construction of scalable infrastructure and government incentives, the electronics manufacturing industry is now capable of delivering intricate engineering and native design in mid-markets and verticals such as aerospace, medical, automotive and others. Initiating the refinement of projects and management of existing infrastructure initially built for electronics manufacturing, a vigorous diversification developed, drawing projects from other sectors such as automotive, aerospace, medical devices, and telecom equipment.
New federal programs are sustaining higher value-added capabilities have benefited Guadalajara's high tech manufacturing industry.
Education in Guadalajara
As an accurately urbanized knowledge network, higher education and preparation in advanced technology is an ingredient that is endemic to Guadalajara. Guadalajara's metropolitan area includes over twenty universities with high tech and IT courses, and graduates more than 6,500 engineers per year. Local research centers join forces directly with the private sector, creating PhD programs for applied research. These are often supported by Mexican government funds.
The innovation of curriculum and mechanical programs to keep pace with the shifting requirements of the high tech industry is a major priority in the region. In addition to universities and research centers, specific certification programs funded by the government have been established to enhance competitiveness of manufacturing companies in Guadalajara. The aptitude and academic capabilities of the Guadalajara metropolitan area are world-class and highly simulated by a concentrated industry-government-academy partnership for research programs and curriculum configuration. Guadalajara has one of the highest skill rankings in Mexico for electronics production and computer manufacturing.
Guadalajara is an essential hub of universities and educational centers with national esteem. The city has become the center of engineering development in Mexico. It's estimated that Mexico is now graduating the same number or more engineers than the U.S. The most important academic institution in the city is the Universidad Autónoma de Guadalajara. Guadalajara is also home to ITESO, a Jesuit university and has campuses of several other private schools. The population has a 92% literacy rate, which is in accord with the national average.
The city also hosts The American School Foundation of Guadalajara, which has 1,420 students in pre-school through twelfth grade; it's only US-accredited school in the metropolitan area.
Guadalajara Transportation
Guadalajara is well connected by modern highways to Mexico City, the Northwest and the major beach resorts. The main highways are: Highway 15 (connects the city northwest to Nogales, Sonora and east to Mexico City), Highway 80D (leads northwest towards Aguascalientes), and Highway 54D (leads south to the coast).
The city's airport is called the Don Miguel Hidalgo Y Costilla International Airport (Guadalajara international airport). It is the third most active in the country with direct flights to many Mexican and American cities.
Guadalajara Politics
Guadalajara's chronicle in terms of political and economic stability has been a positive factor in attracting investment over time. Although the city's economy has been affected somewhat adversely by the recent global economic recession, all economic indicators point towards a quick revival and an inclination towards renewed stability.
One of the most significant achievements from the distinct administrations that have governed Guadalajara's metropolitan area in recent years is the consensus to support development in determined economic sectors, specifically the high-tech industry. At the state and municipality level, all major governing parties have had established and peaceful transitions of power, and have protected and continued key economic development programs.
Guadalajara and its surrounding metropolitan area receive over USD $250 million per year in government incentives from state and federal economic development programs. The fostering of the development of manufacturing projects in Guadalajara is a high priority, as the sector contributes with over 15,000 jobs and accounts for sixty percent of the city's exports. The electronics contract manufacturers have transitioned most of their sourcing to local suppliers that are certified under quality standards with government funding. A growing electronics industry in Guadalajara will, however, require that more suppliers establish operations there.
Electronics Manufacturing Services in Guadalajara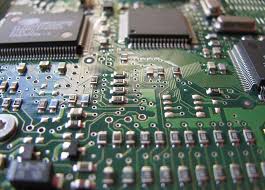 As previously mentioned, Guadalajara's high tech industry contributes sixty percent of the state's total exports. This is currently the situation despite the loss of projects to low cost regions in the 2000s. The reoriented focus on high mix/ low volume products brought a new influx of higher value-add competitive disciplines that have consistently benefited Guadalajara, and will continue to do so moving forward.
Guadalajara has acquired the nickname of the "Silicon Valley of Mexico" by the electronics and information technology sectors. It is the main producer of software, electronic and digital components in Mexico. Although employment in the electronics industry in Guadalajara is at its highest level ever, many electronics manufacturing companies are looking to transfer their operations from the more volatile border regions to the City. Government incentives and grants are still available for companies wanting to establish operations in Jalisco.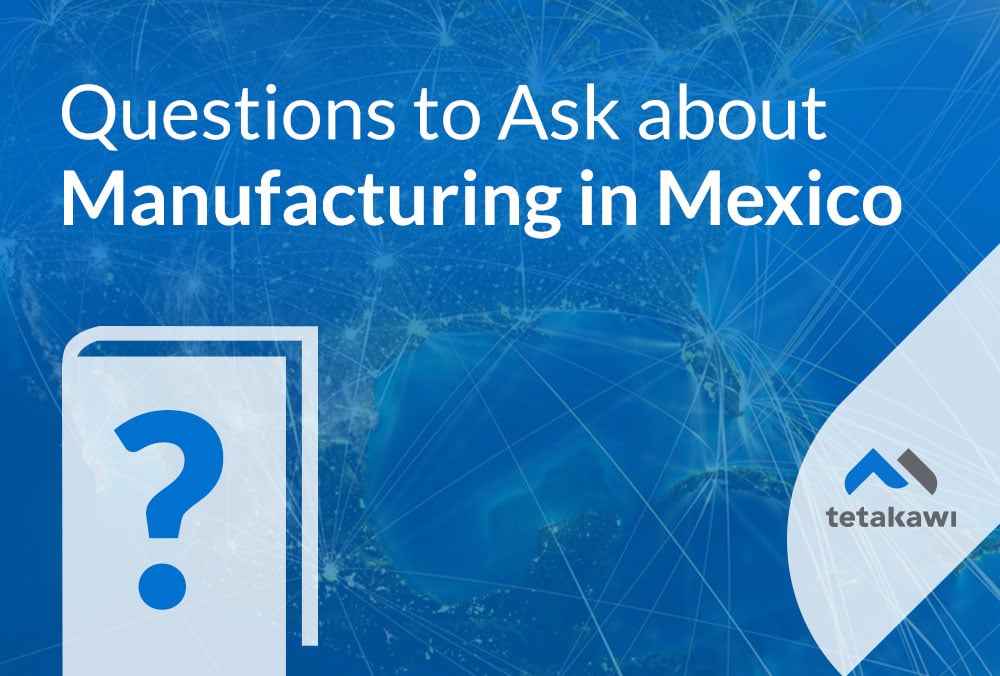 Start your journey into Mexico today!
50+ Questions to ask before expanding into Mexico
Thinking about expanding into Mexico? Step 1 of your due diligence process is answering all of these questions. Over the last 33 years, thousands of companies have used this guide to accelerate their expansion into Mexico.