In part five of our guide to manufacturing locations in Mexico, we explore the 6th largest manufacturing venue in the country, Guanajuato, and how a shelter services provider can help make it easy to get a manufacturing operation up and running.
Quick facts about manufacturing in Guanajuato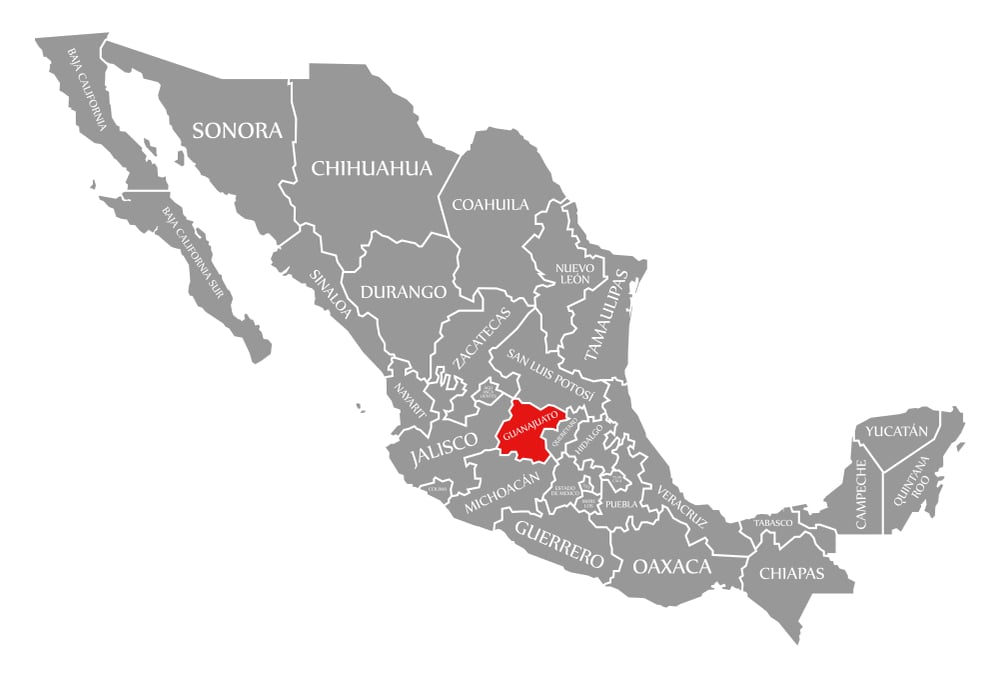 The Guanajuato region in Mexico is one of the most dynamic manufacturing centers in the country. The country's sixth-largest economy, Guanajuato, is also the fastest-growing state for manufacturing in Mexico. Centrally located in the country with a population of over 6 million, Guanajuato is home to several manufacturing industries, with particular strength in automotive manufacturing. Many major auto companies have established a base in the region, including Toyota, Honda, and Thyssen Group.
Population:

6 million

Distance to U.S. Border:

560 mi from Laredo, TX

Labor Market:

varying levels of skill from labor to highly educated

Infrastructure:

An international airport (Guanajuato International Airport), an international railway network, access to major regional and international highways, and access to seaports in the Gulf of Mexico

Major Industries:

Aerospace, automotive
Learn more about manufacturing in Guanajuato, Mexico.
How to set up a factory in Guanajuato
Companies looking to get an operation up and running in Guanajuato often choose to use the "shelter" model of entry. The shelter model allows a foreign-owned company to work with a locally-based provider in Mexico instead of going at it alone. As with any location in Mexico, many local complexities can make setup and maintenance of manufacturing operations challenging for new businesses. Working with a shelter services provider that is well-versed in the Guanajuato manufacturing environment affords many benefits, including:
Making use of the shelter services model, which eases legal and administrative knowledge gaps. For many businesses, this model is the easiest to implement of the

five different modes of entry for manufacturing in Mexico.

Reducing the risks associated with beginning a new operation alone, which include complex tax, trade, and labor laws.

Maximizing competitive strengths by focusing on manufacturing excellence. As the legal entity acting on the establishing company's behalf, the shelter service provider shoulders the administrative burden and serves as the liaison between the many regulating bodies in Mexico.
Easier manufacturing in Guanajuato: working with a shelter services provider
New businesses seeking to manufacture in Mexico face many challenges. In particular, the know-how required to navigate the trade and legal hurdles of a new operation is often lacking for companies unfamiliar with the Guanajuato region. By choosing to use a shelter services provider, companies have better access to accurate information and can act more quickly as a result. Shelter service providers offer more flexibility, direct access to the local workforce, improved scalability, and easier understanding of potential tax and legal advantages.
The Mexican government offers many income and trade tax benefits for foreign companies investing in local business. Working with a shelter services provider allows companies the clarity to make use of these benefits, as well as drastically reduce any associated administrative burdens.
What shelter services in Guanajuato does Tetakawi offer?
Tetakawi has worked as a trusted shelter services provider in Mexico for over 33 years. To reduce potential financial, operational, and regulatory risk, we offer a number of services, from start-up to cost estimation. Whether your company is looking to take advantage of the region's booming manufacturing growth or its robust automotive industry, working with Tetakawi in Guanajuato can make it easier.
Under the shelter service model, we provide a comprehensive legal framework and act as the employer and manufacturer of record in Mexico for your company. We have extensive knowledge of the manufacturing landscape in Guanajuato, and our services cover every operational, administrative, and labor-management function. From recruitment and payroll to regulatory compliance, to import/export and supply chain management and beyond, our local knowledge of the region can help your company launch, operate, and thrive.
Read more about available shelter services in Guanajuato.
Where to go for more information on shelter services in Guanajuato
If you're ready to get up and running in Guanajuato, consider working with Tetakawi as your shelter services provider. To learn more about our offerings for shelter services in Guanajuato and get your questions answered, contact us today.
Subscribe
Sign up and stay informed with tips, updates, and best practices for manufacturing in Mexico.