In part three of our guide to manufacturing locations in Mexico, we break down a city with a rich manufacturing history and explore how shelter services in Hermosillo are bringing aerospace manufacturers to the region.
Quick facts about manufacturing in Hermosillo
Hermosillo's manufacturing roots are tied to the automotive industry when the Ford Stamping and Assembly plant was established in 1986. Since that time, the manufacturing industry in the region has grown tremendously, in part due to transferrable expertise from its auto beginnings. Today, Hermosillo and the nearby city, Guaymas, are recognized as the new hub for aerospace manufacturing in Mexico. With a highly-skilled workforce, well-connected access to global markets, and significant investments in education and technology, Hermosillo is a choice city for manufacturing companies looking for growth.
Population: 900,000
Distance to U.S. Border: 178 mi from Nogales, AZ
Labor Market: Highly educated, with a focus on operations
Infrastructure: Hermosillo International Airport, access to Guaymas seaport, national and international highway networks
Major Industries: Automotive, aerospace, medical devices
Learn more about manufacturing in Hermosillo, Mexico.
How can shelter services make manufacturing in Hermosillo easier?
Hermosillo is a location prime for companies looking to either establish new operations or expand their existing production. Because it has long been established as an attractive destination for companies to land, the region is highly competitive. Finding the right combination of physical space, labor, and administrative management can quickly become more challenging than expected, especially for new entrants.
As an alternative, choosing to use shelter services in Hermosillo allows companies to be nimbler. Discovering the ins and outs of the region's industry, streamlining production supply chains, and building the right teams is quicker and easier when working with a partner that is already knowledgeable about the location.
Additionally, using shelter services in Hermosillo alleviates the need for entry teams to spread themselves too thin – instead of dedicating time, money, and energy to creating administrative infrastructure from the ground up, companies can focus their efforts on production efficiency and profitability.
What shelter services in Hermosillo does Tetakawi offer?
Our shelter services in Hermosillo are cost-effective and reduce the risks (financial, regulatory, and operational) many companies face when setting up new operations. In addition to providing a comprehensive legal framework and acting as the employer and manufacturer of record in Mexico, we handle all of your administrative support in the following areas: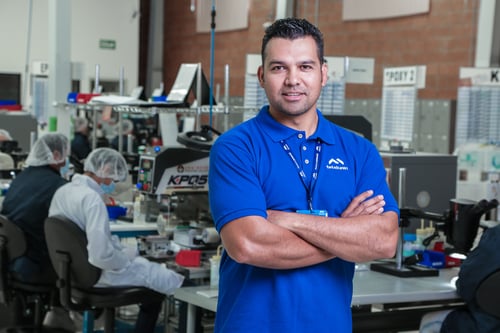 Human Resources
Import & Export
Payroll & Benefits
Accounting & Taxes
Facilities Management
Purchasing
Environmental & Occupational Health & Safety
Workforce Transportation
Soft Landing
Essentially, we take care of all the facets of operation outside of production, giving you the flexibility to improve productivity, reduce cost, and ultimately improve your bottom line.
Read more about available shelter services in Hermosillo.
On-site support in Hermosillo: the Hermosillo Manufacturing Community
Shelter services in Hermosillo can be complemented by the use of an established manufacturing community. What is a manufacturing community? It's more than just an industrial park in Mexico – it offers a turnkey approach that includes a physical production location, support services, and extensive legal and regulatory framework.
Tetakawi operates several manufacturing communities throughout Mexico. In May 2019, we broke ground on the Hermosillo manufacturing community in one of the fastest-growing metropolitan areas of Hermosillo. The new facility is state-of-the-art and is complete with robust infrastructure and amenities.
If you choose to operate in a manufacturing community, you can:
Quickly get started – set up your own manufacturing facility in Hermosillo in as few as seven months
Avoid production interruptions and ensure business continuity when leveraging established infrastructure, services, and know-how
Easily scale your operation by putting the burden of growth on the service provider
Free up your teams and focus on production efficiency
Quickly navigate import/export regulations and other compliance-related facets of your operation by relying on a knowledgeable team
Learn more here about our Rio Sonora Manufacturing Community in Hermosillo, Mexico.
Where to go for more information on shelter services in Hermosillo
To learn more about our HermoSur manufacturing community or our shelter services in Hermosillo, contact us to speak with an expert, get your questions answered, and begin manufacturing in Mexico.
Subscribe
Sign up and stay informed with tips, updates, and best practices for manufacturing in Mexico.