Helping Your Foreign Workers Adapt to Life in Mexico
When opening a division or production facility in Mexico, many companies opt to send senior level leaders to oversee the early stages of production. That means in addition to dealing with the multitude of details involved in launching a new facility, employees also must deal with the complexities of launching a new life in a foreign company.
Living and working in a new country is a major change for many employees, but the level of available assistance can determine whether this experience is added stress or fresh adventure. Helping employees understand what to expect, and what help is available, will help them more quickly settle into a new way of life.
Secure the right approvals
The first step to bringing team members to Mexico to help with your facility launch is to secure the right paperwork. Workers traveling to Mexico for less than six months can enter the country with only a current passport or visa from the U.S., Canada, Japan, UK or European Union.
Workers planning to stay in Mexico for more than six months, but less than four years, will need to apply for a temporary resident visa. This visa is the first step in obtaining a temporary resident permit, which gives employees unlimited access to move in and out of Mexico. While the visa must be issued by a Mexican Consulate before traveling to Mexico, it's up to employers to apply to the National Institute of Immigration for a permit within 30 days of their workers' arrival in Mexico.
There are some stipulations. To qualify for the temporary visa, workers must demonstrate a monthly income that, over the past six months, meets at least 300 days' worth of minimum wage (about USD $1,620 as of 2019) or a savings balance of at least 5,000 days' of minimum wage (approximately US$27,000) over the past 12 months.
After four years, or at any time for workers interested in remaining in Mexico indefinitely, it's time to apply for a permanent resident visa. The worker must meet certain requirements, such as ample monthly income to support themselves or four years holding a temporary resident visa. Workers can apply for this visa at a Mexican Consular office.
Permit holds also must apply for a Curp Card. This identity card is required for filing taxes, applying for a driver's license or opening a bank account.
Consider relocation assistance
Building a new life in Mexico starts with the basics, such as finding a home to buy or rent, potentially finding local schools for children, and integrating into a supporting community. It's a big enough task on its own, made bigger for individuals also tasked with launching a successful new facility.
Fortunately, there is assistance available. Relocation companies offer a range of services to help workers settle in quickly. Relocation services might include finding housing or be as detailed as settling contracts for utilities or opening a bank account.
Employers opening their first overseas location should consider their team's experience in relocating and the value they offer to the new facility in gauging whether to offer corporate relocation services. If this is your team's first experience working and living as foreign nationals, corporate relocation assistance can help ensure they're able to quickly focus on the work at hand, rather than adapting to home life.
Some standard relocation packages include:
Packing and/or unpacking services
Moving company service
Home sale or lease-breaking penalty assistance
House-hunting trip
Temporary housing
Transportation, potentially including auto moving to the final destination
Certain (capped) miscellaneous expenses. This might driver's license fees, pet registration and licenses, cleaning services at the new home, utility hook-ups and other move-related expenses.
Bridge cultural differences
Employers can also help their employees relocate more easily by helping foreign and local employees get to know one another and navigate cultural differences. Getting a handle on cultural particularities will improve working relationships and build the trust necessary to train future employees.
For example, you might need to set the expectation for incoming expats to keep business dress very conservative, with suits or company shirts being the norm. Or you may want to prepare those workers for differences in body language that might be easily misconstrued. Perhaps most importantly, you'll need to prepare trainers and managers on how to deliver feedback or criticism in a way that won't be misinterpreted.
Consider providing some cultural training to help build these relationships. Some companies offer "lunch and learn" cultural talks while others might turn to online training modules.
Support your workers
While many companies opt to move into Mexico to benefit from access to a skilled workforce at competitive wages, your future Mexico employees will benefit from training steeped in experience in the way you do things today. The first step in helping your workers succeed is preparing your temporary trainers, managers and other expats to comfortably live in a new country.
If you're ready for help in supporting your workforce in Mexico, let us know.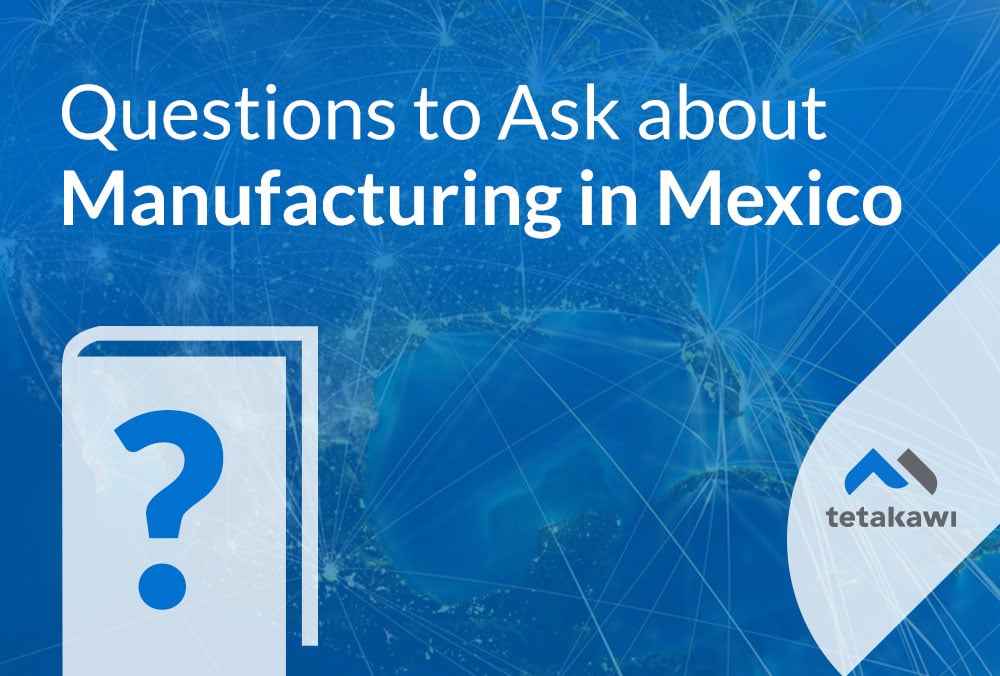 Start your journey into Mexico today!
50+ Questions to ask before expanding into Mexico
Thinking about expanding into Mexico? Step 1 of your due diligence process is answering all of these questions. Over the last 33 years, thousands of companies have used this guide to accelerate their expansion into Mexico.