How to Move Manufacturing from China to Mexico
Why would you want to consider Mexico over China for your manufacturing location? That's a question many manufacturers have been forced to ask as they reevaluate the cost-effectiveness of their current approach.
China is no longer the world's leading low-cost manufacturing country. As countries begin to evaluate their alternatives, they're internalizing lessons learned around lengthy shipping lead times and centralizing manufacturing within a single location.
As David McQueen, management consultant business development, Tetakawi, explains in the webinar Manufacturing in Mexico vs. China: Advantages, Challenges, Cost and More, there are many advantages to manufacturing in Mexico, but there are challenges to making this shift as well. By confronting the challenges of operating in a new country strategically, foreign investors will find that they can easily and cost-effectively make this move and better serve their customer base.
Why manufacture in Mexico?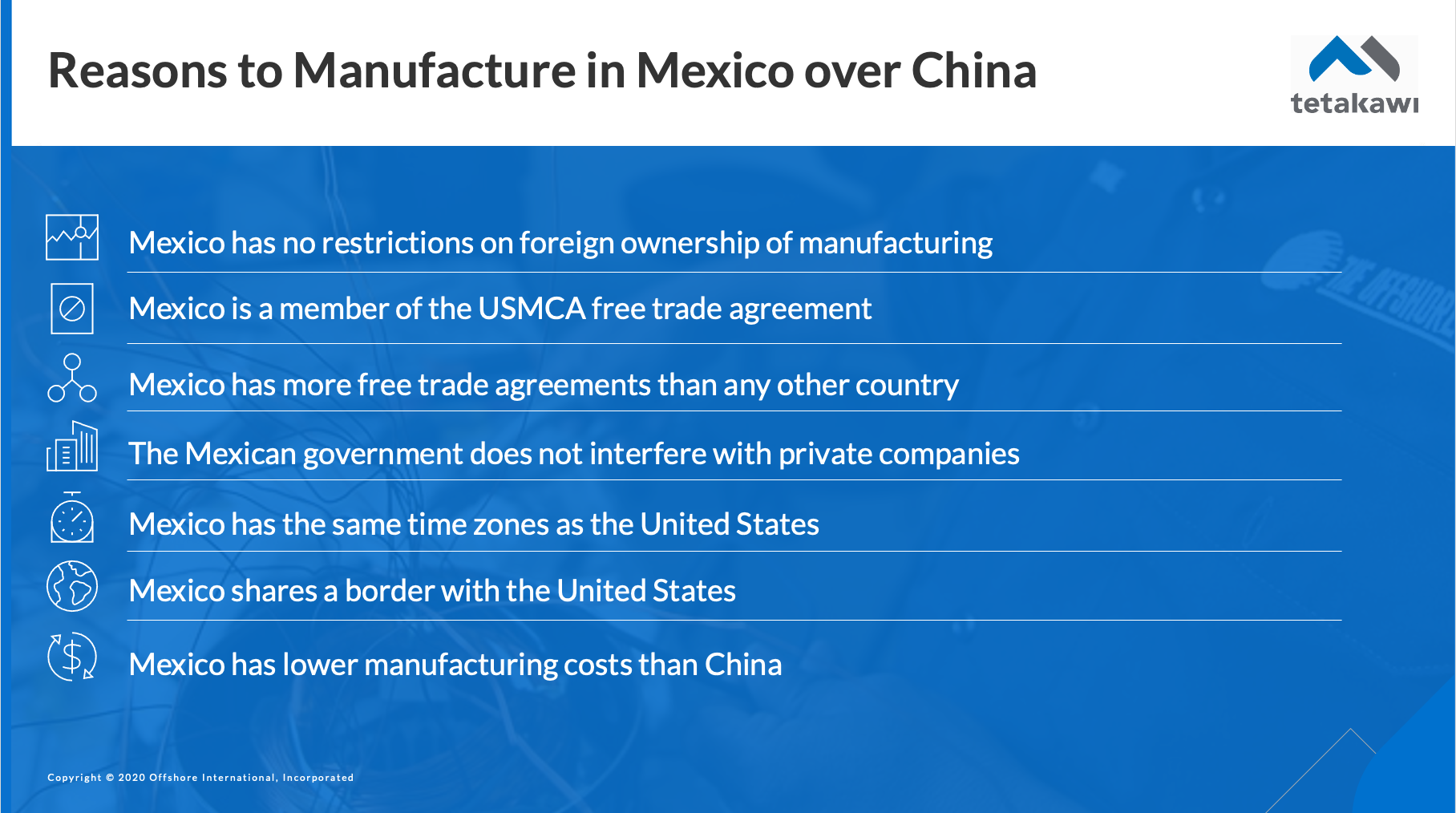 Since China established itself as the best location low-cost manufacturing location in the 1990s, the world has changed. The expansion of manufacturing in China began to show problems with the system, including greater dependency on a single country, wage inflation, and trade barriers. As manufacturers evaluate alternatives, Mexico becomes a clear winner.
For starters, Mexico has no restrictions on foreign ownership of manufacturing. In fact, the government does not interfere directly with private companies, as has been the case in China. That provides an attractive opportunity to invest.
Mexico is also a member of the USMCA, as well as numerous additional trade agreements with more than 50 countries around the world. This opens the North American market and the world to free trade among materials and finished goods.
In addition, there is no ignoring the fact that sharing a border with the U.S. provides tremendous convenience in freight shipping costs and timelines, a benefit not afforded by any other low-cost manufacturing country. On average, shipments from China to the U.S. might take 36 days to arrive and cost $2.63 USD per cubic foot, while the same shipment from Mexico might arrive within two days and cost $1.26 USD per cubic foot to ship. That longer shipment time also adds costs for securing additional supplemental inventory needed in the event of shipping delays.
Finally, in many sectors, Mexico has costs competitive with China. At large, Mexico has lower labor costs. The average fully fringed manufacturing wage in Mexico ranges around $4.82 USD, compared to $6.50 USD in China.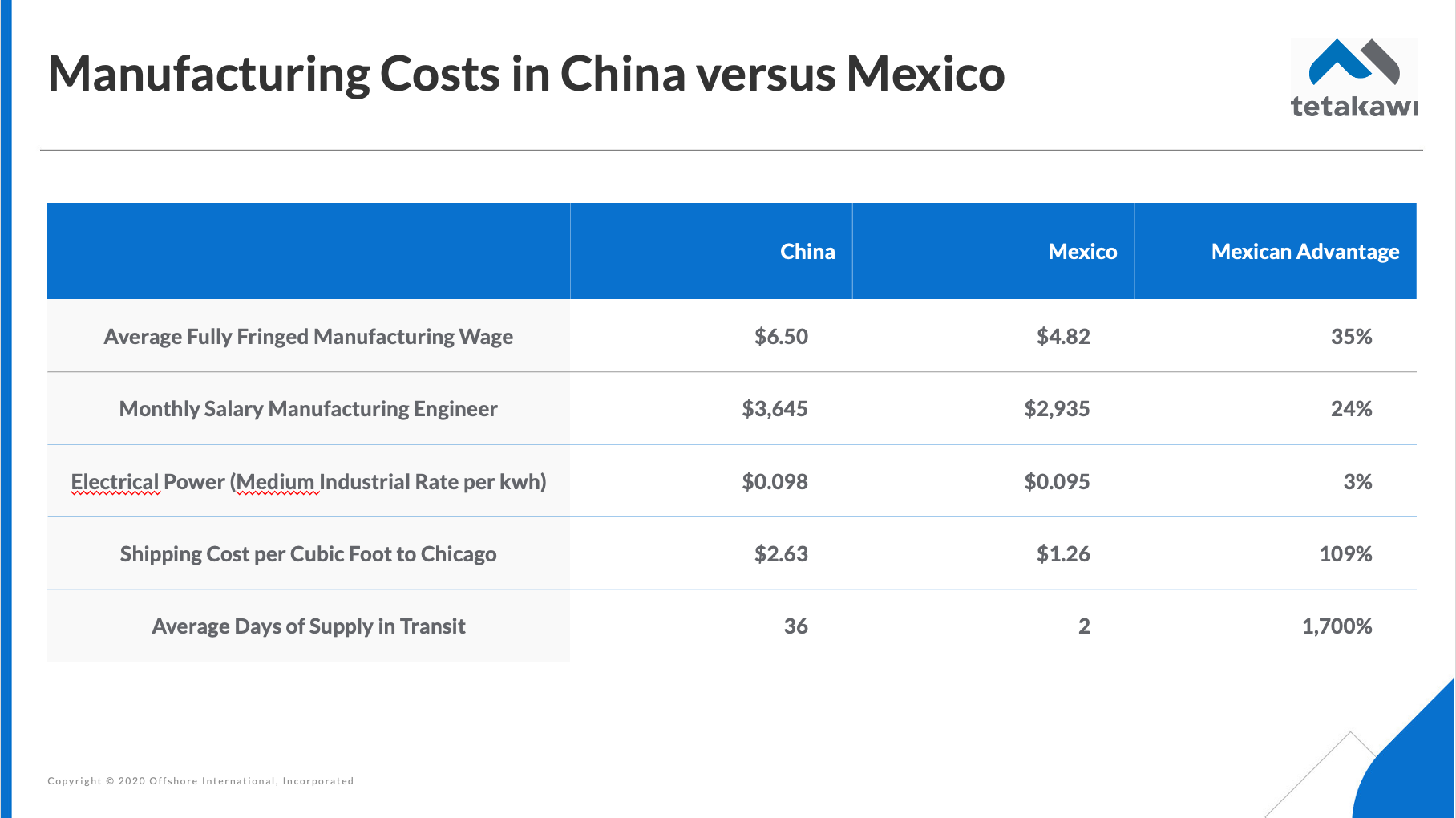 Contract manufacturing in China versus Mexico
Companies that have manufactured in China for years, building up partnerships with contract manufacturing partners, may first examine a similar framework for launching manufacturing in Mexico.
However, as McQueen explains, the industrial infrastructure and industrial landscape across these two countries have developed differently. In China, incentives for entrepreneurial activity encouraged investment from a range of suppliers and good producers. In Mexico, on the other hand, industrial development has been led by foreign investment from large, vertically integrated finished goods manufacturers who have pulled along their supply chains to provide cost-effective local support.
Today, manufacturers are likely to find in Mexico strong supply chains supporting stamping, foundry, and forging activities, as well as plastic injection, semiconductor, and machining firms. However, there may be a lack of certain supporting materials and skillsets that drive a need to import certain raw materials.
Mexico addresses this need by providing temporary import of materials duty-free for companies operating within the IMMEX framework. Certain restrictions are placed upon the length of time for which these materials can be imported before being incorporated into a finished product and subsequently exported.
Challenges in applying old models to new operations
Still, manufacturers may find it challenging to build in Mexico the supplier or contract manufacturing partnerships that have served them in China. Mexico materials manufacturers tend to have less need for marketing and distribution help, as they are capable of approaching the U.S. market on their own to find partners and customers. As a result, there's less need in Mexico to partner with larger foreign direct investors. Because Mexican material suppliers are aware of the demand for their services, they can charge higher for their engineering services and technical assistance.
In addition, financing in Mexico can be expensive and difficult to access, particularly for small and medium-sized enterprises. It's not uncommon for contract manufacturing providers to look for accelerated credit terms to help with financing and to look to customers for the financing of machinery and tooling.
Because of the level of foreign ownership prevalent in Mexico, the company with which you're looking to partner may actually be a subsidiary of another foreign-owned company—potentially a competitor.
While contract manufacturing is certainly still an option in Mexico, organizations must address these potential risks upfront and may wish to consider other operational options.
Alternative operational frameworks in Mexico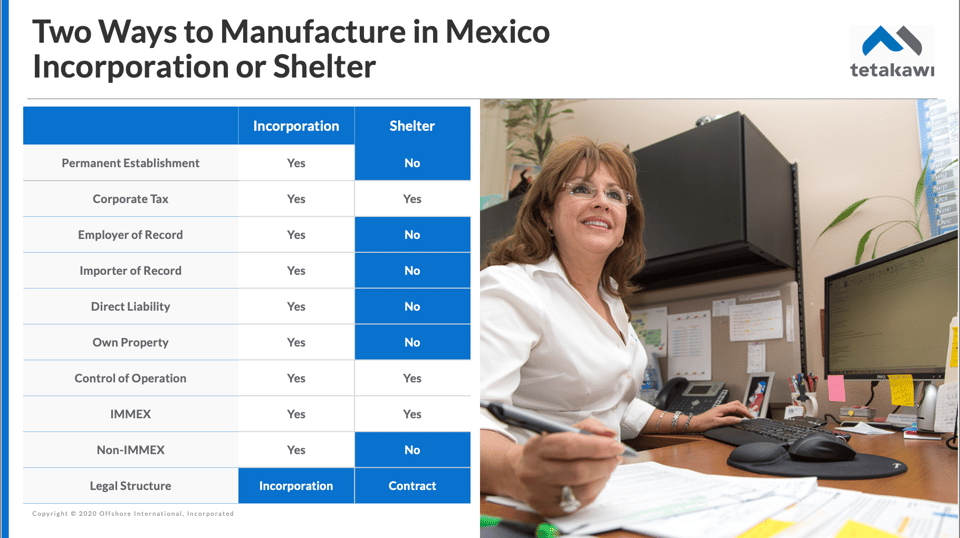 Manufacturers looking to rapidly move manufacturing into Mexico may also consider forming a joint venture or acquiring a manufacturing company. This option provides an immediate base of knowledge and experience, as well as the potential to gain immediate market share. Of course, targets for this style of partnership can be rare.
Other manufacturers may consider launching a greenfield operation. This attractive option provides 100% ownership and full control of the organization. What's more, Mexico works to create a foreign investor-friendly business environment. However, this does mean companies will need to build or rebuild a complete workforce, invest in machinery and equipment, and learn to navigate the laws and regulations unique to Mexico. These are hardly insurmountable hurdles, particularly with the support of consultants familiar with Mexico's regulations, but they can add time to the process of launching.
An additional option is to operate a manufacturing operation within the framework of a shelter provider. While the foreign investor retains complete control of the manufacturing operation, the shelter assumes the burden of serving as the employer and importer of record and direct liability for meeting all permits and regulations. Some services can also be outsourced to the shelter provider, including administration such as accounts payable and human resources support, import and export services, and in some cases management of the leasable industrial real estate.
Make an effective move
Companies looking to make a move from manufacturing in China to Mexico can't afford downtime in operations and likely want to avoid the cost of operating in both countries. This is perhaps the area where a shelter provider offers the greatest benefit. By working with an experienced shelter provider, manufacturers can rapidly ramp up their operations—in some cases, in as little as 30 to 60 days.
To gain additional insight that could help you move your manufacturing operation to Mexico, watch the complete webinar below, Manufacturing in Mexico vs. China: Advantages, Challenges, Cost and More, or contact Tetakawi today.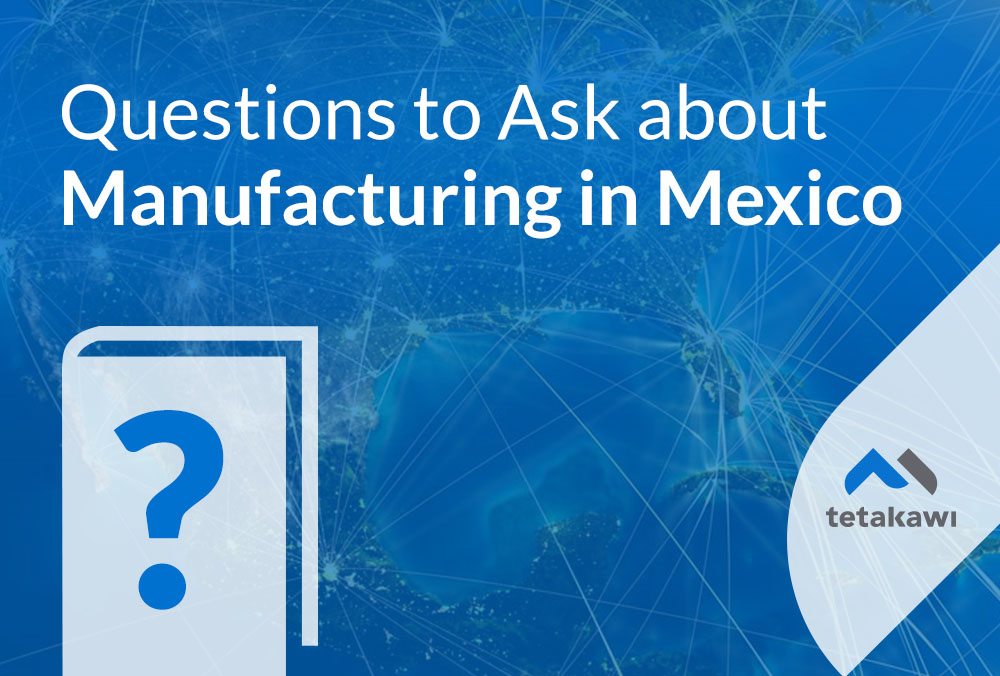 Start your journey into Mexico today!
50+ Questions to ask before expanding into Mexico
Thinking about expanding into Mexico? Step 1 of your due diligence process is answering all of these questions. Over the last 33 years, thousands of companies have used this guide to accelerate their expansion into Mexico.