How to Set Up a Furniture Manufacturing Factory in Mexico
Want to set up a Mexico furniture manufacturing factory but not sure where to start? As the more than 675 furniture manufacturers already operating in Mexico can attest, the process can be relatively straightforward. What's more, with the right plan and partner, you can set up a furniture manufacturing factory in Mexico in as little as 30 days.
Wondering how to simplify the process of establishing a quality furniture manufacturing factory in Mexico? Consider the seven steps below.
1. Select your factory location
Different regions in Mexico offer different benefits, and it's important to strike the right balance when selecting your location. A site along the northern border offers ease of access to U.S. markets, but moving lower south can lower your overall operating costs. However, most manufacturers start the site selection process by locating near established furniture manufacturing clusters.
Wondering where furniture is manufactured in Mexico? Mexico's furniture manufacturing clusters can be found in northern and central states, including Jalisco, Sonora, the State of Mexico, Coahuila, Nuevo León, and Baja California. However, certain production types may be concentrated heavily in specific areas. For example, Coahuila has become known for its collaboration with suppliers to Swedish furniture manufacturing company Ikea. Some furniture manufacturers opt to locate their facilities near specific suppliers; copper, marble, and large timber suppliers can all be found here.
To further drill down in site selection, many manufacturers consider incentives available from the state. When Chinese upholstery maker Kuka Home selected Monterrey for its new upholstery manufacturing facility in 2020, it noted that the state of Nuevo Leon had provided support that tipped its location decision in favor of Monterrey. By 2021, the company had doubled the size of its facility to meet tremendous demand, with plans for a further expansion in 2022.
An additional factor to consider is the availability of local workforce to meet your needs. While urban locations with strong furniture manufacturing bases may afford companies with more experienced workers, they will also demand more competitive wages. More remote areas may help lower costs but demand more training support and potentially the need to provide transportation.
2. Find the right building
Once you've selected the right state and city, it's time to decide on industrial real estate. Greenfield development affords manufacturers the ability to completely customize their facility to meet their needs, but many furniture manufacturers moving to Mexico find no need to reinvent the wheel. One of the most significant benefits of leasing industrial property in Mexico is that it allows you to begin operations more quickly than building your own facility. Leasing available Class A industrial space in a Manufacturing Community can get your operations up and running in as little as 30 days.
While there is ample industrial real estate available, it is important to ensure that the site you select meets not only your cost needs but has the infrastructure in place to support your processes. It's critical to tour industrial parks or Manufacturing Communities to ensure that the space meets your unique manufacturing needs, and to identify any fit-out concerns early on as these areas could impact total costs. Most importantly, it's essential to ensure that the selected facility offers some level of flexibility to meet your future expansion plans.
3. Identify local regulatory requirements
As you begin setting up your facility, it's important to ensure that this work is done in compliance with all local environmental health and safety (EHS) regulations. Mexico's Federal Labor Law and Social Security Law establish employee rights, including the right to a safe working environment, and compliance with these regulations is audited by regulatory agencies such as SEMARNAT, CEDES, CONAGUA, STPS, and PROFEPA, among others. It's important to comply with these mandates from the very beginning, lest a step be missed when production is underway.
If working with a shelter service provider, this step becomes much simpler. Shelter providers can guide Mexico furniture manufacturing companies with regards to EHS compliance, from securing start-up permits and creating environmental impact assessments to periodic monitoring and recordkeeping.
4. Recruit your workforce
The most critical part of setting up your Mexico furniture manufacturing operation is recruiting the right workforce to help. This might include a range of direct laborer roles, such as machine operators, stock handlers, and assemblers, well as management positions.
Manufacturers should aim to deploy a range of recruitment strategies tailored to their specific location. This may include job ads posted across social media channels, on job boards, and in local newspapers. Recruitment is best supported by establishing competitive rates and benefits for this region. Because the most effective recruitment strategies and competitive offerings for Mexico may be different from the norms of your home country, this is an area where local expertise may be a critical differentiator.
5. Make a training plan
In addition to being a legal requirement for Mexico furniture manufacturers, a solid training plan will help set your operation's quality apart. Training will likely include a focus on developing specific skillsets and include safety information and corporate expectations, such as continuous improvement practices. Some manufacturing communities in Mexico include onsite training facilities that help workers gain skills on CNC machines and other complex equipment, among other possibilities.
6. Work with Customs
Before you're able to ship your first goods, it's important to have a plan in place for moving materials through customs. Mexico requires import and export documentation that includes a completed customs declaration (pedimento), a commercial invoice, documentation related to safety and performance regulation compliance, and a bill of lading that guarantees exporters are paid, and importers receive their goods. Many Mexican furniture manufacturers work with a licensed Mexican customs broker or a consultant specializing in compliance to reduce the risk of paperwork discrepancies that can delay shipments.
7. Ramp up production
With all of the pieces in place, it's time to begin producing goods. Of course, this is the part that you know best. With the support of the right partner, this could be the only step you need to worry about. Shelter service providers in Mexico can take on many of the administrative and legal legwork to get businesses up and running. From site selection consulting to recruiting to import/export analysis, a shelter service provider can keep your business running smoothly so that you can prioritize operational excellence.
If you're ready to take the next step to launch a furniture manufacturing factory in Mexico, contact Tetakawi today.
Also read about how upholstery plants are expanding to Mexico.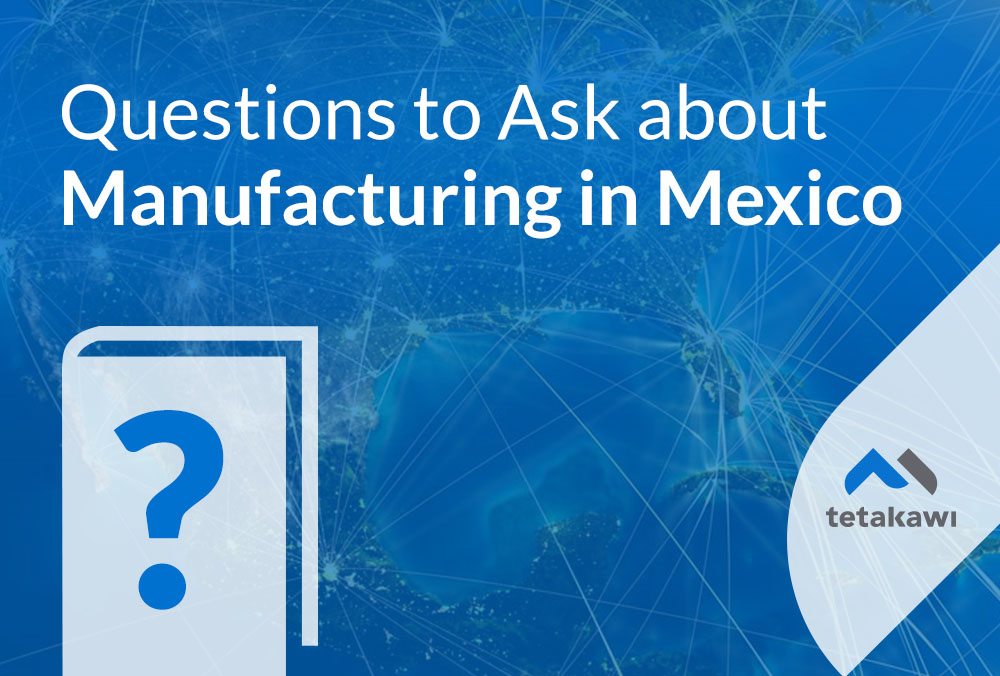 Start your journey into Mexico today!
50+ Questions to ask before expanding into Mexico
Thinking about expanding into Mexico? Step 1 of your due diligence process is answering all of these questions. Over the last 33 years, thousands of companies have used this guide to accelerate their expansion into Mexico.