How to Set up An Electronics Manufacturing Factory in Mexico
Mexico is an ideal location for manufacturing because of its cost-effective operational costs, rapid delivery lead times, and open trade agreements with much of the world. Electronics manufacturing in Mexico also benefits from a well-established supply chain across a number of subsectors. In fact, Mexico is the 8th largest electronics producer worldwide and growing. Many companies have decided to set up electronics manufacturing facilities in Mexico to leverage the infrastructure and connections already in place to support this in-demand sector.
Entering this deep-rooted industrial sector isn't difficult. In fact, with the right partners and a clear strategic plan, setting up an electronics manufacturing factory in Mexico can be fast and straightforward. Below, you'll find the types of electronics manufacturers already finding success in Mexico and the steps you can take to leverage these advantages.
Types of electronics made in Mexico
As one of the first industries to develop under the country's maquiladora program, electronics manufacturing is well represented across Mexico. Today, there are five sectors that are predominant in Mexico's electronics manufacturing industry: audio/visual equipment, personal and business computing, communications technology, semiconductors, and optical instruments.
At 25% of total electronics export revenue, flat-screen television production is the most significant consumer electronics product type manufactured in Mexico. In fact, more than 20 million TVs are produced each year in Tijuana alone. Leading names in electronics manufacturing, including LG, Sony, Samsung, and Vizio, all export goods from Mexico.
In addition, electronics made in Mexico increasingly serve as components for the country's expansive automotive and aerospace manufacturing industries. With all of these varying demands, there remains ample room for electronics manufacturers across these and other sectors to leverage existing infrastructure and supply chain networks to operate in Mexico successfully.
Steps to set up an electronics manufacturing factory in Mexico
Establishing a factory in Mexico becomes much simpler under the umbrella of a shelter service provider, which serves as the legal entity of record for the organization operating in Mexico. This structure allows manufacturers to offload much of the typical regulatory burden of establishing a new company to their shelter partner. This can also dramatically speed the time to launch.
With the support of this partner, there are four simple steps to consider to successfully speed your products' time to market.
1. Determine the best site for your electronics operation
While there are a wide range of factors to consider in determining the best site for your operation, many electronics manufacturing factories find they are best served with a location in an existing industrial cluster. These clusters encourage the grouping of organizations with similar infrastructure needs.
While Mexico's electronics manufacturing is relatively widespread across the country, there are specific groupings. For example, the Baja California region is often considered a consumer technology hotspot. Sonora is best known for its telecommunications, aerospace, and automotive component manufacturing. The central corridor, including Guadalajara, is a key site for electronic sub-assemblies. In the northeast, including Monterrey and Saltillo, you're more likely to find computers and home appliances manufacturers.
2. Decide on new construction or facility lease
Greenfield development affords manufacturers some distinct advantages, but most electronics manufacturers in Mexico find ample Class A industrial space available to suit their needs. Leasing can also offer manufacturers some cost benefits, particularly compared to costs in other countries. While rates vary depending on the state, it is generally possible to lease a Class A building in an industrial park in Mexico for between USD $0.38 and $0.48 per square foot per month.
Manufacturing Communities are another option to consider. These communities provide necessary space, infrastructure, and amenities designed to attract and retain a local workforce, such as medical services, childcare facilities, and sports fields. Add to this the availability of onsite administrative support services, and many companies find that this all-in-one offering best supports a rapid startup.
3. Create a workforce attraction and retention plan
Electronics manufacturing's popularity in Mexico means that there is interest among the skilled labor force, as well as the likelihood of competition. This makes it critical to take a strategic approach to recruitment and retention from the beginning to develop a plan that provides the best cost-benefit over time.
For many companies, effective recruitment strategies may be Mexico different from those typically employed in their home country. Social media is often the first place a job seeker in Mexico will turn, gathering input from their personal networks about prospective job opportunities. Traditional methods, including print street and radio ads, are also proven strategies for recruiting new hires. Working with an experienced HR advisor can help develop a targeted, multi-pronged approach.
While workforce training is mandated for companies with more than 50 employees, it's also an excellent way to build a skilled workforce and ensure product quality. In fact, many industrial clusters spur the development of vocational training centers where companies and universities may support one another in training the local workforce on in-demand skillsets. Some manufacturing communities also offer access to onsite training centers that allow new recruits to build skillsets on specialty equipment such as CNC machines.
4. Put a process in place for managing imports and exports
Rapid delivery of finished goods is one of the leading reasons why more companies are considering nearshoring in Mexico. Unlike other low-cost manufacturing countries, Mexico shares a border with its largest export destination. In addition, easy access to deep seaports on both coasts helps companies easily reach global destinations. However, reaching those destinations in a timely manner depends upon having a plan for customs in place early on.
Many electronics manufacturers in Mexico prefer to work with a licensed customs broker or a consultant that specializes in customs compliance. While import and export documentation can be relatively straightforward, a paperwork discrepancy or missing documentation can lead to significant delivery bottlenecks.
Prepare your electronics manufacturing factory for success
Companies that work with an experienced shelter service provider find that setting up an electronics manufacturing factory in Mexico is easier than they initially thought possible. In fact, a partner like Tetakawi can connect companies with a full range of services from site selection, to real estate leasing, hiring and recruitment support, and import/export administration. The only thing our clients need to focus on is the manufacturing work they do best.
If you're ready to take the next step toward launching an electronics manufacturing factory in Mexico, contact Tetakawi today.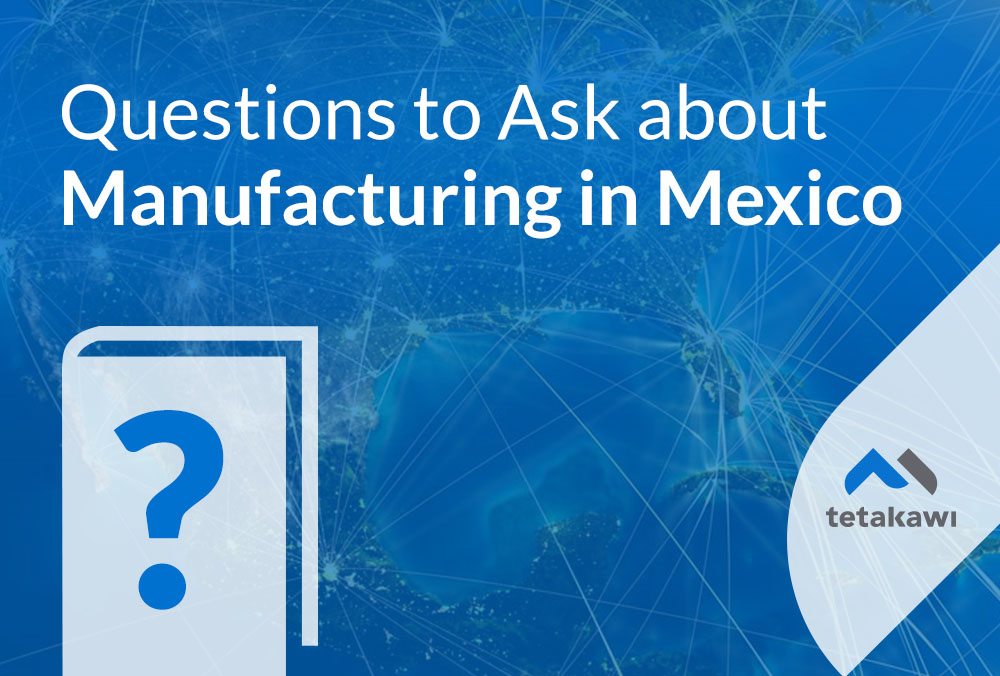 START YOUR JOURNEY INTO MEXICO TODAY!
50+ Questions to ask before expanding into Mexico
Thinking about expanding into Mexico? Step 1 of your due diligence process is answering all of these questions. Over the last 33 years, thousands of companies have used this guide to accelerate their expansion into Mexico.