Intellectual Property Protection in Mexico and China
Protection of intellectual property varies from country to country, and when considering the laws of other countries, especially when considering host countries for offshore manufacturing and management, it is important to learn the intellectual property protection laws that are in place.
Intellectual Property Law in Mexico
In Mexico, the North American Free Trade Agreement protects certain intellectual properties including copyright of data, sound recordings, trademarks, patents or inventions, industrial designs, trade secrets and geographical indications. In addition to NAFTA and the participation of it's modernization, Mexico is part of the following agreements:
World Intellectual Property Organization.
Paris Convention for the Protection of Industrial Property.
Nice Agreement Concerning the International Classification of Goods and Services for the Purposes of the Registration of Marks.
Lisbon Agreement for the Protection of Appellations of Origin and their International Registration.
Patent Cooperation Treaty.
Singapore Treaty on the Law of Trademarks.
Trademark Law Treaty.
Vienna Agreement Establishing an International Classification of the Figurative Elements of Marks.
Strasbourg Agreement Concerning the International Patent Classification.
Locarno Agreement Establishing an International Classification for Industrial Designs.
Beijing Treaty on Audiovisual Performances.
Marrakesh Treaty to Facilitate Access to Published Works for Persons Who Are Blind, Visually Impaired or Otherwise Print Disabled.
Protocol Relating to the Madrid Agreement Concerning the International Registration of Marks.
China has been widely questioned for both the content of its intellectual property protection laws, as well as their enforcement. While China has made major strides to provide increased protections for businesses operating there, manufacturers still have many concerns. For example, The Indian Express reported according to the Chinese government, nearly 40 percent of online products in China are counterfeit.
IP Protection in Mexico and China
Copyright
Mexico copyright law protects authors or owners of exclusive rights to books, sound recordings, computer software, or other works of original expression have automatic legal rights to them. Authors or owners don't need to register, and they are guaranteed protection for 75 years after their death, however registration is recommended in the event of legal action. The copyright law grants the author both moral and patrimonial rights.


Since Mexico belongs to both the Universal Copyright Convention and the Berne Convention, foreigners are assured protection for their works in Mexico.

In China, ownership of the copyright to a work is granted to Chinese nationals upon completion of the work. No registration is required for copyright protection. There is no time limitation on moral rights protection. Generally, the term of protection of publication rights and other copyrights is the life of the author plus fifty years.
Trademarks, Names and Slogans
Mexico: Trademarks in Mexico may be registered for a ten-year term, renewable for an unlimited number of ten-year terms as long as the trademark is still being used. It is not necessary to wait for the approval of registry, trademarks may be used from the moment the appropriate documentation and applications are received. Registration establishes an exclusive right to use by the registrant, but prior rights may be granted to earlier non-registered users of trademarks.
Slogans and phrases may be registered in Mexico. Trade names don't require registration, but they do require documentation and publication. No system of regulation in Mexico for trade names and slogans, however there is a presumption that you are using the trade name or slogan in good faith.

China: The term of protection is ten years from the date the registration is granted. The trademark may be renewed for an additional ten year term within six months before the expiration date of the mark's present term. Proof of use of the trademark prior to renewal is not currently required.
A company can register and license company names, brand names, slogans, and trade dress for China and worldwide markets.
According to RWS Group, early in 2014 the Chinese government introduced changes to its intellectual property system, including reforms to the trademark law and the establishment of more IP courts. As explained by the Standing Committee of National People's Congress, an amendment in 2013 focused on creating multiple measures to facilitate trademark registrations, further safeguarding the fair and competitive market order and strengthening protections to exclusive trademark rights.
Patents
Largely a result of robust IP laws, PWC's data showed that in 2014, 4,514 U.S. patents were registered in Mexico. A company using their product in Mexico may register patents for inventions that are new, non-obvious, and have meaningful industrial applications. Patent registration in the country lasts 20 years and must be licensed on privately negotiated terms. Legislation extends eligibility for product patents to pharmaceuticals, chemicals, biotechnology products, metal alloys and agrochemicals. It is important to note that according to Chambers and Partners, Mexico's participation in the TPP grants more patents, extends the terms of protection, provides more privileges to patent holders and increases penalties for infringements.

Patent applications in China must undergo exhaustive review that can take up to three years upon receipt. Patent rights are enforced starting the date of publication in the Patent Gazette and the terms vary depending on the invention. IPWatchdog reported in 2015 China released the "Draft 4th Amendments to the Chinese Patent Law" for public comments, which were due by Jan. 1, 2016. Most notably, the amendment would include an increase of potential statutory damages from $155,000 to $776,000.
Intellectual Trade Secrets
While there is no registration process for protecting trade secrets in Mexico, individuals who attempt to gather this information can be subject to penalties. Additionally, Law360 reported the TPP has the potential to advance trade secret protections in a number of countries, including Mexico.
Trade secret protections in China are far looser, and it is the responsibility of individual companies to enforce these rules. However, Law360 noted the U.S. has taken extensive diplomatic strides in the past year to combat economic espionage committed by China and protect trade secrets.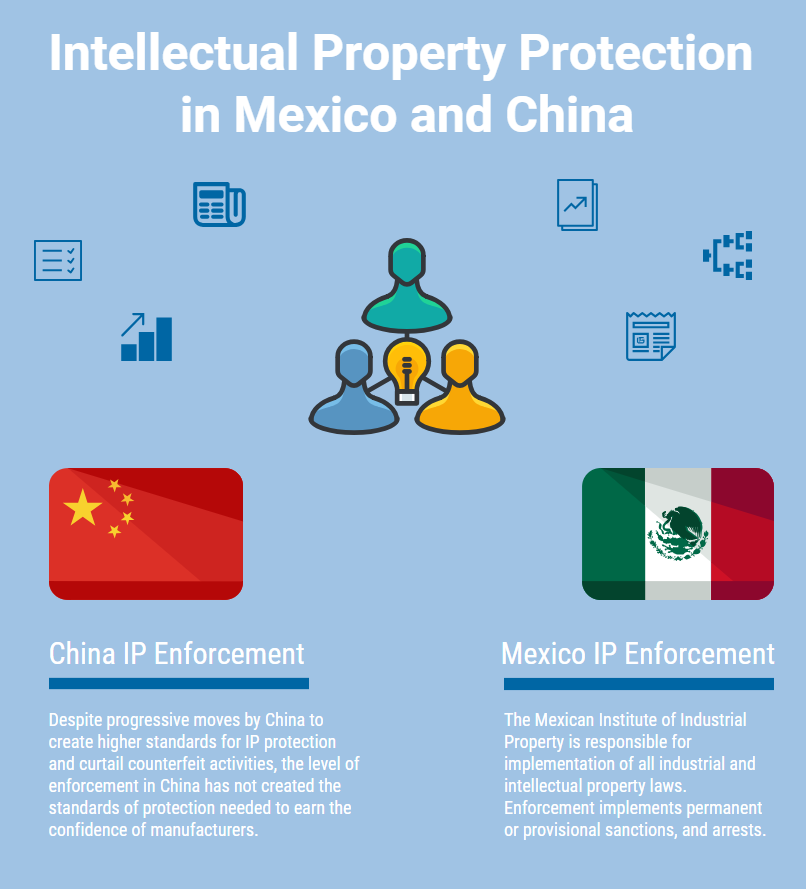 Intellectual Property Laws Enforcement in Mexico
Manufacturers in Mexico can be confident in the country's commitment to protecting their IP rights. It makes sense, too, because as a rapidly emerging economic world power, Mexico has a keen interest in encouraging the growth of its industrial sector. For one, it's participation in multiple free trade agreements and treaties including NAFTA and the TPP illustrates its commitment to protecting intellectual property. As far as enforcement is concerned, The Mexican Institute of Industrial Property is responsible for implementation of all industrial and intellectual property laws. In response to IP theft, the Mexican government will implement permanent or provisional sanctions, and arrest is also a possibility.
Chinese IP Enforcement
Despite progressive moves by China to create higher standards for IP protection and curtail counterfeit activities, the level of enforcement in China has not created the standards of protection needed to earn the confidence of manufacturers. In China there are no criminal penalties specifically directed at the exporter of counterfeit goods, and government often is associated with counterfeit activity.
Mexico's NAFTA regulated IP laws are much more secure and protective of foreign managed and owned businesses. Due to the enforcement and level of commitment of enforcing the Mexican IP protection laws that are in place, it allows for companies to feel safer bringing their ideas forward while investing in a different country.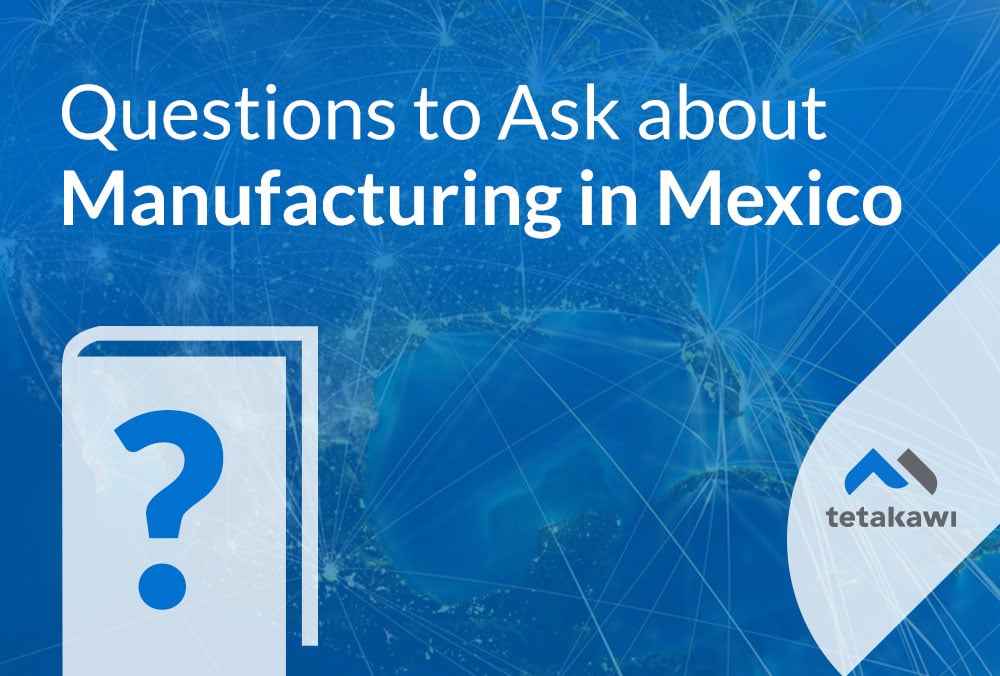 Start your journey into Mexico today!
50+ Questions to ask before expanding into Mexico
Thinking about expanding into Mexico? Step 1 of your due diligence process is answering all of these questions. Over the last 33 years, thousands of companies have used this guide to accelerate their expansion into Mexico.