Light Vehicle Free Trade Agreement Brings New Auto Opportunity to Mexico
A landmark free trade agreement between Mexico and Brazil opens the doors for new automotive opportunity and strengthens Mexico's value as a top destination for manufacturing operations.
Opening the doors for automotive opportunity
In March 2019, the Mexican government announced that an agreement had been reached with Brazil on light vehicle free trade, according to Reuters. The agreement, which is part of the Economic Complementation Act No. 55 (ACE 55), takes effect in March, and dramatically paves the way for increased open commerce and new automotive opportunities between two of Latin America's largest economies.
As the 7th largest vehicle manufacturer in the world – and the 5th largest auto parts producer – the agreement further strengthens Mexico's position as a worldwide hub for automotive manufacturing, especially as the agreement brings Mexico's total partnership in free trade agreements to 14.
The light vehicle agreement is of particular importance at a time when concerns about the terms and even possible conclusion of NAFTA are high. With 41% of Mexico's goods being exported to the United States as of 2016, free trade with Brazil represents the opportunity to diversify interests – with a considerably profitable result. According to Reuters, the economy ministry valued Mexico's trade surplus with Brazil at $868 million last year, which is three times the amount reported in 2017.
What is ACE 55 – and why is free trade with Brazil so important for the auto industry?
Mercosur (currently the nations of Argentina, Brazil, Paraguay and Uruguay) and Mexico originally signed ACE 55 on September 27th, 2002 as part of the 1980 Montevideo Treaty, and it took effect as of 2003. ACE 55 was instrumental in the development of automotive manufacturing for all countries involved; the legislation improved trade relations, protected and expanded existing trade between Mexico and Mercosur, and ultimately laid the groundwork for the free trade recently established with Brazil.
Dynamics of Brazil's auto market, such as higher local taxes and lower economies of scale for Brazilian manufacturing plants, create a price differential that makes Mexican auto imports highly attractive to Brazilian domestic buyers, even with the costs of transport and delivery. Nearly 10 years ago, Mexican cars accounted for almost 20% of the more than 850,000 autos and light commercial vehicles imported into Brazil – and that percentage has the potential to drastically increase with the benefits of free trade.
Mexico's largest trading partner in Latin America, Brazil's bilateral auto trade relationship with Mexico represented 46% of all trade flows in the region. In 2014, light vehicle exports reached $1,608,000 million and auto part exports reached $977 million.
Given the volume of trade – and Mexico's growing trade surplus, the Brazilian government for years sought to protect local manufacturing. As of 2015, ACE 55 allowed Mexico privileged access to the Brazilian auto market – and Mexico was the only non-Mercosur country with this type of agreement. This unprecedented but beneficial move that ensured tariff-free access for light vehicle exports from Mexico to Brazil. Beginning in 2015, this access allowed amounts of up to USD $1,560,000 million, which increased marginally every year until 2019.
For both countries, harmonization of trade initiatives helps encourage economic growth in the automotive sector. For Mexico in particular, the move to free trade with Brazil is the culmination of several years of planning and negotiation, and is a landmark agreement for Mexico's fast-growing auto industry with regard to exports to Brazil.
Big benefits to carmakers
With the road to increased Brazilian trade volumes paved by free trade, big benefits will open to automakers manufacturing in Mexico. The 8th largest car sales market in the world, Brazil outranks Italy, Canada, South Korea, Iran, and Russia, according to the International Organization of Automobile Manufacturers (OICA). Big automakers benefit General Motors (GM), Volkswagen, Nissan, Fiat Chrysler Automobiles (FCA) and KIA, for example, will have the immediate opportunity to increase exports to a Brazilian market in which they are already thriving. In 2018, combined exports from these manufacturers represented 93.5% of total Mexican auto exports to Brazil.
In particular, the novel truck and SUV segments are expected to show the most promise. GM placed over 38,500 units in Brazil, with the Chevrolet Equinox and Trax models being the most representative. Similarly, Volkswagen showed success with its Tiguan model. As the free trade agreement removes caps previously imposed on Mexican exports and the market fully dictates demand, automakers manufacturing in Mexico have an opportunity to dramatically increase their business in Brazil.
NAFTA and diversification: the benefits to Mexico
With uncertainty around NAFTA's future, diversification is a necessary step in ensuring Mexico's strength as an auto manufacturing powerhouse. The current auto manufacturing industry in Mexico is highly dependent on the U.S. economy. In recent years, global recession exposed auto makers in Mexico to increased risk, as a significant portion of their business was tied to U.S. exports.
For Mexico, Brazil's rapidly developing domestic auto market is a highly attractive outlet that could help mitigate this type of risk. Diversifying the network of auto exports allows the manufacturing industry to continue to thrive, with less reliance on particular global partners for stability.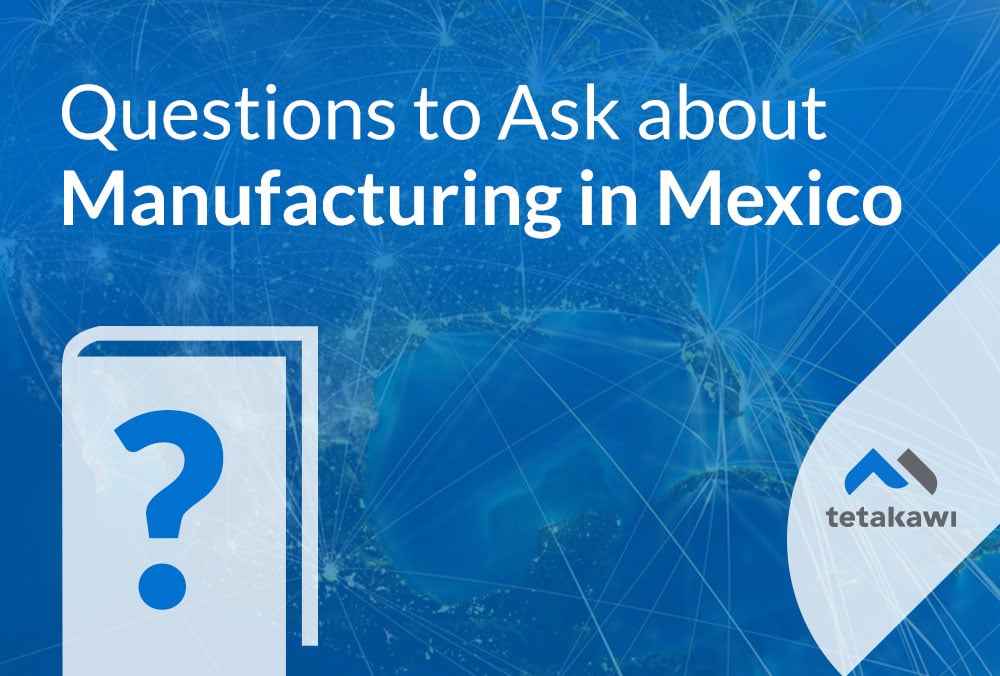 Start your journey into Mexico today!
50+ Questions to ask before expanding into Mexico
Thinking about expanding into Mexico? Step 1 of your due diligence process is answering all of these questions. Over the last 33 years, thousands of companies have used this guide to accelerate their expansion into Mexico.