In part one of our guide to manufacturing locations in Mexico, we explore the outlook in one of Mexico's up-and-coming industrial regions and the easiest way to get started: using shelter services in Queretaro.
Quick facts about manufacturing in Queretaro
Despite being one of the smallest states in Mexico, Queretaro's potential has the makings of a manufacturing powerhouse. Historically known for its agriculture, Queretaro has, in recent years, become an industrial center for aerospace, automotive, and plastics, as well as several others. With a highly educated workforce and well-connected infrastructure, it's no wonder companies are beginning to flock to this hidden gem.
Population: Approx. 880,000
Distance to U.S. Border: 570 mi from Laredo, TX and 924 mi from Houston, TX
Labor Market: Varied; available labor from highly technically educated to low skill
Infrastructure: Queretaro Intercontinental Airport, a railway connection, and quick access to Gulf of Mexico seaports
Major Industries: Aerospace, automotive, plastics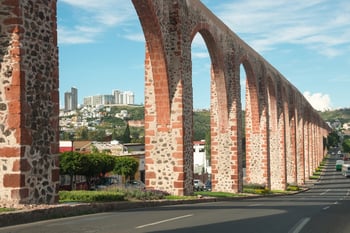 Learn more about manufacturing in Queretaro, Mexico.
Mexico manufacturing made easy: the shelter services model
You may have heard about the "shelter" model of manufacturing and wondered: "what does shelter really mean, and how can it help my business successfully launch operations in Mexico?" Let's break it down:
"Shelter" is a term used to imply protection from exposure to the potential pitfalls of standalone entry into manufacturing, particularly concerning labor, tax, and trade laws.
This model of entry allows foreign companies to work with a shelter service provider to establish their manufacturing operations in Mexico. The shelter provider is the administrative point of contact and legal entity acting on the company's behalf while the company itself focuses specifically on production.
Of the five different modes of entry for manufacturing in Mexico,

the shelter services model is the easiest for new businesses to put into use.
How does the shelter model make manufacturing in Queretaro easier?
If your company is new to the Mexican manufacturing landscape, you may find that there are considerable challenges to quickly getting operations established. By choosing to use shelter services in Queretaro, companies can experience many benefits that come from having fewer knowledge gaps, including improved flexibility, easy scalability, tax and legal advantages, and better access to local labor markets.
Working with a trusted partner that provides shelter services in Queretaro allows you to retain control of the essential facet of your business – production – while freeing you from administrative and legal headaches. Furthermore, the Mexican government views foreign investment in shelter companies as favorable and offers consumption, income, and import/export tax benefits as a result.
What shelter services in Queretaro does Tetakawi offer?
Working with Tetakawi as your provider is cost-effective and reduces the financial, regulatory, and operational risks that may be associated with setting up manufacturing in Mexico. Choosing to use our shelter services in Queretaro also gives you the benefit of receiving incentives not available with other modes of entry.
Whether your company is locating in Queretaro for its aerospace prominence or its top tier automotive industry, working with us is very straightforward. We provide a comprehensive legal framework and act as the employer and manufacturer of record in Mexico. We also address the majority of business functions outside of production, making use of our local knowledge of Queretaro. These functions include human resources, import and export, regulatory compliance, procurement, and many other areas that are typically challenging for new entrants.
Ultimately, you'll experience a shorter learning curve, enjoy more flexibility, improve your productivity, and reduce your costs.
Read more about available shelter services in Queretaro.
Where to go for more information on shelter services in Queretaro
Choosing to work with Tetakawi means peace of mind: your team can focus on producing the right products at the right time and the lowest possible cost. To learn more about our shelter services in Queretaro, contact us to speak with an expert, get your questions answered, and begin manufacturing in Mexico.
Subscribe
Sign up and stay informed with tips, updates, and best practices for manufacturing in Mexico.