Manufacturing in Mexico vs. China: 7 Key Advantages Mexico Has
Seven Reasons Why it Pays to Move International Manufacturing From China to Mexico
China has long since been the premier low-cost manufacturing capital of the world, and yet as we make our approach into the new year, there's been a shift in this trend. According to government trade data, in the first quarter of 2019, Mexico surpassed China and Canada as the United States' largest trading partner for the value of goods, a spot held by China since 2015. Now, with Mexico taking the lead, we thought it timely to review some of the critical differentiators as to why manufacturing in Mexico will lead to better cash flow for international firms who choose to do business outside of China's borders. From Mexico's industrialization, advancements in technology, environmental considerations, educational requirements, relatively high intellectual property protection, there are plenty of reasons to consider Mexico for your next manufacturing project. Want to learn more? Continue reading to learn about the seven critical differentiators for Mexico vs. China manufacturing.
1. Wage Stability in Mexico vs. China

China has always been considered a desirable manufacturing location due to the low cost of labor, and yet Mexico now has a competitive advantage over China in this regard. According to a 2018 study by Statista, hourly manufacturing labor costs in China are at $5.51 US dollars versus $4.45 in Mexico, and the overall trend shows China's wages are on the rise while Mexico's hourly dollar wage will remain stable. Additional reports do indicate that hourly wages in Mexico are equivalent to $4.70 in US dollars, while the hourly wage in border regions has increased from 88 pesos to 176 or the equivalent of almost $5, but that is still less than what we see in the China manufacturing space.
2. Mexico Offers Favorable Tax Benefits Compared to Chinese Standards
The taxes countries levy on manufacturers adds significantly to their operational costs and can sometimes even be prohibitive altogether. The US and China trade war, for example, has imposed tariffs on all Chinese imports, and the pressure to increase these rates by the US government is ongoing. Manufacturing in Mexico, however, offers increased stability due to the country's participation in the United States-Mexico-China Agreement (USMCA), which is a revision of the 1994 North American Free Trade Agreement (NAFTA) and allows companies in Mexico to import and export goods to and from the U.S. tariff-free under certain conditions. Mexico was the first country to ratify the agreement on June 19, 2019, allowing Mexico's strategic manufacturing options to flourish.
Moreover, tax obligations are a crucial part of any manufacturing cost analysis. Mexico trade compliance regulations include provisions for companies to operate under special duty-free status.
One such provision is the Mexico IMMEX maquiladora program, which assists with cash flow by allowing a manufacturing company to carry out "temporary" importations of production parts, materials, and assets without having to pay the otherwise-assessed value-added tax - which is 16%.
Additionally, using Mexico's shelter manufacturing program, your company can operate under Mexico shelter services from a domestic company. Mexico shelter programs allow foreign companies to operate in Mexico without establishing a legal entity presenting an excellent alternative to contract manufacturing services. This arrangement makes both the manufacturing industry cost and convenience superior to offshoring in China.
What's more is companies can immediately start shipping goods while awaiting their certification request, through the use of Tetakawi's Start-Up Services. Companies looking to move or establish manufacturing facilities in Mexico are encouraged to utilize this offering.
3.Mexico Vs. China Manufacturing: Operational Simplicity
There is no denying Mexico's close proximity to the U.S. is an asset for manufacturers, as they can travel between the two countries at a lower cost and in similar time zones to conduct routine tasks such as training, overseeing logistical matters, and performing quality control checks. Additionally, cultural similarities, including language make management and communication relatively straightforward and open.
4.Shipping Transit Time, Services, and Costs
Often referred to as "nearshoring," Mexico's manufacturing industry enjoys greater supply chain efficiencies than those in China. Not only is travel more accessible, but reduced shipping times translate to lower costs and more satisfied customers over the years.
Mexico's Freight Costs Are Much Cheaper Than Chinas
If a manufacturer needs to return an item to production due to quality issues, it is much easier to ship that product to Mexico than to China's ports where the cost to ship freight can run as high as $5000 per container because of factory to port clearance, freight costs, insurance, document delivery, customs bond, and local fees. Furthermore, Mexico's proximity to the U.S. means manufacturers have more distribution options, including trains, trucks, or planes. Dedicated deepwater ports and commercial border crossings also make contact and transport that much easier.
5.Economic Status and Business Stability
In an economic comparison, Mexico has a higher GDP per capita than China and ranks higher on a competitiveness index. In 2018, Mexico's overall Foreign Direct Investment (FDI) was USD 17,842 Million, which was a 14% increase from 2017. Of the total investment, 43% went to the manufacturing industry, which continues to be a stable source of the country's GDP. Although China is the second-largest recipient of FDI after the United States and before Korea, Mexico remains the largest trading partner with the United States. Additionally, many local Mexican governments have had extra incentives in place for years to attract business; specifically manufacturing companies that produce specialty products for the aerospace, automotive, and electronics industries.
6.Intellectual Property Protection in The Mexico Manufacturing Industry
A country's legal framework surrounding intellectual property is crucial to manufacturing success. For a business to take on the risk of production in another country, products must be secure, which is why Mexico manufacturing industry standards protect intellectual property to the fullest extent.
7. Access to Qualified and Affordable Labor
Mexico has a robust and dedicated workforce and Mexico manufacturing labor laws protect both workers and manufacturing businesses. Furthermore, labor in Mexico is as high-skilled as it is affordable. The Mexican government has made it a priority to invest in education and structure programs specifically to meet the needs of the industrial manufacturing sector. In China, government practices do not foster an accessible, protected workforce.
Mexico's furniture manufacturing industry alone accounts for over 52,000 skilled workers.
Manufacturing in Mexico is a strategic move that benefits businesses and saves them money and operational frustrations. As a result, even manufacturers who have a strong presence in China are gradually making their way to Mexico. When determining the offshoring advantages of various locations, we hope you will consider these critical differentiators as part of the decision making process and contact Tetakawi if you would like to improve your probability of success in Mexico.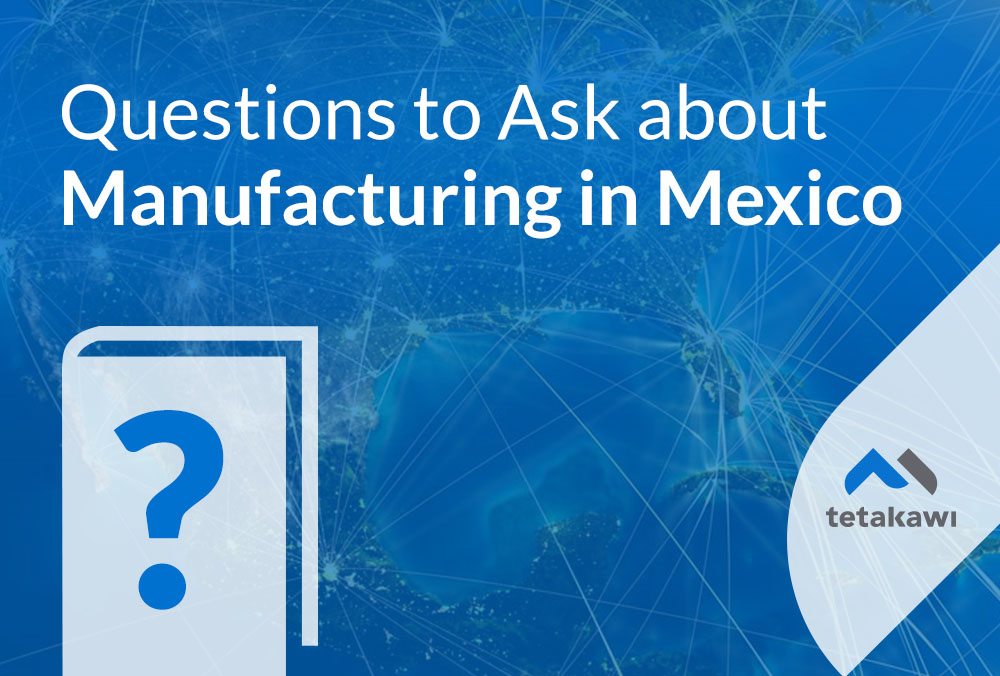 START YOUR JOURNEY INTO MEXICO TODAY!
50+ Questions to ask before expanding into Mexico
Thinking about expanding into Mexico? Step 1 of your due diligence process is answering all of these questions. Over the last 33 years, thousands of companies have used this guide to accelerate their expansion into Mexico.