Manufacturing in Saltillo: What You Need to Know Before You Invest
There's plenty to entice manufacturers to invest in real estate in Saltillo. The capital of Mexico's third largest state, Coahuila, Saltillo holds a central distribution location for both the U.S. and Mexican markets. It's growing population is young and experienced in manufacturing and it's an automotive manufacturing hub with staying power.
Companies considering an investment in Saltillo or surrounding regions including Ramos Arizpe, should first get to know the region and understand whether it can support their manufacturing needs.
Connected infrastructure
Companies looking for a cost-effective investment with easy access to global markets will find Saltillo to be a prime location. At just 180 miles south of the U.S. border, right along the regional and international highways that make up the NAFTA Corridor, Saltillo's location plays a big role in its manufacturing advantage. Even better: the city sits an hour away from the more expensive metro of Monterrey, Mexico's industrial center, so manufacturers may find a cost break in investing in Saltillo over Monterrey.
Saltillo's central location alone provides easy access to Houston, Texas, and the Port of Tampico. But it's further connected to two railway networks that travel internationally, providing plenty of options for materials import and product export. The regional airport, Plan de Guadalupe Saltillo, hosts an international air terminal complete with customs processing, shipping and cargo services. The nearby Monterrey International Airport provides another option for simplifying air travel.
This strong connectivity is a boon for the area, but there's always room for improvement. At a news conference in October, President Andres Manuel Lopez Obrador announced an investment package of some 1,600 infrastructure projects worth more than $400 billion over the course of the 2018-2024 administration. While plans are still in development, any infrastructure initiatives are likely to only strengthen Saltillo's connection to the world.
Robust economy
The city's solid infrastructure owes its origins in part due to its lengthy history as a haven for automakers. The area is often referred to as the "Detroit of Mexico" due to the automotive industry cluster that has grown up around the Chrysler and General Motors assembly plants built there in the 1950s. Today, Saltillo is home to 27 percent of Mexico's automotive fabrication. In fact, 30 percent of passenger vehicles and 62 percent of trucks produced in Mexico are assembled right here in Saltillo.
In the suburb of Ramos Arizpe, General Motors has built the Chevrolet Sonic and Cruze, as well as engines for those vehicles. That work helped the auto giant becomes Mexico's largest producer and exporter of automobiles in 2018. Chrysler began production at its current Saltillo Truck Assembly Plant in 1995. Today more than 5,000 Chrysler employees work to build engines, assemble trucks and vans, and perform assembly stamping at the company's Saltillo Truck Assembly Plant. And in 2009 Daimler opened its Saltillo Truck Manufacturing Plant to produce the Freightliner Cascadia, the New Cascadia Class 8 Trucks and Tracto Trucks. The plant employs more than 3,800 people to produce approximately 55,000 units each year.
But the presence of the big three isn't the only reason to consider locating in Saltillo. Supporting these automotive heavyweights is a robust network of components and materials suppliers. As this network grows, it only becomes more attractive to a wider range of manufacturers.
Local demographics
As the manufacturing base in Saltillo has grown, so too has the local population. In fact, the region has exploded in growth, with steady population increases since the 1950s and year-over-year increases of near 2 percent in the last decade alone. Today approximately 970,000 people call Saltillo, and its surrounding area, home.
With an average age of 27, this booming demographic makes the region particularly attractive to employers. Manufacturing employs 40 percent of the economically active population in Saltillo. Not surprisingly, much of that work is done in the automotive sector, giving employees ample experience.
However, experience isn't the only way residents are gain manufacturing expertise. Workers and professionals have access to 16 universities, 12 technical training institutes, and 11 research centers. The city of Saltillo stands apart for the high number of students that it sends to college. It's testament to its nickname, the "Athens of Mexico," that the city earned in the early 20th due to the number of famous intellectuals who called the area home.
Of course, this experience coupled with growing demand means competition for manufacturing labor can be intense and turnover regular. Employers seeking to benefit from this area's connections and ample, cost-effective labor must build a recruitment and retention package to earn the loyalty of top-rate candidates.
Final considerations
Companies looking for a site proven to support manufacturing operations will find Saltillo particularly appealing. Its long history of manufacturing excellence, combined with its prime location, gives the area an edge in infrastructure and an experienced workforce. Business leaders can rest assured that their operations will have the resources needed to flourish in Saltillo's beautiful setting.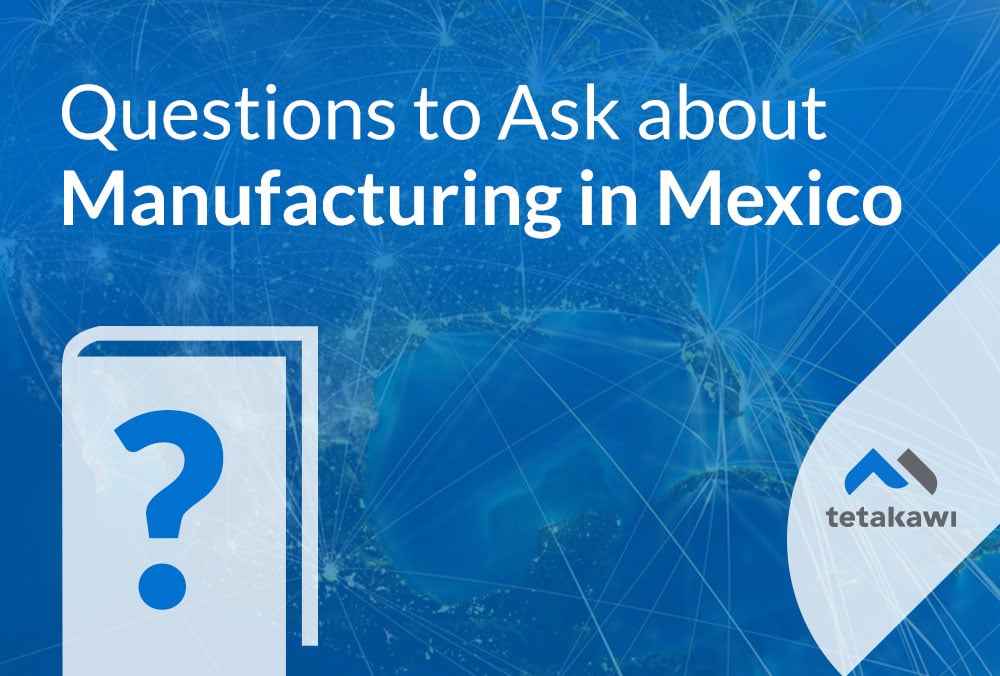 Start your journey into Mexico today!
50+ Questions to ask before expanding into Mexico
Thinking about expanding into Mexico? Step 1 of your due diligence process is answering all of these questions. Over the last 33 years, thousands of companies have used this guide to accelerate their expansion into Mexico.