Manufacturing in Sonora: A Climate Ripe for Investment
Sonora's propinquity to the U.S., large pool of qualified bi-lingual, Mexican labor, competitive infrastructure, and considerably lower manufacturing operating costs are catching the interest of investors. Sonora represents a is characterized by a multitude of reputable and up-and-coming opportunities for businesses, both foreign and domestic.
The state of is located in the northwest section of Mexico with a total surface area of 71,400 square miles. It is the second largest state in Mexico, and it's a little larger than North Dakota. The state shares 368 miles of border with the U.S. and has accessible ports of entry on the Arizona-Sonora border. Nogales is the largest point at which two-way trade crosses to and from Arizona and Sonora. The shores of Sonora line the Sea of Cortez in the Gulf of California. Its closeness to the border makes for great advantages for investment projects. International highways, seaports, or through the state's international airport (Hermosillo) are an assortment of ways that you can access Sonora.
The immense availability of land and resources make Sonora one of the nation's zenith agricultural, livestock, and mining producer.
Sonora's Principle Industries: Aerospace, Automotive, Metal Mechanic, Mining, Renewable Energy, Electronic, Agribusiness, Medical, and Information Technology.
Aerospace Manufacturing in Sonora
Description - The northwestern aerospace collection is responsible for over 50% of the total sector manufacturing activity in Mexico and has an unyielding base of electronic components manufacturing and assembly operations. Aerospace companies in Sonora compete on an international scale and have recognized certifications such as NADCAP, AS9100, and ISO.
Products - Machine blades and several other turbine engine components, composite interior parts, connectors, harnesses, and sensors.
Major Companies - GE, Honeywell, Rolls Royce, Pratt & Whitney, Boeing, and Airbus.
Location - Guaymas, Empalme, Nogales, Hermosillo, Obregon, and Agua Prieta.
Sonora Automotive
Description - Sonora has over fifty Tier 1 and 2 suppliers and the automotive industry has developed into the major industry of the state; it is also acknowledged for its superiority and novelty. The current production rate is around 300,000 per year.
Products - Ford Fusion, Mercury Milan, Lincoln MKZ, hybrid Ford Fusion, hybrid Mercury Milan
Companies - Magna, Martinrea, Takata, Lear, Delphi, and Goodyear
Location - Hermosillo, Obregon City, Nogales, and Guaymas.
Metal Fabrication activities in Sonora:
Description - Local aptitude of CNC machining, sheet metal fabrication, coating, and design. The local metal mechanic shops are brokers for national and international companies. Graduates from technical institutes and universities are available for designing and production, indoctrination of CNC equipment, and creating solutions for specific problems or needs. The main processes for the industry are stamping, punching, folding, cutting, welding, and machining. Inside Sonora, there is a profusion of proficiency for practically every facet of metal mechanic production.
Products - Locks, office equipment, faucets, elevator parts, steel structures, laser cuts, and stainless steel pipes.
Companies - Master Lock, Acco, Weiser Lock, Moen, Otis Elevator, APSM, and others.
Location - Hermosillo, Nogales, Guaymas, and Empalme.
Mining in Sonora
Description - The mining industry creates roughly 14,000 jobs in Sonora. Over 5,000 mining allocations exist in an area of more than 23% of the state. Sonora ranks first at the national level in the mining sector and first at the national level in geological diversity, the most ancient rocks, and the production of gold, copper, graphite, Wollaston, molybdenum, and anthracite coal. Sonora has the largest copper and Wollaston reserve in the world.
Products - Gold, copper, silver, salt, molybdenum, lime, iron, gypsum, barite, clay, Wollaston, coal, and others.
Main Companies - Grupo Mexico, Grupo Peñoles, Grup FRISCO, Arcelor-Mittal, Minas de Oro Nacionales, Minera Corner Bay, Molymex.
Location - Hermosillo, Caborca, Agua Prieta, Navojoa, Cananea, Cupripas, and others.
Renewable Energy Sector Manufacturing in Sonora:
Description - Sonora is number one in the state of Mexico with insulation levels of 6-8 kw/hr/m2 in its total surface. In addition, the region has areas with winds over 8 m/s. The state extends a wide availability of land in areas with higher solar prevalence for project development of this sector. Renewable energy and solar energy is a tactical sector for Sonora. This sector offers great opportunities for companies interested in renewable projects, thanks to government support and the conditions for this type of project.
Product - The generation of energy through green projects.
Main Companies - Local companies such as Pradmen, but there is still opportunity for growth in this sector.
Location - Hermosillo
Electronics in Sonora:
Description - Sonora amalgamates five sectors: consumer electronics, personal computers, telecommunication equipment, electronic components, and industrial and medical equipment. The state offers the possibility of supplying the automotive, aerospace, and medical industries in addition to research and development for new electronics products. It's recognized for the quality and the qualified workforce with pride for meeting standards specifications like ISO and FDA registration.
Product - Computers, peripheral equipment, communications and media equipment, semiconductor and electronic components, and communication and entertainment services and devices (cell phones, televisions, other devices).
Main Companies - EE Tecnologies, Inc. Tyco Electronics, AMP Amermex, Arrow Electronics, Amphenol Alden Products, EDS International, Lanix, Magnetic Metals, ITT Canon de Mexico, and others.
Location - Guaymas, Empalme,Nogales and Hermosillo
Sonora Medical Device Manufacturing:
Description - The medical industry in Sonora is cost-effective and offers high quality manufacturing processes and the advantage of being close to a large medical market in California. Many are turning to Sonora to launch their facilities stimulated by the remarkable infrastructure, strong workforce, and location.
Products - Surgical needles and staples, catheter equipment, anatomical devices, dental parts, medical attire, transfer pipettes, glass equipment, and pharmaceutical products.
Main Companies - Avalon Laboratories, Tyco Electronics—Precision Interconnect, Novacap Philips, Becton Dickinson, Medtronic, ITT
Location - Nogales, Guaymas, and Empalme.
Information Technology Resources in Sonora:
Description The IT industry in Sonora has been persistently growing over the past years with the intention of creating an internationally competitive software industry. The state currently ranks 4th on a national scale as leader in the IT services in Mexico. There are currently more than 23,000 students enrolled in engineering/technical programs and over 7,000 students enrolled in IT programs. There is a large government program to help companies set up their operations in the state.
Products - Software solutions or services related to IT. Shelter services for IT companies.
Main Companies - Vangtel, ACS, Tiempo Development, Nearsoft, and others.
Location - Obregon City, Hermosillo, and Nogales.
Infrastructure in Sonora
Sonora has world-class infrastructure. There are 5 international airports in the main cities, two with cargo capacity, advantageously located all over the state. In addition, there are 190 airfields and inland customs facilities in Hermosillo for intermodal transportation. Sonora also currently maintains highway structures of more than 22,500 miles in constant development that include a new coastal highway. Roads are protected through a Hassle-Free Zone from the U.S. border down to Guaymas (about 260 miles). Rails, industrial parks, and telecommunication services are also prominent.
Puerto de Guaymas offers the greatest values on the west coast of America, with verified capability, pioneering solutions, and a pledge to quality service. Puerto de Guaymas offers exceptional infrastructure and first-rate facilities.
The Sonoran Workforce
The people of Sonora have established themselves with a status of admirable work ethics and company devotion. They take pride in learning new skills and are immersed in the characteristics of manufacturing environments as part of the culture. Integrity and sense of accomplishment translate to high productivity.
Research and Development Centers in Sonora
Sonora is linked to high level research centers—there are 8 Centers of Technology Research with 248+ annual projects.
CIAD has presented alternatives to the tribulations of the food sector in Mexico since the beginning, carrying out studies, consultancies, and services for the agricultural, fisheries, industrial, and commercial sectors. CIAD is comprised of 9 organizational areas: Nutrition, Food Science, Technology of Food of Vegetable Origin, Technology of Food of Animal Origin, Development, Aquaculture and Environmental Management, Physiology and Post-Harvest Technology of Fruits and Vegetables, Quality and Use of Natural Resources, and Physiology and Technology of Food from Template Regions. Out of these 9 areas, 5 are located in Hermosillo and the remaining 4 are through the country.
Sonoran Manufacturing Supplier Development
There are annual expos for suppliers, commerce, and development and technology upgrade programs with a strong presents in Sonora.
STAADIS seeks to intensify the technological and economic development of the region through technology transfer, modernization, functional research, incubation, and boost of other companies. It focuses on the Automotive, Aerospace, Mechatronics, Information Technology, and Medical Engineering. Some Companies working with STAADIS include Dunes, Tauvex, CONSTRUPLAN, Automated Technology, and Infinity International Engineering Teknol.
The CAM-CENAM is the national laboratory of references for measurements. In the CENAM is focused on establishing the measurement units with the highest meteorological quality possible, based on the scientific and technological capabilities available.
SonoraSoft is a public-private synchronized attempt to generate an internationally competitive software industry, and to ensure its growth in the long term so that Sonora may rank as an IT industry leader in Mexico. Sonora is currently ranked 4th nationwide in availability of IT services.
Education in Sonora
Sonora ranks 4th nationally for the number of students enrolling for higher education each year. There are 44 universities, 14 technological institutes, and 83 technical schools throughout Sonora. There are a great variety of major in business and engineering offered at these facilities (there are 47 different engineering routes). The main institution of higher education is the University of Sonora, and there are two campuses of the ITESM (Monterrey Institute of Technology). The quality of education is above the national average—Sonora apportions more than 50% of its budget to education.
Companies can effortlessly locate authorized recruits trained on international quality control systems, as well as being bilingual (English and Spanish). The skilled workforce with a median age of 23 is extremely beneficial to investors. Companies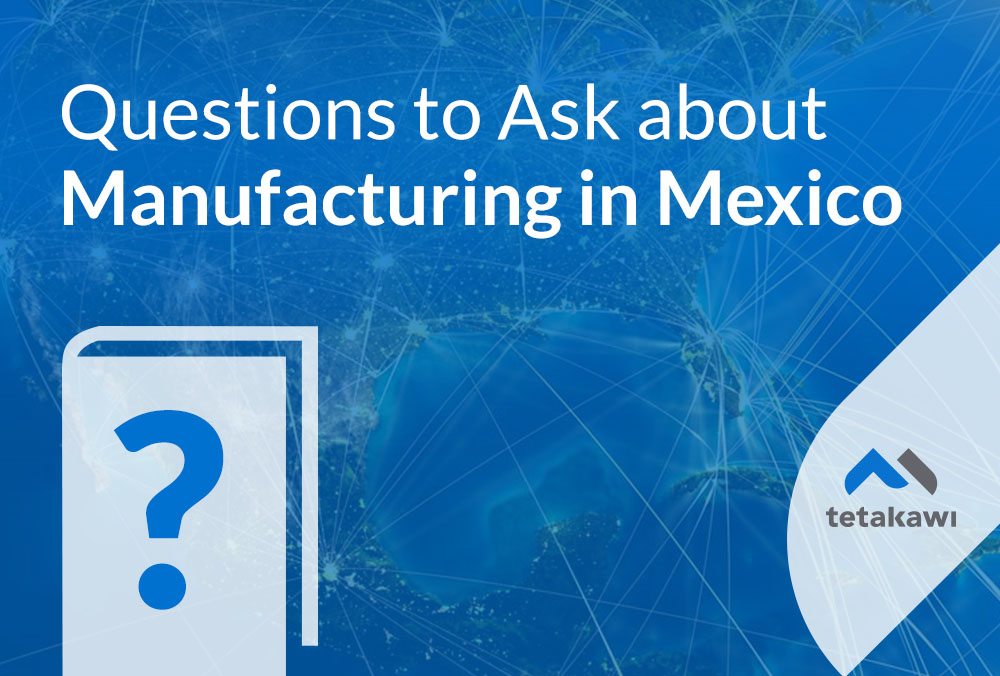 Start your journey into Mexico today!
50+ Questions to ask before expanding into Mexico
Thinking about expanding into Mexico? Step 1 of your due diligence process is answering all of these questions. Over the last 33 years, thousands of companies have used this guide to accelerate their expansion into Mexico.