Sonora sits along the Arizona border, making it a strategic location for manufacturers interested in moving goods swiftly into the United States and Canada. Couple this with beautiful beaches and deep-water ports along the Gulf of California, and it's easy to see why the location alone could convince manufacturers to take a close look at Sonora.
Because so many manufacturers have moved to Sonora for just this reason, it has established expansive infrastructure to support industrial clusters across several manufacturing sectors.
If you are thinking about investing in Mexico and Sonora is one of the states you are considering, below, we'll explain how you can best prepare your launch to maximize the benefits this state has to offer.
Why Sonora is attracting manufacturers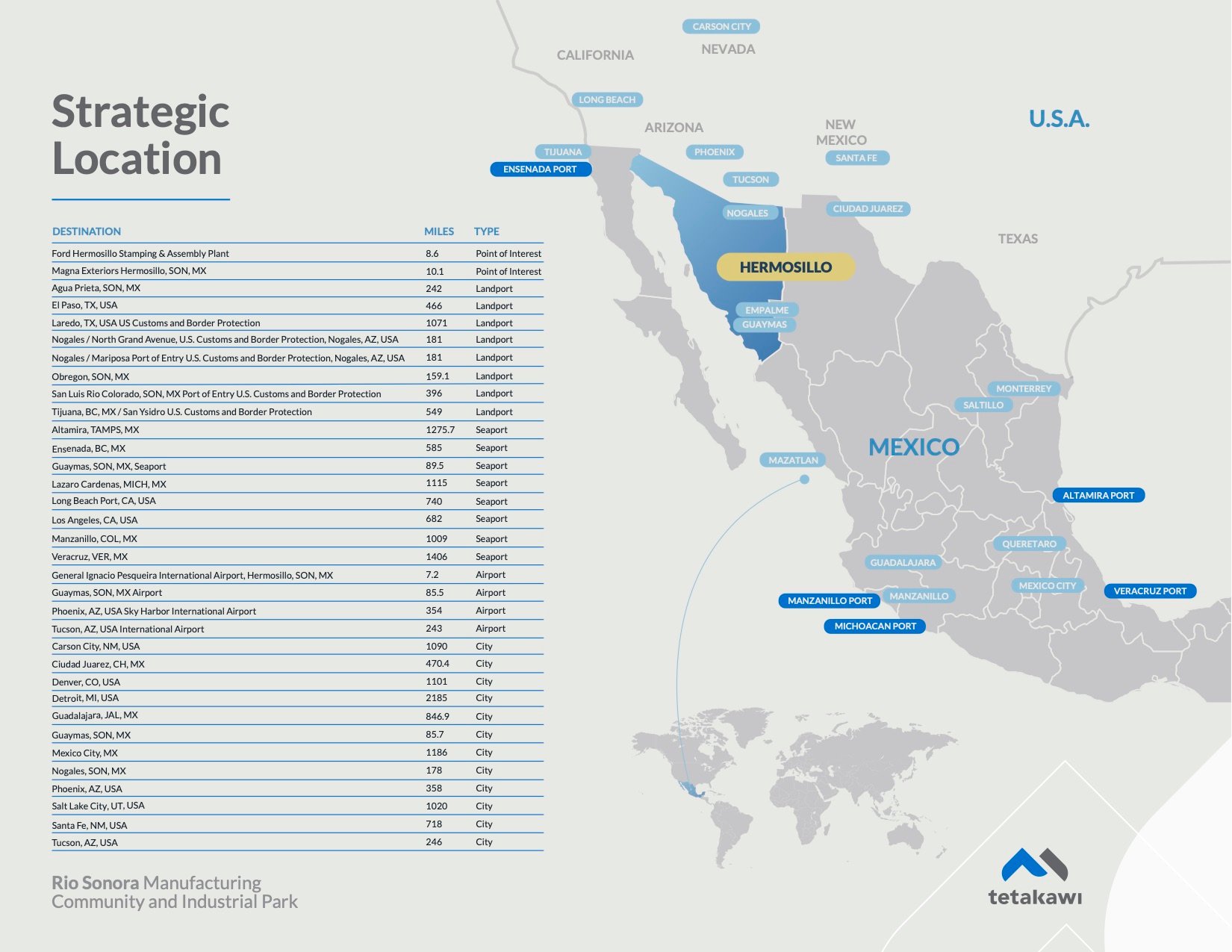 Sonora is home to a population of more than 3 million people and a significant manufacturing population. As of 2017, Sonora contributed USD $28 Billion to Mexico's GDP, much of that attributable to its largest sector, manufacturing (26.8% as of 2016 data).
That sector began its history as an automotive manufacturing center when the Ford Stamping and Assembly plant was established in Hermosillo in the 1980s. That focus on Ford has only increased in recent months as Ford launched the assembly of its Bronco Sport, the design of which was led by Mexican engineers. However, Ford's presence has also attracted an extensive supply chain—and new industries eager to benefit from established infrastructure in a central location.
Chief among these are aerospace manufacturers. In fact, the state is home to one of the fastest-growing aerospace industry clusters and manufactures about 18% of the country's aerospace components. Companies like BAE, Walbar, Bodycote, and more, benefit both from skilled laborers and local universities' engineering expertise.
In addition, the area's strong mining sector has made metal fabrication a strong export. It has also attracted investments from companies like Bacanora Lithium, which is supported by Chinese investors seeking to establish a strong source of the resource needed for the batteries to power electric cars.
Find the right site for manufacturing in Sonora
Manufacturers considering a site in Sonora generally focus on these cities:
1. Hermosillo: Sonora's capital city is known as a manufacturing powerhouse. The focus began on supplying the automotive industry and has since expanded. Aerospace manufacturing now has a large presence here as organizations take advantage of the established training infrastructure. With a workforce of more than 900,000 people within 50 miles, there's ample room to grow.
By establishing within an existing manufacturing community, organizations can rapidly launch into this promising market. Operating in the Rio Sonora Manufacturing Community, for example, allows manufacturers to take advantage of economies of scale. The community provides rapid and abundant access to water, power, and a range of administrative services, within 9 miles of one of the area's largest manufacturers and 181 miles of the U.S. border. With this option, a manufacturer can begin adapting Class A industrial space while a team of shelter service professionals recruits a skilled workforce and oversees regulatory compliance.
2. Empalme: Manufacturers who prefer to locate outside the bustle, where cost savings may be possible, may find Empalme an attractive option. In fact, it's attracted a range of optical, automotive, electronics, and medical device manufacturers, as well as a community of metal fabricators. The coastal city has access to 60,000 people within a 50-mile radius and is easily connected to the rest of Mexico and the world via I-15 and the nearby deep-water seaport in Guaymas. Manufacturers also gain a rapid connection to all necessary infrastructure through the Bella Vista Manufacturing Community.
3. Guaymas: Home to one of Mexico's largest aerospace manufacturing clusters, this port city provides manufacturers with a wide range of benefits. Chief among these benefits is the CEFTA training center within the Roca Fuerte Manufacturing Community, which supplies new manufacturers with a workforce trained to solve their specific challenges. By working closely with local manufacturers, CEFTA is able to tailor training for complex production processes in use at nearby facilities. In addition to this expertise, manufacturers can easily export products via ship, rail, or highway.
A strategic approach to investment
Although site selection is a critical step in determining your speed to market and long-term operational costs, this consideration should only be part of your strategic approach. Working with a partner like Tetakawi can provide organizations a significant edge in strategically approaching a potential Mexico manufacturing launch.
For starters, Tetakawi can support manufacturers in negotiating for the types of financial incentives that have encouraged so many companies to launch an operation in Mexico. Federal, state, and local incentives are available for manufacturers looking to cost-effectively launch in Sonora. However, manufacturers can trust they're getting the best benefit by going into this process with an experienced negotiator at their side.
As a shelter provider, Tetakawi provides a complete range of services to support companies looking to quickly and efficiently ramp up production. Among other offerings, manufacturers can benefit from import and export services, compliance guidance, and full HR support. With this support, a company can dramatically shorten the learning curve for operating in a foreign country.
Ready to discover how you can benefit from manufacturing in Sonora, Mexico? Contact Tetakawi today.
Subscribe
Sign up and stay informed with tips, updates, and best practices for manufacturing in Mexico.