Metromatematicas and Mexico Aerospace Workforce Training
Over the past ten years, the aerospace manufacturing industry has made significant investments in Mexico—finding the country appealing for its increasingly unique workforce, competitive wages, and the backing from the Mexican government for industry growth.
A growing number of the manufacturers in Guaymas, Sonora are foreign-based aerospace companies involved in the production of parts for civilian aircraft. In fact, the entire country has become a hot spot for aerospace industry growth. The Sonoran state of Mexico has found itself quickly becoming one of the primary centers for complex aerospace machining in the country since such companies began opening plants in the a bit over a decade ago.
While the aerospace production occurs in 16 of Mexico's states, the main geographic locations where clusters of aerospace assembly plants are present are Sonora, Baja California, Chihuahua, Nuevo Leon, and Queretaro. Many U.S. companies were met by trained and enthusiastic potential-employees. The aerospace industry in Mexico, can only be sustained, however, if there is a qualified, growing pool of workers with the appropriate skill sets to fill industry positions. Key players are helping its development, desired infrastructure is in place or being created and successful education and training programs are building a skilled work force. Mexico's aerospace industry is ready to take off.
Today in Guaymas alone these operations employ over 1,500 people. But moving manufacturing and other parts of aerospace parts production to Mexico have also brought up new issues regarding the adequate training and skills needed by Mexican workers. Finding promptly accessible skilled and experienced labor (machinists, machine operators, and qualified aerospace manufacturing and quality engineers) has been a challenge for those searching for such explicit skills. The skills required in potential employees are hard to find anywhere in the world, let alone in what is generally considered a developing country.
The increase in the demand for educated laborers with specific academic backgrounds has made it clear to the business, government and educational community in Guaymas, Sonora that specialized training and education needed to be intensified and encouraged from middle school on in order to continue growing its aerospace industry manufacturing base.
Current Mexican Education System:
Mexico's education configuration consists of three levels: primary, secondary, and higher education. The federal government is involved at the first level since it is obligatory by law. Participation at the higher levels is essentially focused on stipulation and endowment.
Although government spending is higher than the Organization for Economic Co-operation and Development (OECD) average, there is much room for improvement in performance on education al testing conducted by the organization.
Metromatemáticas
In 2009, Nahum Correa So, a metrology equipment business owner, had the idea that by engrossing students in real-life and current highly relatable applications of math in certain industries like aerospace, the student would in turn more clearly picture his or her life working as an operator, machinist, or maybe even an aerospace engineer. As such students would be self-motivated to learn and apply themselves more diligently.
Working consistently with on the idea, three years later, Guaymas had three middle schools in which a classroom was transformed into a lab that has Mitutoyo work benches, state of the art metrology gear and devices, a program that is specially designed to teach applied mathematics to existent products and real life problems that occur in the aerospace and precision metals industry. In this professional environment, all the students wear white lab coats.
The pupils that attend this class are chosen based on a well-defined criterion and their teachers have been certified to an international standard to teach the subject matter. This program is called Metromatemáticas.
Program Results:
Today 140 teachers in the region have been trained to teach Metromatemáticas—four of Guaymas' public middle schools have a lab with enthusiastic students. The best of these have access to a more extensively equipped laboratory that is located in the training center of The Offshore Group's Roca Fuerte Industrial Park.
In addition to being better situated to find employment within their community, the knowledge they gained in the Metromatemáticas program will position them well to receive better compensation should they enter the workforce, and scholarships or specialized training should they decide to pursue higher education.
For employers, knowing that capable workers are within reach with respect to their industry and needs motivates them to include these communities in their plans for future growth and investment.
A decade from now, Mexico will be one of the top five aerospace industry suppliers on a global scale.
That's the prediction of Gale Thompson, vice president of International Operations with the Tucson, Arizona-based Offshore Group. And it's no off-the-cuff remark from a man who has had extensive exposure to Mexico's maquiladora industry during the past four decades.
"When you look back 10 to 12 years ago, there was very little manufacturing of aerospace products in the maquiladora industry," Thompson notes. "There have always been MRO, or manufacture-and-repair operations, for aircraft flying into Mexico.
"But now, after attending many conferences and speaking with many aerospace executives, I know from first-hand experience that Mexico is rapidly becoming one of the largest suppliers in the world for manufactured aerospace parts."
An early indicator for Thompson that aerospace manufacturing in Mexico would be big business came in 1999, when General Electric (GE) was encouraging suppliers to open Mexican manufacturing facilities. One of these suppliers – after being told his GE contract would be pulled if he didn't follow suit – came to Thompson to discuss options.
"I visited with (the supplier) in March of 1999," Thompson recalls. "In May of 1999, they shipped their first machined products to General Electric from Mexico."
Historically, the Offshore Group's Mexico Shelter Plan has provided outsourced manufacturing support to assembly operations requiring many employees, such as an automotive plant.
"Aerospace is not a high-headcount industry in Mexico, so there was a bit of a conflict between that and the shelter-company-in-Mexico business model at that time," Thompson explains. "It was kind of interesting because, when I began talking aerospace with colleagues in the industry, they said: 'Wait a minute. This is not a high-headcount manufacturing industry and (it) really doesn't require a lot of personnel, so why would you pursue aerospace as a company offering shelter services in Mexico?'"
That question seems to be answering itself. Following passage of the Bilateral Aviation Safety Agreement (BASA) in 2007, products manufactured in Mexico could be sent directly to the customer, enhancing manufacturing cost-effectiveness. And smaller, less complex functions that began with making wire harnessing opened the door for more sophisticated operations such as aerospace investment castings; metal finishing, coating and plating processes; heat treating; and aerospace machining in Mexico.
It also appears Thompson's "top five" prediction is within reach. By the middle of last year, 260 manufacturing facilities in Mexico were producing parts for the global aviation industry – nearly quadruple the amount of facilities present in 2004. (In Chihuahua City alone, 36 aerospace plants have opened between 2007 and now.) The number of Mexican manufacturing facilities is expected to surpass 300 by next year, with predictions of more than 350 facilities in operation by 2015. Conservatively speaking, that means the 30,000 jobs now available in the industry will expand to 42,000.
Though many secondary operations are available in Mexico, there are still "many more opportunities for further secondary operations shops to offer their services in the growing aerospace manufacturing market," Thompson affirms.
"As they are becoming available, larger companies are putting more pressure on their suppliers to do more of their work in Mexico," he concludes.
What is Necessary to be an Aerospace Engineer?
As an aerospace engineer one needs to be interested in applied sciences such as physics and math. An interest in mechanics, electrical systems, computers and design is also necessary. Both analytical and creative skills are essential.
The learning curve for producing aircraft parts is long and expensive, and manufacturing success depends largely on the quality of the work force. Mexico is in the process of aligning its educational system with the needs of the aerospace industry as it has done with the automotive industry in the past.
Businesses such as The Offshore Group are collaborating with educational institutions, local and state governments, and private industry to encourage the acquisition of knowledge sooner and more in-depth. This motivates young people to stay in school and work hard to achieve a career that they can envision in a thriving Mexican aerospace industry. The Metromaticás program is something that should be held up as an example of how education can successfully prepare students for good paying jobs. The success and benefits of efforts such as these can be seen in the continuing growth of a middle class in Mexico.
Foreign direct investment in Mexico produces a win – win — for both the foreign businesses that are finding a variety of labor at a low price, but also for Mexico as a country as it increases the education rate, ascends the employment opportunities, and improves the Mexican economy.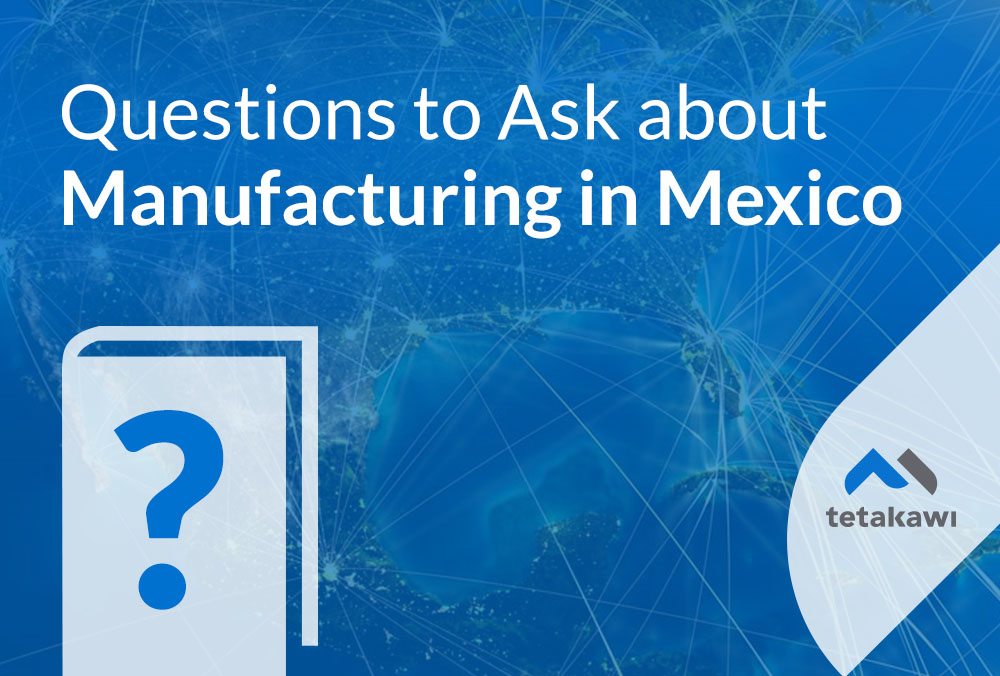 Start your journey into Mexico today!
50+ Questions to ask before expanding into Mexico
Thinking about expanding into Mexico? Step 1 of your due diligence process is answering all of these questions. Over the last 33 years, thousands of companies have used this guide to accelerate their expansion into Mexico.