Mexico Aims to Grow EV Production with National Lithium Company
Automotive manufacturers are rethinking their supply chains as they work to meet aggressive goals for all-electric vehicle production. However, the most challenging change to meet is the new and growing demand for the lithium needed to fuel electric batteries.
Lithium is found in a wide range of industrial uses, but experts are concerned that the fast-growing demands for lithium for electric vehicle production may tip demand too high to meet. The International Energy Agency says the world could face lithium shortages as early as 2025. However, this may change with Mexico's plans to mine one of the world's largest lithium reserves within the borders of Sonora.
While these plans are in their early stages, companies supplying the fast-growing EV market can begin to position themselves to capitalize on Mexico's foray into lithium mining and industrialization.
Mexico's plan for lithium production
Mexico is home to a number of lithium deposits, but the lithium reserves in the state of Sonora stand as one of the world's largest, with some 244 million tonnes of lithium untouched. Bacanora Lithium, the mining company that first identified the reserves in 2018, estimated the reserve to have an approximately 250-year resource life.
Since its discovery, the Mexican government has announced plans for how best to leverage this national resource for electric vehicle production and other manufacturing needs. In August 2022, a decree published in Mexico's Federal Official Gazette announced the creation of a national lithium company, Litio para Mexico (LitioMx). The national organization will be coordinated by the Ministry of Energy, with the secretariats of Finance, Economy, Governance, and Environment and Natural Resources serving on the board of directors.
Among other activities, LitioMx is charged with:
Preparing strategic programs to guide lithium's exploration, exploitation, benefit, use, and value chains.

Developing and executing engineering projects, research, geological activities, and other activities related to the exploration, exploitation, and use of lithium.

Developing the technology required for the extraction of lithium. The country is consulting with other nations and private partners to develop the technology and infrastructure needed to extract lithium from clay deposits.

Locating other geological areas in which there are probable lithium reserves.

Managing all activities necessary for producing, transforming and distributing lithium derivative products. The decree notes that LitioMx may associate with other public and private institutions to this end.
While the national lithium company is organized, the federal government has granted concessions to eight companies that have already begun lithium exploration processes within Mexico. Among these concessions is the Sonora Lithium project co-owned by Bacanora Lithium and Ganfeng Lithium Co. Ltd., the China-based supplier of battery-grade lithium to carmakers Tesla and BMW. The project has set a goal of building a 35,000 tonnes per annum battery-grade lithium operation.
Sonora's role in lithium industrialization
Given that the state of Sonora is home to the largest of Mexico's lithium reserves, the state has a leading role in developing the strategic plan for lithium extraction. El Economista reports that within days of the creation of LitioMx, mining specialists and members of the state and federal government convened to study areas of opportunity. Sonora Governor Alfonso Durazo Montaño explained that LitioMx may potentially work with private companies for mining projects, but with the condition that lithium industrialization processes be carried out in Sonora.
"This may be the opportunity to structurally push for a change in the state," Montaño said in a conference. "If a company wants to manufacture electric vehicles, it can partner with this company to take advantage of lithium, but it must manufacture electric vehicles here [in Sonora]."
While these strategic details are yet to be worked out, Sonora has already laid significant groundwork for electric vehicle production. Its capital, Hermosillo, has roots in the automotive industry dating back to the establishment of the Ford Stamping and Assembly plant in 1986. Today, that same plant produces Ford's hybrid Maverick pickup truck.
Moreover, Sonora has a strong history of cross-border trade with the state of Arizona. Lithium production and industrialization in Sonora would be a tremendous boon to Arizona's fast-growing electric vehicle manufacturing sector. The state is home to production sites for California-based luxury EV manufacturer Lucid Motors, Canada-based EV startup ElectraMeccanica, and hydrogen-electric commercial truck startup Nikola. Many of the components sourced for these vehicles come from Sonora, thanks to strong connections between the two state governments.
Preparing for the new EV normal
While much work must be done before Mexico is ready to supply the world with lithium, the groundwork has already been laid. Early exploration performed by Bacanora Lithium and Ganfeng Lithium, and other private companies has the potential to speed infrastructure development in Sonora. Moreover, the U.S. has a strong interest in securing a lithium supply closer to home. While critics argue that Mexico's nationalization of its lithium reserves may lead to conflicts with USMCA agreements, others point to the need to move away from sole reliance on China's lithium production. With hurdles preventing access to U.S. lithium deposits, Sonora provides a best-case scenario for regional access to lithium.
Automotive manufacturers are already able to benefit from economies of scale by operating within one of Mexico's industrial clusters. Sonora's lithium supply holds the potential for driving further cost savings through shortened supply chains. Companies looking to strengthen their hold within the growing EV market may find that now is the time to make a move into Sonora and support the electric vehicle production boon poised to happen.
Manufacturers can speed their launch into this market by launching operations within an existing manufacturing community. For example, the Rio Sonora Manufacturing Community provides a large workforce within a 15-mile radius and abundant access to water, power, and a range of administrative services. This level of support within a Class A industrial space allows manufacturers to rapidly ramp up operations. Within 90 days, companies can begin supplying local EV producers and the nearby U.S. market.
Ready to position your company for success with a manufacturing operation in Sonora, Mexico? Contact Tetakawi today.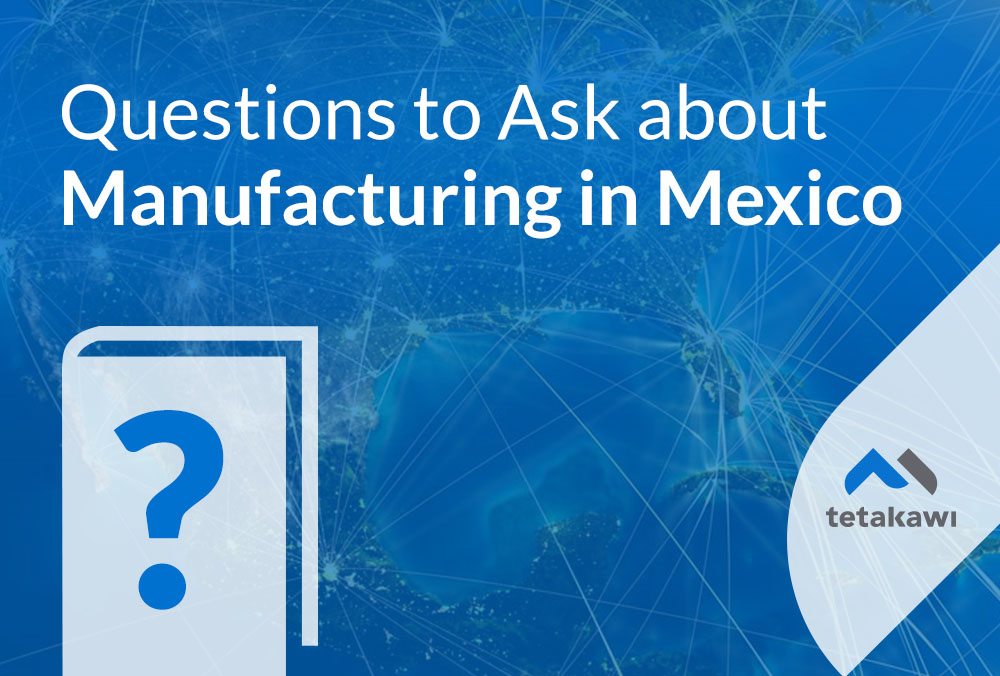 START YOUR JOURNEY INTO MEXICO TODAY!
50+ Questions to ask before expanding into Mexico
Thinking about expanding into Mexico? Step 1 of your due diligence process is answering all of these questions. Over the last 33 years, thousands of companies have used this guide to accelerate their expansion into Mexico.