Mexico Site Selection
Deciding where to locate a manufacturing facility is a complex decision that should not be taken lightly. There are many essential variables that companies ought to reflect upon when comparing potential locations for the location of new operations. Inexpensive "all-in" manufacturing costs, strategically calculated geographic positioning, worth, and experience are substantial factors that determine a manufacturer's success. Therefore, well-chosen industrial site selection is vital for success to include those factors. Getting it right is critical—a good choice permits firms to supply clientele well, control inbound flows and expenses, supervise inventory rotations and concentrations more efficiently, and maintain competitive distribution costs.
When searching for the perfect site, it's not about finding the cheapest place; it's a matter of balancing quantitative and qualitative dynamics to land at the best site to match distinct manufacturing needs. It's best to balance what's good for the customer and what's good for the business.
Preliminary Mexico Site Selection Considerations
When contemplating prospective industrial locations in Mexico, or wherever else, the intent should be to decide on a site with the lowest overall costs (provincial costs and inbound/outbound distributions costs). It is important to remember repercussions that could also cost the company, such as excessive transportation of material and the loss of customer receptiveness after locating away from the consumer base. Understanding the labor force and its customs, and considering the options to select from when establishing a manufacturing venture is key when beginning the search for a good quality location.
Many people don't realize that Mexico is the host for a diversity foreign manufacturing concerns in terms of both size and activities. Mexico often been inaccurately portrayed as a third-world nation with poor transportation and distribution linkages. The reality is that Mexico's capacity to support industry is characterized by top-notch infrastructure and fully modernized services that a corporation needs for an immediate launch and continuing progress of operations.
As a manufacturing company contemplates the initiation of a Mexican manufacturing facility, certain big picture questions should be addressed:
What are the operational and cultural issues are most important to the company going through the site selection process?
How does the site choice maximize competitiveness within a particular industry?
It is most important to fully understand how answers to these questions will affect the company's balance sheet and income statement. Money is always a limiting aspect when embarking on a Mexico manufacturing project. New ventures take time to turn a profit and need financial protection to keep running until they begin to show a return on investment. This is what catalyzes the decision on whether to begin a new manufacturing in Mexico project, or not. For this reason it is essential to do the research to examine the cost components related to any proposed new venture.
Mexico Manufacturing Cost Components
Mexico Workforce
In Mexico, as is the case with in any other country or community, workforce is perhaps the most critical consideration; always seek a location that provides the workforce capability and concentration, accessibility, train-ability, and efficiency required for the relevant manufacturing functions. Workforce denseness relates to the size of the available work force within a practical commuting distance of the location. Train-ability relates to the educational milieu and job experience. When assessing the make-up of the local Mexican labor, it typically helps to place candidates for positions within three categories: skilled, semi-skilled, and unskilled.
Mexican Industrial Real Estate
Aside from cultural and local considerations, there are many options for choosing the actual building for a company in Mexico:
You can acquire raw land and develop it
You can find developed land with presented fitting infrastructure
Find an existing structure and acclimatize it to a particular use. The Offshore Group offers ready Mexico industrial real-estate option as a part of its Shelter Plan.
Build a new facility specifically for the project.
To decide it is helpful to look at zoning, property age and state, property impression, site size and contour, limitations, landscape and geography, accessibility to major transportation corridors and proximity of amenities. Proper zoning and permitting are critical elements in the site location in Mexico as is the case in other countries.
Quality of life reflections are central in attracting employees to relocate, if this is required. Talk to the police and residents about the site and the area. Ask to see information pertaining to crime statistics, and for any other guidance that is relevant and may be of concern. Maybe local the federal, state or local governments are offering special programs or incentives for certain industries? Aerospace, for instance, is an industry that Mexico is working aggressively to attract.
Freight and Transportation to and from Mexico
What is the cost and availability of applicable transportation service—air, water, rail, and highway?
Transportation is a significant factor to consider, for if a site is chosen with inefficient transportation linkages, any cost savings in manufacturing gained in the area of labor can easily be eaten up by the cost of shipping raw materials and finished product to and from Mexico.
It is important to find the optimal setting: both in terms of proximity to customers and markets and cost. Look for Mexico industrial locations that offer at least two directions for their in-bound traffic as well as at least two routes for delivery of goods to customers. Inbound and outbound transportation costs and lane aptitude constraints factor into good Mexican site selection decision making.
For companies that depend heavily on raw materials, the issue is nearness, what is the average mileage and travel time for inbound shipments in Mexico?
Availability of Utilities
Access to utilities with the extent and volume essential for both the primary investment and future expansions is imperative. Water, sewer, electrical, natural gas, and telecommunications are all potentially required at a Mexican manufacturing site.
Look at sanitation, storm water management, water supply, electricity, fuel oil, telephone, and water disposal, and look at access: the ability to get to highways, rail, sewers, etc.
Stability of Mexico's Government
Many countries are undergoing transformations that make the choice to locate in those areas intricate. Political risks in both the country of location and the host country influence the capability of establishing the business site. Learn local and federal government policy: ecological, public/communal/federal, labor laws, zoning, construction permits, and land employment rules. Mexico has been welcoming to U.S. foreign investment for many decades now.
Pro-business government legislation and local government involvement to smooth the progress of businesses locating in an area through subsidies, tax abatements, and other support are ideal for prospective destinations, which is why Mexico is a good choice. The first tactical goal of the Mexican government's energy segment is assuring an ample supply of energy with international standards of class and competitive prices. The Mexican government believes that coastal natural gas terminals are a key to the country's efforts to guarantee future supply without pressuring the North American market. It is also to have a capable partner to help you negotiate the intricacies of doing business in Mexico. The Offshore Group is capable and has a track record of being worthy of its clients' trust.
Mexico is also a signatory to the NAFTA. This gives companies the distinct advantage of importing North American sourced inputs into Mexico duty free, when the final products are for export out of the country.
Non-legislative and cultural barriers should also be considered. Again, this is where a trusted local partner such as a Mexican shelter company adds value.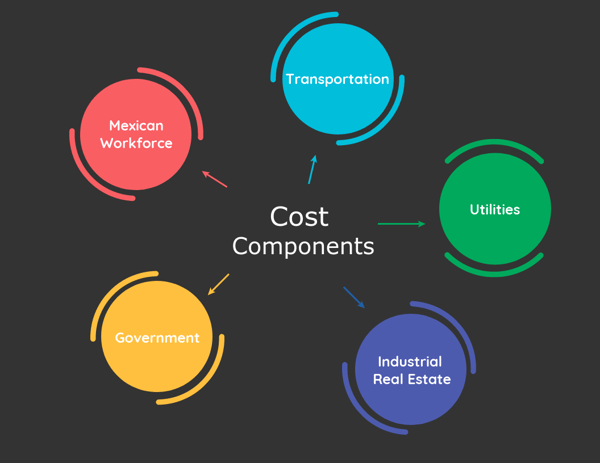 Macro Industrial Site Selection Analysis
After going through the considerations and narrowing the potential sites to just a few options, it is time to analyze the locations and choose the best one for the company. It is important to find a balance between annual operating expenses, Mexico manufacturing start-up costs and expenses related to image, customer care, and amenities.
Methods for Macro Analysis (evaluation of alternative regions, sub-regions, and communities.)
Factor Rating Systems: this industrial site selection method is one used the most commonly used. This is so because site selection variables are examined in an easy to follow format. Major factors affecting a set of possible sites are listed, then each site is rated against each factor and a point value is selected from its assigned range, then sums of the assigned point were then compared. The site with the most points is selected.
Transportation method: this represents linear encoding technique that addresses problems that involve the transport of products from various sources to a number of destinations. Two common objectives are to minimize the cost of shipping and/or maximize the revenue of shipping. The method involves using Excel or a similar application and can be used to solve many different types of problems if applied resourcefully.
Centroid method: this a technique for locating solitary facilities that considers the existing amenities, the space between them, and the quantity of goods to be shipped. It is often used to locate transitional or dispersal warehouses. Simply put, this method assumes that inbound and outbound transport costs are equivalent, and it does not include unusual Mexican shipping costs for less than full loads. It involves placing existing locations on a coordinate grid system then using longitude and latitude dexterity for global decisions.
These methodologies are ultimately used to complete a Mexico site selection project to help expand a manufacturing company's bottom line and ensure its future success.
Edited Blog Post from 2012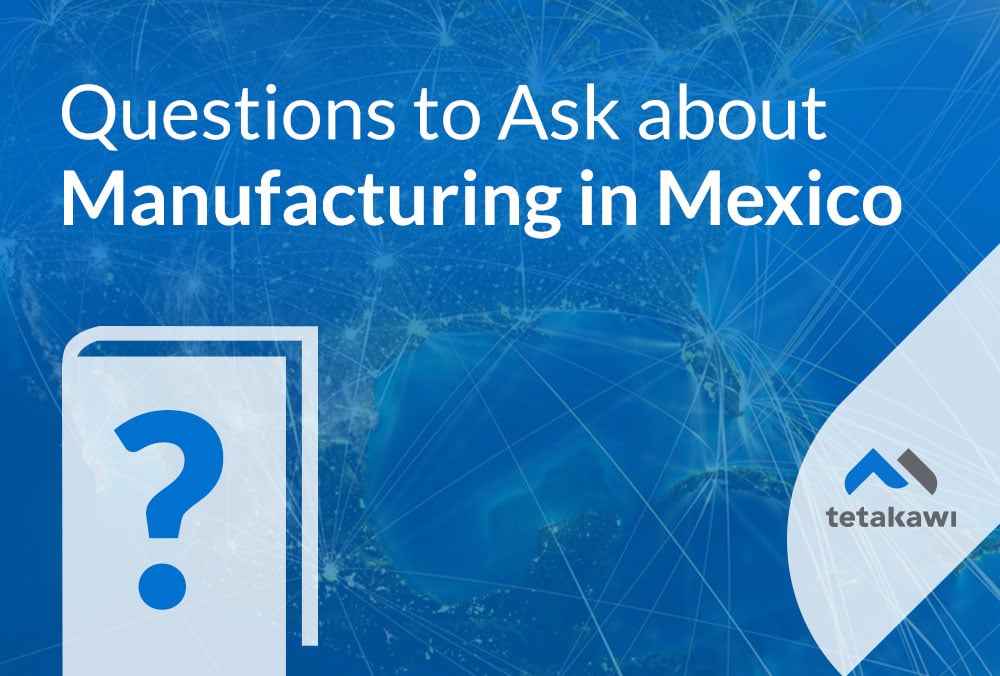 Start your journey into Mexico today!
50+ Questions to ask before expanding into Mexico
Thinking about expanding into Mexico? Step 1 of your due diligence process is answering all of these questions. Over the last 33 years, thousands of companies have used this guide to accelerate their expansion into Mexico.