Mexico's labor force is made up of more than 58 million people as of 2020, a large percentage of which are experienced contributors to the country's manufacturing industry. The labor force has trended consistently upward in the last decade, as the population has steadily increased and job seekers have connected with employment due to the increase of foreign direct investors in Mexico.
This steady upward trend in population is a large part of why manufacturers continue to eye Mexico. While other countries may face challenges recruiting skilled workers for manufacturing jobs, this has not been the case. In fact, as more companies have built up manufacturing supply chains in Mexico, workers have gained better training for more complex jobs.
Below we'll highlight trends in labor force participation, how Mexico's labor force is changing, and what manufacturers can do to connect with available labor.
What labor force data means to manufacturers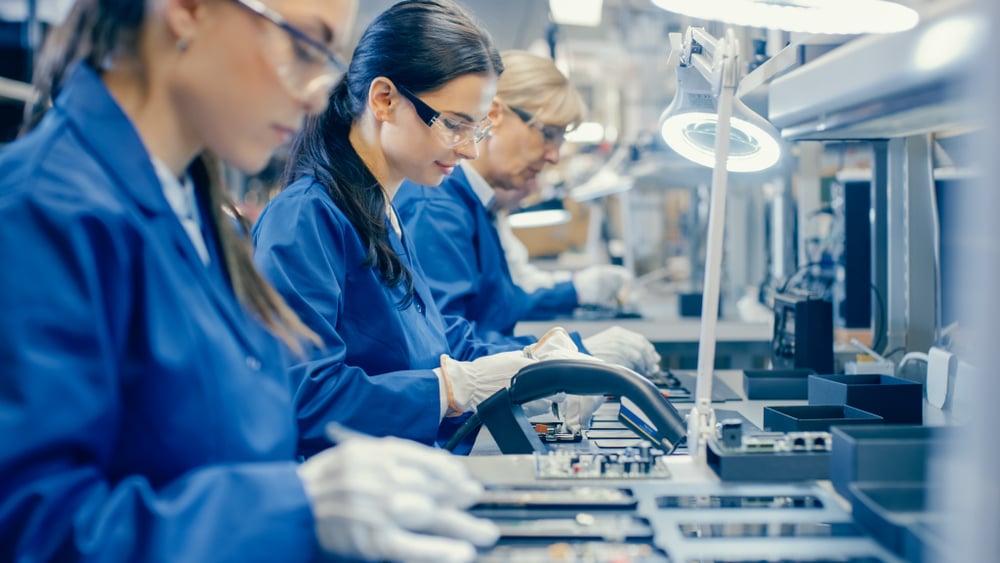 For manufacturers considering where to locate a new operation, it's important to consider the availability of labor in targeted regions, as well as the regional population's participation in the labor force. The latest available data hints at variations, with rates of 64% in Baja California, 65% in Coahuila, and 69% in Sonora for 2014. Understanding these numbers can help indicate the level of workers available from the total population seeking formal work.
This data also provides manufacturers with a sense of long-term stability. Regions with fairly steady or upward-trending demographics with a reasonably low average age can trust that they'll have a pool of applicants from which to draw for years to come. For manufacturers looking to make a significant real estate investment, this is particularly important.
Breaking down Mexico's labor force
While 2020 has been a tumultuous year for employment, data indicates that the labor force participation rate in Mexico has held relatively steady, around 60% for some time, comparable to the rate found in the United States (61%). That rates provides a good sense of the availability of labor in Mexico as part of its total 129 million people. In Mexico, the labor force participation rate analyzes data for all workers 15 years and older actively employed or in the process of job hunting. It does not consider people who aren't seeking work outside the home or unable to work.
Mexico's population has steadily trended upward by just above 1% since 1995, with a young median age. As of 2020, the average age in Mexico is 29. Compared to an average age of 38 in the United States and China or early and mid-40s in Germany, Italy, and the United Kingdom, giving a sense of the workforce stability seen in Mexico's labor force.
While the unemployment rate has peaked above 5% in 2020 due to the coronavirus pandemic, for the most part, unemployment is right within experts' "ideal" rate, between 3% and 4%, as people are eager to connect with good jobs made readily available.
As with any country, employment rates will vary by location, with more industrial jobs readily available near certain metropolitan centers. Understanding which areas of Mexico have a higher labor force participation rate can help foreign direct investors identify sites from which they can readily draw labor.
Experience ranges across Mexico's labor force
What makes Mexico particularly attractive to manufacturers is the ease of connecting with workers with some manufacturing experience—or connecting with opportunities to customize training for specific production needs.
Education in Mexico remains on the rise, particularly when it comes to technical training. According to UNESCO statistics, tertiary enrollments—including universities and technical schools—in Mexico more than doubled between 2000 and 2017, from 1.9 million to 4.4 million, with education rates typically being higher in the more industrialized northern and central states. Experts have projected Mexico to be one of the world's top 20 countries in terms of the highest number of tertiary students by 2035.
Mexico has a long history of vocational training, going back to at least the 1990s when Mercedes-Benz trained industrial electronics technicians through its partnership with vocational schools in the State of Mexico. Other examples of this company-based training include the Bombardier support that founded the Aeronautical University in Queretaro. The university has matriculated more than 8,000 graduates through its technician, engineering, and Master's degree programs, to raise the level of quality found in aerospace manufacturing in Mexico. And the Advanced Technology Training Center (CEFTA) in Tetakawi's Roca Fuerte manufacturing community tailors training on HR-related and technical skillsets to help people secure good jobs, and manufacturers gain a workforce trained to solve their challenges.
Of course, manufacturers whose needs are less complex may prefer to work primarily with unskilled direct laborers, who have less training and often less education. These laborers typically command a fully fringed hourly rate of around $2.40 on average, with some regional variation.
Pinpoint the right region for you
While you no doubt have a clear sense of the type of positions you'll need to fill, pulling together and analyzing data that covers a broad cross-section of Mexico's labor force for the right opportunity for your manufacturing operation is a skill best left to an experienced advisor. Tetakawi has decades of experience in helping foreign direct investors identify the right site for their needs, as well as recruiting and training the desired workforce.
Right now, Mexico's workforce has plenty of workers who are ready to connect with new opportunities. If you're ready to identify the best opportunity for your manufacturing operation in Mexico, contact Tetakawi today.
Wondering if you should manufacture in Mexico? Watch the webinar below to see if Mexico is right for you.
Subscribe
Sign up and stay informed with tips, updates, and best practices for manufacturing in Mexico.