What Mexico's Minimum Wage Increase Means for Manufacturers
Skilled yet affordable labor is one of the chief reasons that many manufacturers consider launching a manufacturing operation in Mexico. So, it's understandable that the news that Mexico is raising its minimum wage could give company leaders pause around this consideration of investing in Mexico. In truth, however, this latest minimum wage increase does little to offset the cost and operational benefits of manufacturing in Mexico.
In addition to improving conditions for more than 11 million workers earning minimum wage in Mexico, minimum wage increases have been urged by governments across the world to meet requirements for free trade agreements. Mexico is hardly alone in raising pay for skilled laborers.
What's more, this mandated increase in worker minimum wage comes at a time when more organizations around the world are recognizing both the direct and indirect cost of focusing manufacturing site selection decisions around the lowest labor costs. A complete site selection analysis focuses on a more complete picture, balancing labor costs with quality and ease of manufacturing oversight, shipping cost and ease, and the existence of an established supply chain in your target industry.
Still, wage and labor stability are important considerations for every company considering diversifying their manufacturing base. Below, we define the new minimum wage, address concerns around it, and help manufacturers understand what to expect around labor wages.
Mexico's minimum wage increases
In Dec. 2020, Mexico's National Minimum Wage Commission published a notice in the Official Gazette of the Federation that the minimum wage for 2021 would increase by 15%. The minimum amount workers earn, however, also depends upon where they work. The general minimum wage will be 141.70 pesos (approximately USD $7.16) per day of work, an increase of an independent recovery amount of 10.46 pesos plus 6% increase for inflation.
In the Free Zone of the Northern Border, the minimum wage is now 213.39 pesos (approximately USD $10.78) per day of work. This amounts to an independent recovery amount of 15.75 pesos, plus the 6% increase for inflation.
This economic free zone encompasses a 2,000-mile swath of northern Mexico, stretching roughly 15 miles from the U.S. border. It includes 43 cities across six states, as well as the entire state of Baja California. Throughout this economic free zone, Mexico has cut the value-added tax from 16% to 8% and reduced corporate income taxes from 30% to 20% to encourage corporate investment and made fuel prices the same as in the U.S. to promote tourism.
This area had formally been an economic free zone, until the implementation of NAFTA in 1994, when the Mexican government determined residents of border regions should be subject to the same import duties as other areas. As a result of this history, there is data available to demonstrate the worth of these economic incentives.
Data puts out concerns around minimum wage increases
Concerns around the minimum wage hike come not just from the 2021 increase but also on the heels of a 20% increase in the minimum wage for 2020 and a 16% increase in 2019. This steady increase is part of President Andres Manuel Lopez Obrador's goal of reversing a decades-long slide in Mexican workers' purchasing power.
Critics have expressed apprehension that the steady increases in wages will drive up unemployment. However, despite the last two increases to the minimum wage, Mexico has one of the lowest wages in the world. CountryEconomy.com ranks Mexico 72nd out of 145 countries in terms of its national minimum wage. In comparison, China ranked 48th and Thailand ranked 60th in terms of the highest national minimum wage.
In addition, the preceding years' increases also indicate, as Luis Munguía, president of the National Minimum Wages Commission, points out, that the historical increases to the minimum wage have not affected employment, instead solely contributing to salary increases.
More to the point for manufacturers is the fact that few workers in the manufacturing industry are earning as little as the minimum daily wage for even unskilled labor due to the complexity of typical manufacturing tasks. The average wage in Mexico for an unskilled direct laborer is in the range of USD $2.40 per hour, which might amount to $19.20 per day for an average 8-hour day shift. More skilled direct laborers, such as CNC machinists who require specialty training and skillsets, may make in the range of USD $6.02 per hour. While increases in the minimum wage may push manufacturers to make their pay more competitive, it also allows for a lenient timeline for implementing regularly stepped increases.
Trade agreement's impact on Mexico wages
A political statement isn't the only impetus for this minimum wage growth. The U.S.-Mexico-Canada trade agreement ratified last summer pushed for an increase in the minimum wage. Enforcement of updated labor standards were among the most-discussed portions of the trade agreement and focused on improving pay, working conditions, and productivity for all member countries. Even then, an April 2019 analysis of USMCA published by the U.S. International Trade Commission (ITC) indicated that higher wages are more likely contribute to higher productivity and, consequently, larger sales volumes for manufacturers.
More to the point, the USMCA trade agreement incentivizes companies, particularly in the automotive industry, for sourcing materials and components in North American countries. The cost breaks that countries get for moving manufacturing into Mexico, compared to other nations without such trade agreements, offset the slight minimum wage increases seen in Mexico.
Of course, there are other reasons that companies who are looking to offshore manufacturing have been incentivized to move to Mexico over other alternatives. Supply chain challenges ranging from tariffs to pandemics have encouraged many companies to prioritize nearshoring or to embrace a regionalization approach in which global corporations add facilities within the regions that they're serving.
Competitive wages and operational costs
Competitive wages are necessary for securing qualified labor anywhere, but most manufacturers operating in Mexico find that even competitive pay is comparatively cost-effective. What's more, as most corporate executives already recognize, wages are one small, albeit critical, piece of a complete cost analysis.
If you're ready to get a complete picture of your potential operational costs in Mexico, Tetakawi can help. Try our online payroll calculator to get a sense of labor costs, or contact Tetakawi for a more complete cost estimation.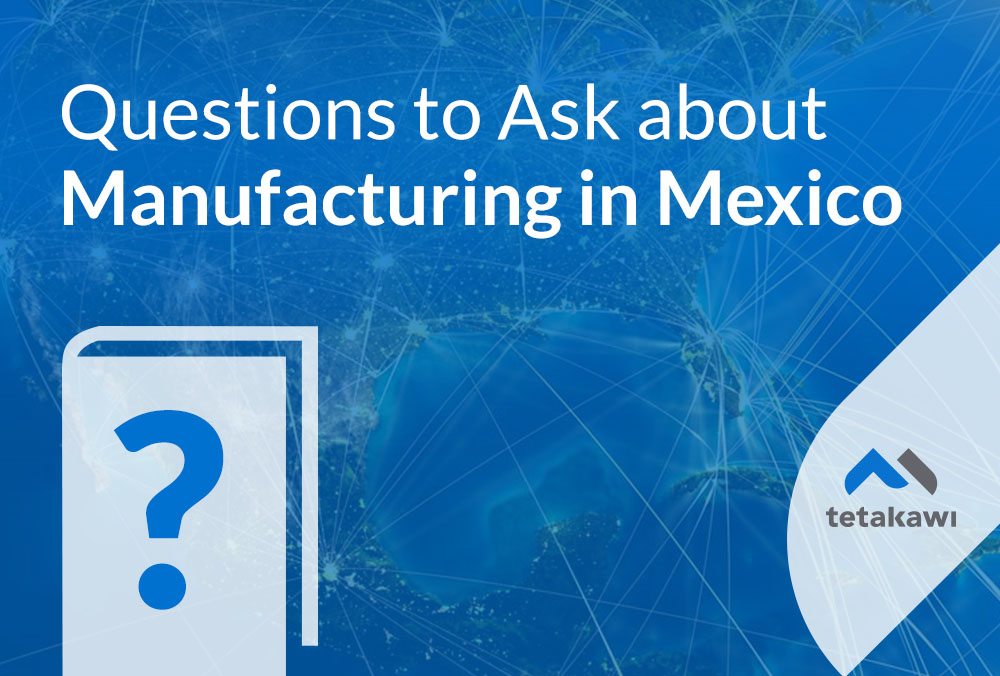 Start your journey into Mexico today!
50+ Questions to ask before expanding into Mexico
Thinking about expanding into Mexico? Step 1 of your due diligence process is answering all of these questions. Over the last 33 years, thousands of companies have used this guide to accelerate their expansion into Mexico.