OSEA Supply Chain Index Projects More Automotive Investment in Mexico
While concerns around trade policy and the likely potential for supply chain rationalization dominate the Original Equipment Suppliers Association's (OSEA) 3rd Quarter Automotive Supplier Barometer, it also offers insight into how automotive component suppliers are managing ongoing challenges. In many cases, the solution is stronger investment in Mexico manufacturing.
In 2019, suppliers surveyed by OSEA produced 37 percent of their North American parts in Mexico, compared to 24 percent in 2018. Those surveyed executives project that Mexico will continue to see an increase in the number of automotive components made there—despite an otherwise pessimistic outlook for much of the global supply chain.
Where Companies are Manufacturing in North America
Each quarter OESA releases an Automotive Supplier Barometer that analyzes the 12-month business sentiments of the automotive supplier industry's top executives. This quarter's snapshot of supply chain concerns reveals high levels of uncertainty and unbalance. There are some bright spots, however, and Mexico manufacturing is one of them.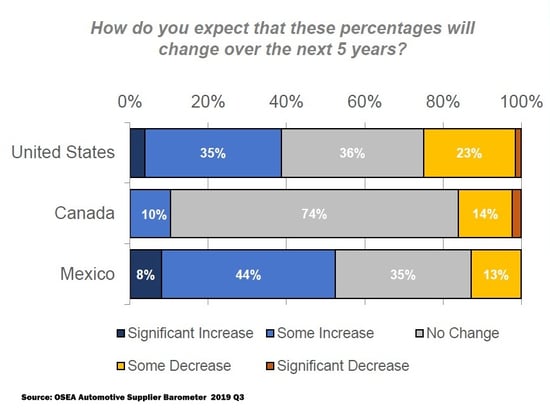 Mexico becomes strong alternative to Chinese manufacturing
While OSEA's Q3 barometer shows a 2-point gain over Q2, at 37—13 points below the neutral 50-point threshold—it remains near the lowest levels last seen in 2009. The ongoing threat of uncertain trade policy is largely responsible for this pessimism. However, for all the companies playing the waiting game and holding off on capital investments, there are many others taking action now to prepare for a stronger future.
Since the U.S. implemented its latest round of tariffs in September on $110 billion worth of imported consumer goods shipped from China, more manufacturers have made the decision to pull manufacturing from China or diversify into other manufacturing markets. With USMCA passage on the horizon, Mexico is seen as an increasingly solid choice as a manufacturing base.
In fact, 27 percent of OSEA's surveyed executives reported that they will be increasing the purchase of products imported from Mexico, compared to only 19 percent surveyed in 2018. While Canada, Europe and China face net contraction in production imports, Mexico and Southeast Asia are seeing growth in demand for the amount of products sent to the U.S. It's yet another hint that the ongoing trade tensions with China and now Europe are likely to have a long-term impact on automotive supply chain sourcing.
For Mexico, this demand is also driven by the array of specialty products coming out of its experienced companies, as well as growth in the number suppliers based in China, India and Southeast Asian companies that are establishing production capacity in Mexico rather than directly in the United States.
The rate of exports from the U.S. to Mexico also is increasing. Thirty-six percent of survey respondents reported that, over the next five years, they will significantly increase their exports to Mexico. The report notes that this increase is driven in part by the desire to use local production in Mexico for sales to the Mexico market as well as the ability to supplement their Mexico production facilities with U.S. plant capabilities.
U.S. Export Projects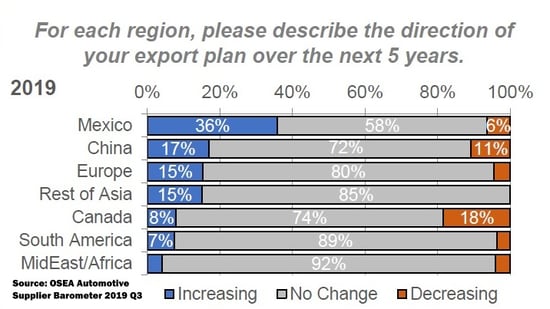 Right-sizing with the right strategy
Overall poor vehicle sales also are weighing on the minds of executives leading automotive supplier companies of all sizes. Larger suppliers, however, are reflecting higher levels of pessimism. Those low sales numbers will impact the supplier base, as 14 percent of OSEA survey respondents report that their direct supply base is too large, and 17 percent of respondents feel their indirect supply base is too large. In both instances, companies are planning, on average, a 13-percent reduction in the number of suppliers with which they work.
However, as these automotive suppliers attempt to right-size, they're weighing concerns over lead times, labor issues and raw material and/or component shortages. Automotive suppliers note that shortened lead times from their customers combined with the potential for delays from their suppliers, are the leading concern in the coming quarter. Reliable component suppliers with flexibility to meet a rapid uptick in demand will be in huge demand.
While the overall tone of the supplier index is cautionary, it should serve as a clarion call to automotive suppliers that there are steps to take to stay on top. Automotive suppliers should be reaching out to their suppliers to discuss their capacity to meet demands for today's products. But they should also be planning for demand for the disruptive technologies shaking up the industry. In either case, Mexico is likely to be part of the solution for many automotive suppliers. If you are an automotive parts supplier who is thinking about expanding into Mexico to achieve your strategic objectives or as a contingency to global trade dynamics, Tetakawi can help you reach your objectives.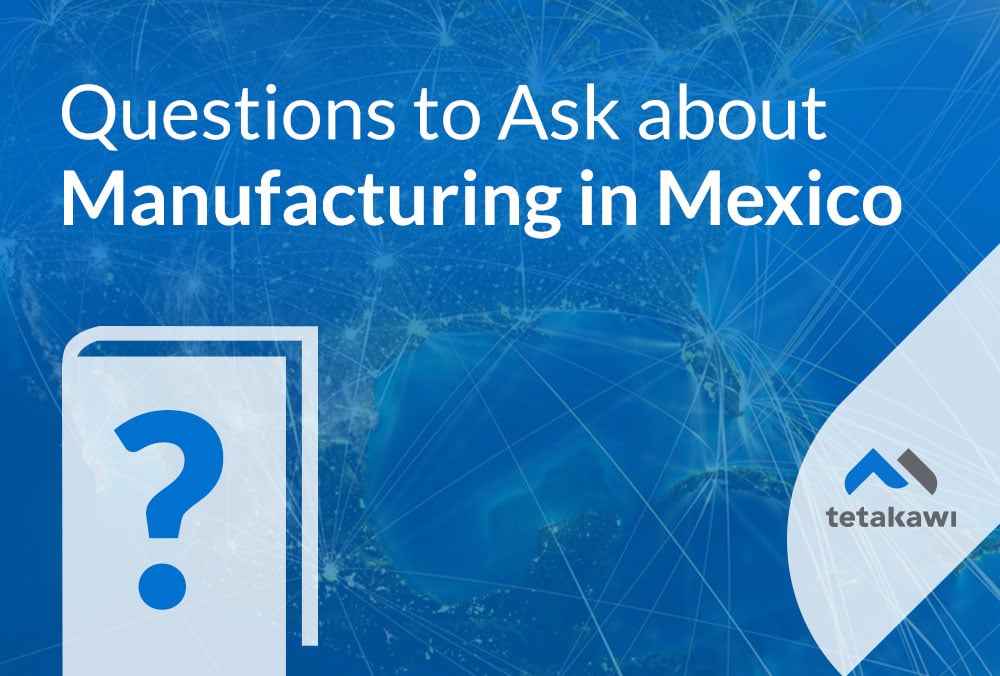 Start your journey into Mexico today!
50+ Questions to ask before expanding into Mexico
Thinking about expanding into Mexico? Step 1 of your due diligence process is answering all of these questions. Over the last 33 years, thousands of companies have used this guide to accelerate their expansion into Mexico.