Many companies who manufacture in Mexico choose the services of a shelter company. A shelter company allows manufacturers to operate in Mexico as a foreign entity in an industrial site, without dealing with the risks that come with setting up and running a manufacturing plant. A shelter company also provides import and export services, recruits employees, and handles all compliance issues for dealing with regulations and policies.
The Offshore Group goes beyond the shelter service model to provide a manufacturing community. A manufacturing community is a scalable operating environment in Class A industrial space that boasts a specialty in a specific industry and provides all the administrative services necessary for a successful operation. Within these environments, real estate, utilities, and administrative services are already in place before operations start. Companies with specific production techniques are covered by The Offshore Group's experience in carrying out processes such as 5 axis CNC precision machining, electromechanical assembly, metal, plastic, composites transformation, and process manufacturing, among many others.
The manufacturing community has an infrastructure set in place with connections to needed utilities, security, maintenance personnel across the facility, and follows environmental industry regulations. Environmental safety is implemented through a team of experts in Mexico's Environmental Federal Laws. Some locations are equipped with an onsite and working desalination plant to improve water consumption and treatment processes. Security within the manufacturing communities is up to date with various Mexican policies and regulations including NEEC and IMMEX programs. These programs aim to enhance physical security, goods security, and information security.
Much like shelter companies in Mexico, Manufacturing Communities are located in the middle of manufacturing industry clusters, specifically automotive, aerospace, electronics, and medical device. Logistics needs are met as connections to supply chains become shorter and access to specific production activities are found. What is even more advantageous about the locations is that each manufacturing community tries to maintain its own industry specialty to build an economy of scale. Industry specialties are one of the main aspects that build a manufacturing community's ability to enhance productivity and efficiency.
Sometimes companies overlook their administrative needs in Mexico and struggle to set up their services in time. Manufacturing communities provide management for payroll, employee benefits, indirect spending, accounting and taxes. Added employee benefits include employee transportation, food certificates, child day care, and medical services. These services help to keep the facility and the various manufacturing operations running smoothly as a manufacturing community.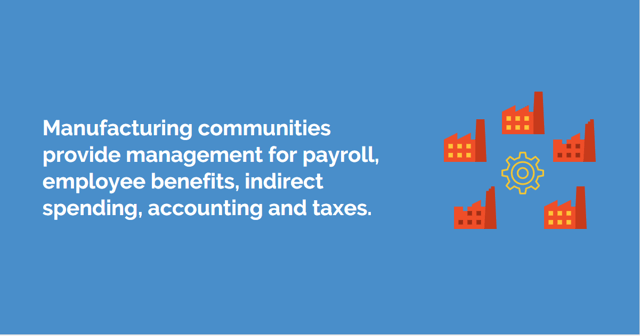 The Mexican manufacturing industry benefits from manufacturing communities
Productivity is also advanced as skilled employees are recruited and hired through HR management. Many labor regulations are also taken care of including benefits and payroll. Recently, a mandate for electronic payroll to take place in Mexico and not at foreign the headquarters.This helped implement a more localized and organized payroll process in Mexico.
Other regulatory processes such as import and export in Mexico are part of the manufacturing community. Import and export management covers customs compliance, audit management, logistics resources, cross docking facilities, customs brokerage, and inbound and outbound operations. As the importer and exporter of record in Mexico, the Offshore Group takes the trade regulations extremely seriously and ensures goods are transferred correctly to reach the supplier, manufacturer, and consumer on time.
As production in Mexico continues to increase, many companies look to expand into locations that best suit their manufacturing needs. Industry logistics, infrastructure, administrative and labor services are all part of a manufacturing community. There are many ways to begin operations in Mexico, knowing how to get started can help tremendously.
Subscribe
Sign up and stay informed with tips, updates, and best practices for manufacturing in Mexico.