What is Permanent Establishment in Mexico?
A Permanent Establishment is essentially a corporate value-added tax on a business that has a stable and ongoing presence of revenue creation in its foreign host country. If a foreign company maintains any type of locally created revenue, a Permanent Establishment allows the host country to tax that revenue at a local rate.
Depending on the country, Permanent Establishment can lead to a double taxation on a company's profits by the host and home countries. International trade agreements, treaties, and tax credits can loosen the burden depending on both country tax policies.
Permanent Establishment Taxation
Permanent Establishments that lead to taxation defined by SheildGeo include:
"Tax treaties between the company's home country and the host country where business is conducted. The tax treaty may offer more lenient criteria for triggering PE or extend a lower corporate rate to treaty members."

"The domestic tax law of each country that governs corporate tax. This would subject any PE activity to local corporate tax rules and rates."

"OECD and UN Models: Member states could be guided by the models developed by the OECD and UN to determine when PE is created. These models may be useful where a tax treaty does not contain reference to newer forms of revenue creation, such as eCommerce and cross border digital transactions."
Each of the criteria stated above should be reviewed and monitored to prepare for any potential tax liability and understand the host country's PE tax law when no treaty is put in place. This is important specifically for most developing host countries that do not have a treaty with many countries part of OECD or the UN.
Standard Permanent Establishment Criteria
There are different standardization countries follow to implement PE status and tax companies as such. Many countries model their economic policies, treaties, and tax laws off of guidelines from the Organization For Economic Cooperation and Development (OECD) and the UN. But these guidelines aren't legally enforced.
The OECD criteria used most to implement PE status include:
A fixed place of business, address, bank account or other physical presence.

This usually includes a company branch, an office, a factory, a workshop, a mine, or a gas/oil well.

Activity by employees in the host country that directly relates to revenue creation.

For example, sales agents who have the authority to close contracts in the name of the foreign company and do so more than once or twice are eligible for PE status. This includes negotiation, drafting, and signing of contracts, and qualifies as 'revenue creation', and can be subject to a PE tax.

A sufficient time frame to trigger PE under local law or a tax treaty.

Building or constructing an office or facility in a host country can begin the process of permanent establishment after about 6-12 months, depending on the country.

Actual control and direction of the employees' activity by the parent company.

Providing services and consulting within a host country can still be considered PE, based off the non-physical stipulations made by the host country.

Many host countries are reviewing the revenue created by digital or virtual sales and are taxing companies that maintain an ongoing e-commerce presence.
Permanent Establishment in Mexico
Mexico's Permanent Establishment Tax is imposed on companies that create value and wealth in Mexico based on certain activities and fall into income or value added tax liability.
To avoid PE, foreign companies must consider how to establish a legal presence in Mexico to carry out their manufacturing and/or commercial activities, so that the basis for an income tax can be determined and submitted to Mexico's Treasury Department (in Mexico known as Hacienda) for acceptance.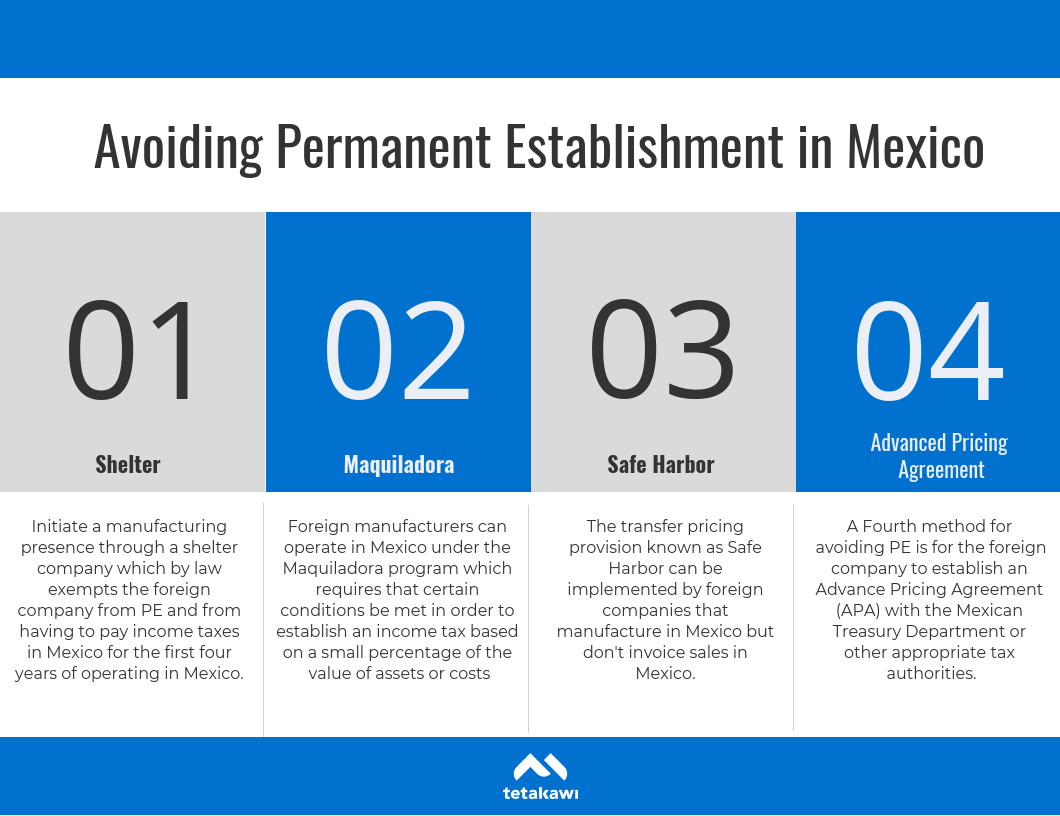 Take a deeper look into how foreign companies can avoid PE taxation:
Initiate a manufacturing presence through a shelter company which by law exempts the foreign company from PE and from having to pay income taxes in Mexico for the first four years of operating in Mexico. After the 4th year, foreign companies may opt to comply with the taxes through the shelter for another 4 years without PE implementation.

Another option is for foreign manufacturers to operate in Mexico under the Maquiladora program which requires that certain conditions be met in order to establish an income tax based on a small percentage of the value of assets or costs. These legal or economic relationships are maintained with companies that process inventory maintained in Mexico by the foreign company using their own assets or others provided by a third party.

The transfer pricing provision known as Safe Harbor can be implemented by foreign companies that manufacture in Mexico but do not invoice sales in Mexico. Shelter Maquiladoras can implement a safe harbor tax at a 30% CIT rate. As long as the Maquiladora complies with safe harbor laws to determine the foreign company's tax profit, Permanent Establishment can be avoided.

A fourth method for avoiding PE is for the foreign company to establish an Advance Pricing Agreement (APA) with the Mexican Treasury Department or other appropriate tax authorities.
Most treaties that include a PE clause are lenient on the host country's domestic tax laws to help boost trade without implementing high tax burdens for companies of either country. When manufacturing in Mexico establishing a presence and paying income tax, or working under a third party service can help companies legally avoid paying the Permanent Establishment Tax.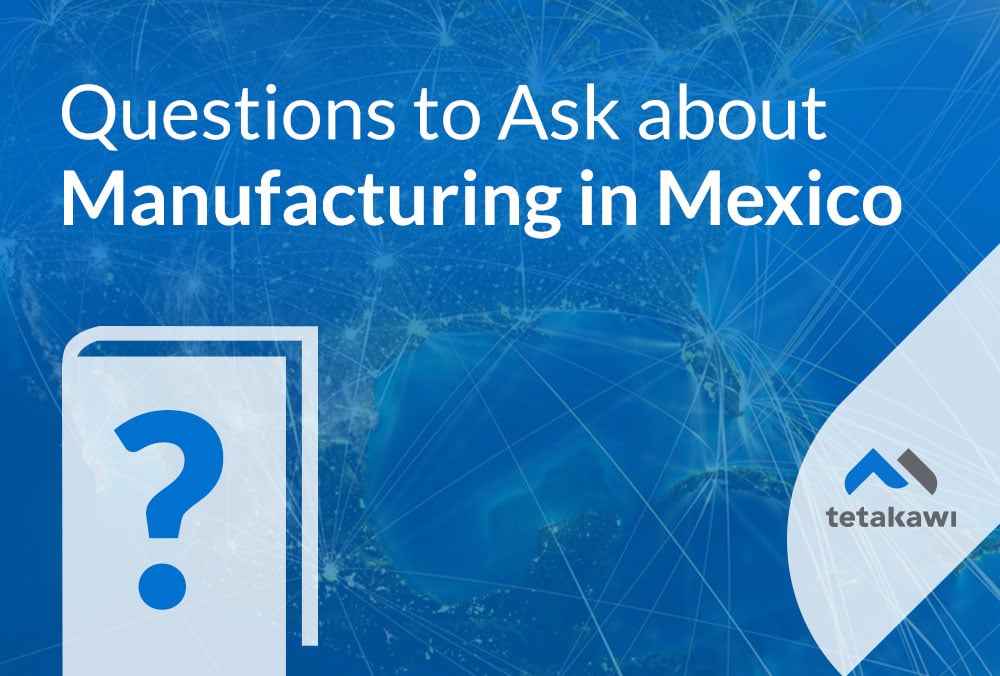 Start your journey into Mexico today!
50+ Questions to ask before expanding into Mexico
Thinking about expanding into Mexico? Step 1 of your due diligence process is answering all of these questions. Over the last 33 years, thousands of companies have used this guide to accelerate their expansion into Mexico.