Queretaro's Automotive Manufacturing Industry: Driving New Growth in Mexico
Automotive manufacturing is well-known as the largest industry in Mexico. New growth, connected infrastructure, and some of the country's top auto training and development facilities are located in one of Mexico's smallest states: Queretaro.
A Small State Supporting New Auto Development
Though it is one of the smallest states in Mexico, Queretaro is driving new growth in the country. In the past decade, Foreign Direct Investment (FDI) in Queretaro has doubled as a result of the state's commitment to building a growing economy. Bolstered by government support for higher education and infrastructure, the automotive industry in Queretaro is poised for growth.
According to the Automotive Cluster of Queretaro, the region is home to more than 300 automotive companies, supports over 48,000 government jobs, boasts a hyper-qualified workforce, and is built on a robust local supply chain. Auto manufacturers have flocked to Queretaro to take advantage of the many benefits it offers – since the arrival of a manufacturing boom in 2005, the industry has grown tremendously.
A small but powerful location, Queretaro is home to many companies, including Michelin, TRW, Kostal, Eaton, Scania, Ronal, Irizar, Autoliv, Bosal, Brose, Clarion, Valeo Sylvania, Harman, Delph, Vuhl Magna, and Can-Am.
A Region Interconnected: Automotive Infrastructure and Investment
Queretaro is one of the top two auto manufacturing hubs in the Bajio region, and as such has seen success given its well-connected manufacturing industry. A short two-hour drive to Mexico City, the city is located along interstates 45 and 57, two highways that also connect to the United States and Canada. The city also has easy access to Mexico's international rail service and Gulf of Mexico seaports for imports and exports made by both land and sea.
Queretaro is also home to the Queretaro Intercontinental Airport, which services over 1 million travelers per year and is one of the fastest-growing airports in Mexico. The airport has a transport terminal for goods moving between the country's northern and southern regions. At the terminal, the customs office prepares import and export materials and enables the automotive cluster easy access to markets around the world.
Beyond robust infrastructure, Queretaro's manufacturing sector had the highest GDP in the country as of 2016, of which the auto manufacturing industry plays a large part. Many of the companies supporting this economic boon are auto parts manufacturers that supply the larger OEMs in and around the region. With over 16 production facilities for Tier 1, 2, and 3 auto parts suppliers, the area has been an attractive seat for foreign direct investment. Queretaro received 3% of the total FDI in all of Mexico in 2016, an amount which totaled nearly USD $808 million.
Focused on In-Depth, Auto Specific Training
Queretaro is home to more than 100 training centers, 22 universities and technical schools, and 52 research and development facilities. Specific focus on education and training for the automotive industry is a feature of the Queretaro region that sets it apart from other traditionally-known auto manufacturing hubs in Mexico. The local government highly supports educational initiatives. As a result, the region's direct labor force offers much-needed variety in composition, from those with extensive experience to traditional hands-on labor.
In fact, the first automotive university in Mexico recently opened its doors in 2018 inside of the Polytechnic University of Queretaro (UPQ). The facility will be a part of the UPQ's Center for Innovation and Automotive Development (CIDEA). The investment was funded by German auto supplier Brose, a manufacturer of HVAC, cooling, and steering components for automakers like Volkswagen, Ford, GM, Nissan, and Audi among several others.
According to Francisco Domingues Servien, governor of the State of Queretaro, the facility represents an investment of USD $15 million in construction and equipment purchases. The move will "raise institutional skills and help to make the state's automotive sector the most competitive in Mexico."
In addition to being home to the country's first automotive university, German auto supplier Continental also announced a USD $62 million investment in the installation of a research and development center in Queretaro. The facility will open 1,100 positions for highly skilled personnel in its technical center, which is focused on the development of technology for autonomous vehicles and connected and electric cars.
These investments are clear indicators of Queretaro's unique strengths as an auto manufacturing hub, especially for automakers seeking to make new investments and build new facilities in a region steeped in industry-specific knowledge.
How to Establish Automotive Manufacturing Operations in Queretaro
Given Queretaro's attractive environment for auto manufacturing, it is a popular choice for establishing operations. Tetakawi offers several resources for determining if Queretaro is an ideal location for your business:
Get informed with our helpful infographic on automotive manufacturing in Mexico, which covers the industry's three prominent auto regions in the country.
Learn more about Queretaro's benefits in our comprehensive ebook, Everything You Need to Know About Manufacturing in Queretaro.
Contact us to talk to an expert in automotive manufacturing operations in Queretaro and get your questions answered.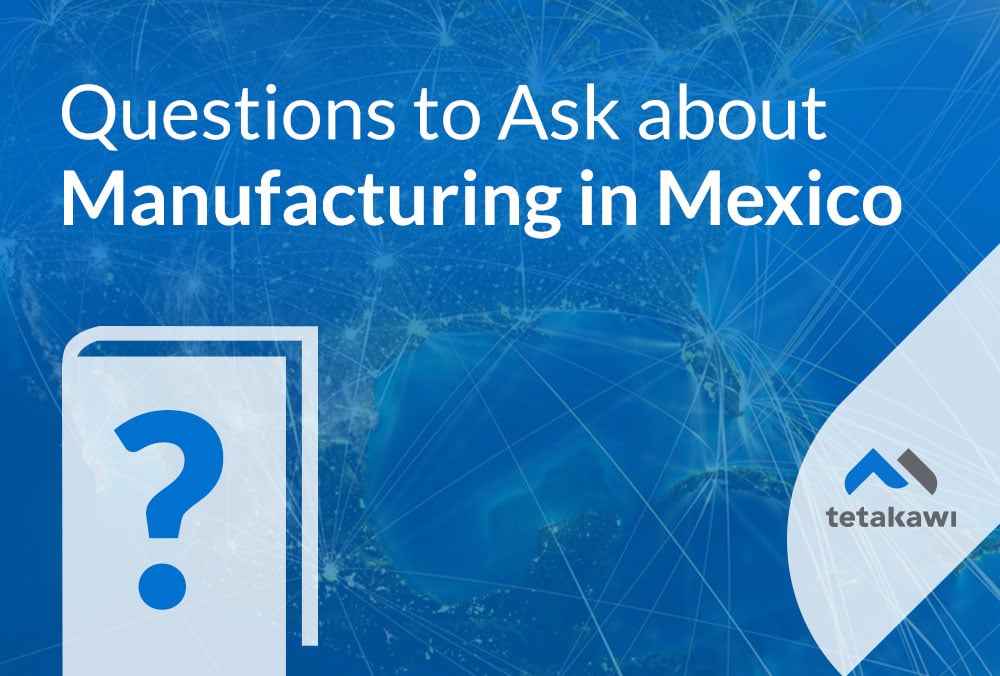 Start your journey into Mexico today!
50+ Questions to ask before expanding into Mexico
Thinking about expanding into Mexico? Step 1 of your due diligence process is answering all of these questions. Over the last 33 years, thousands of companies have used this guide to accelerate their expansion into Mexico.