How to reduce the risks associated with Manufacturing in Mexico
If you're thinking about establishing manufacturing operations in Mexico, you've likely learned about all of the advantages that it can offer. These benefits, however, can come with some inherent risk. In this post, learn the risks of manufacturing as a standalone company in Mexico and how to minimize them.
Take advantage of the benefits of manufacturing in Mexico while managing risk
Access to large markets, a strong labor force, world-class infrastructure, and low cost are just a handful of the many benefits manufacturing in Mexico has to offer. As the 8th largest manufacturing economy in the world, establishing operations in Mexico presents a unique competitive advantage that is a combination of better productivity, higher efficiencies, and ultimately more satisfied customers.
That said, getting your operation up and running is not without risk, and navigating the numerous and complex regulatory and other requirements can be challenging, especially for a company going it alone. Estimating your costs, finding the right location, sourcing the right talent, and staying in compliance with Mexican regulations all present inherent risks that, if incorrectly managed, can drastically decrease your chances of success.
A smart way to mitigate many of these risks is electing to work with an experienced shelter service provider that can make entry obstacles much more easier to overcome.
The five major risks of manufacturing in Mexico as a standalone company
Risk #1: The challenge of going it alone
Many companies consider entering using the standalone strategy due to the desire for total control over their business affairs and the implied independence from third parties.
However, the up-front investment required to build an entirely new manufacturing operation is significant and creates risk for companies that lack a high degree of certainty that their Mexico operation will meet its intended objectives. Building a full administrative team to handle the labor, management, and leadership requirements from scratch, let alone the physical building and equipment, can be prohibitively costly to begin with, and even more challenging to manage after the fact.
When going it alone, the company receives all of the benefits – but also assumes all of the risks.
Risk #2: Incorrectly estimating the costs of establishing your operation
Proper cost estimation is one of the most crucial factors in determining whether or not your enterprise will ultimately be profitable. Without appropriate cost information, developing an entry strategy is akin to playing a game of chance. Finding accurate and up-to-date cost information, however, can be quite challenging for those unfamiliar with the Mexican landscape.
Readily available information from sources like INEGI (Instituto Nacional de Estadística y Geografía, Mexico's national statistics agency) is often two or more years old. Inflation, exchange rates, and economic dynamics in that time can substantially impact the results of any calculation done using the outdated financials. Geographic, cultural, regulatory, and demographic factors can also affect the way costs are calculated and are often unclear to businesses unfamiliar with manufacturing in Mexico.
Risk #3: Choosing a location that isn't optimal for your operation
Mexico's vast industrialized area extends from the United States border in the north to Mexico City in the south. Selecting a manufacturing site requires in-depth knowledge of highly localized labor markets, proximity to relevant industry clusters, optimal distances from suppliers and markets, and real estate considerations. Without this information, choosing an ineffective or inefficient location can quickly result in cost and logistics nightmares. Beyond these potential knowledge gaps, leasing, purchasing, or building a manufacturing site are highly challenging and can also expose newcomers to needless risk.
Risk #4: Not finding the right talent for the job
In Mexico, fully-fringed compensation for low-skilled factory workers is approximately 80% lower than the USD $12 per hour wage typically found in the United States or other similar high-wage countries. For foreign companies inexperienced with manufacturing and labor laws in a Mexican environment, establishing a robust labor infrastructure presents a broad range of challenges.
Working within Mexico's system of labor unions, sourcing a competent workforce tailored to your company's specific needs, and appropriately managing payroll tasks can be overwhelming for an unseasoned entrant.
The success of any operation is buoyed by its employees. Relying on the wrong talent and human resources team can expose a company to higher costs, administrative headaches, or even conflict with local labor unions – effectively eradicating the labor-related benefits of manufacturing in Mexico in the first place.
Risk #5: Falling out of compliance and other legal complications
Operating as a standalone company in Mexico typically also requires the formation of a new legal entity. This new entity is 100% responsible – and accountable – for income taxes, consumption tax, employment compliance, and trade or customs compliance, and other legalities. Mexican law can be incredibly nuanced and complex to learn for an operation starting from scratch.
Regulatory compliance is crucial to continued operation, and falling short in this area can easily disrupt business. It is, therefore, critical to managing it appropriately to reduce the risk of damaging short- and long-term impacts on your operation.
Work with a shelter service provider in Mexico to reduce your risk
One of the best ways to reduce your exposure to risk is to choose a knowledgeable, trusted partner that can guide you through the ins and outs of manufacturing in Mexico. At Tetakawi, we operate as a "shelter" provider. We become the legal entity of record in Mexico for all administrative and compliance-related matters and guide you through the establishment process so that you can successfully avoid the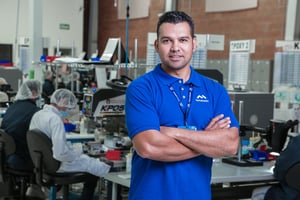 five pitfalls mentioned earlier. Meanwhile, you retain 100% control of all production-related activities, allowing you to focus on your core competencies: engineering, process improvements, quality control, ect.
Working with a shelter service provider offers a cost-effective, low-risk way to set up your manufacturing presence in Mexico. Choosing to work with Tetakawi means that you have a trusted partner on your side with over 33 years of experience in navigating the Mexican manufacturing landscape – you don't have to go it alone. To learn more about our shelter services, contact us to speak with an expert, get your questions answered, and take advantage of the benefits of manufacturing in Mexico.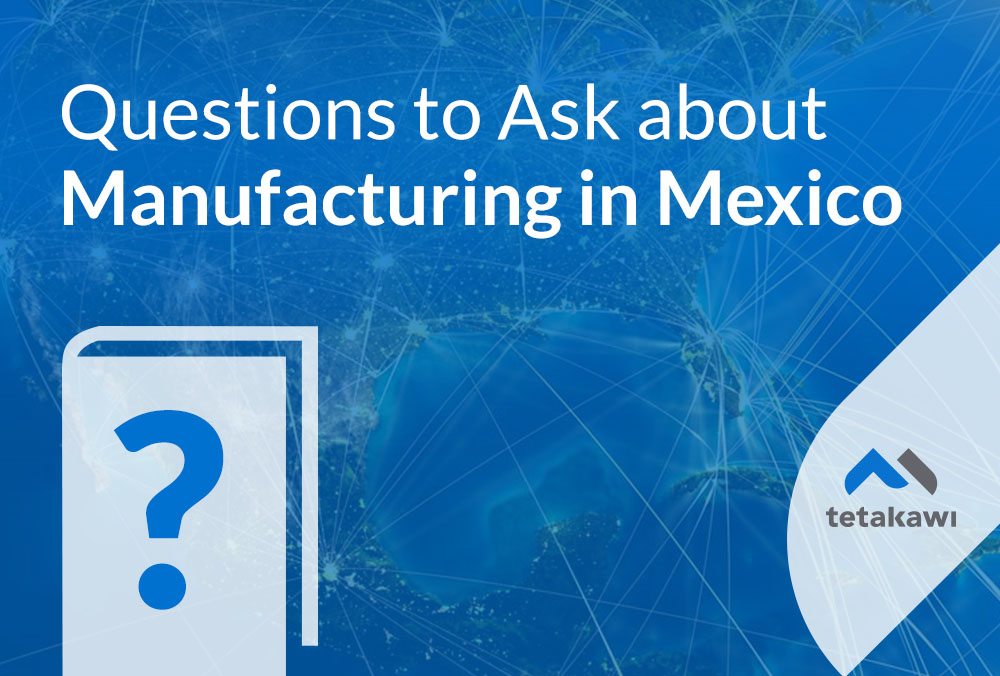 Start your journey into Mexico today!
50+ Questions to ask before expanding into Mexico
Thinking about expanding into Mexico? Step 1 of your due diligence process is answering all of these questions. Over the last 33 years, thousands of companies have used this guide to accelerate their expansion into Mexico.