Tetakawi, the largest provider of services for foreign manufacturing companies in Mexico, is thrilled to announce the upcoming expansion of a new Manufacturing Community in Mazatlán. This development complements Tetakawi's existing successful communities established in Empalme, Guaymas, Hermosillo, and Saltillo.
Eduardo Saavedra, Tetakawi's EVP of Business Development, explained, "The Manufacturing Community is Tetakawi's flagship concept, perfected over the course of 36 years, that integrates industrial real estate, shelter services, and modern amenities to create an environment conducive to operational success for companies and a higher standard of living for employees. Through this model, we have enabled hundreds of foreign manufacturers to expand into Mexico, adding vitality to the local economies."
Consolidated Precision Products (CPP) will be the inaugural client of the Mazatlán Manufacturing Community. Their decision to expand into this community arises from the strategic advantages Mazatlán offers, such as a skilled labor force, exceptional university and educational programs, and strong transportation systems. CPP already boasts a substantial presence in Mexico, with operations in Ensenada and Guaymas. The Mazatlán Manufacturing Community will be pivotal for CPP as they look to repair, inspect, finish, and test parts that originate in their U.S. factories.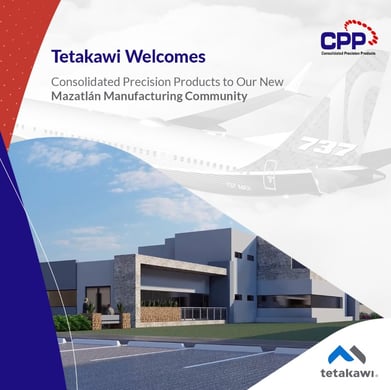 Marc Christman, President – Titanium/Structurals at CPP, remarked, "The aerospace industry is on a rapid growth trajectory, and CPP is evolving to meet the demands of our customers. The Mazatlán Manufacturing Community with Tetakawi provides an optimal environment for our expansion."
Luis Felipe Seldner III, President of Tetakawi, shared his enthusiasm for the project, emphasizing its potential to impact both foreign companies operating in Mexico and the local community. He said, "We're genuinely excited about this expansion, and I want to extend our heartfelt gratitude to CPP for their trust and partnership. Their decision to become our inaugural client speaks volumes. A special thanks as well to the local and state governments for their unwavering support. Our vision at Tetakawi is to help our clients, employees, and the communities we serve to achieve their full potential. The establishment of this new Manufacturing Community in Mazatlán emphasizes our dedication to that mission."
The Mazatlán Manufacturing Community, a 98-acre development, is projected to be operational by May 2024. Its coastal position not only provides proximity to one of Mexico's major ports but also offers significant logistics and labor advantages.
Subscribe
Sign up and stay informed with tips, updates, and best practices for manufacturing in Mexico.