Any successful manufacturer knows the importance of constant change and optimization. As technology evolves every year, companies need to adapt to stay ahead of the competition and improve their returns on investment. One area of technological growth that has greatly impacted the industrial sector is the Internet of Things, or the expansion of wireless connectivity to everyday objects, allowing them to send and receive data.
While smartwatches and digitally connective refrigerators may be the first things to come to mind at the mention of the IoT, this technology has also made its way into manufacturing. As a result, wise business leaders who are invested in long-term growth will prioritize the implementation of these technologies in their factories. Manufacturing in Mexico is a smart decision not only because of the many offshoring advantages that exist there, but also because the country is an ideal environment to experiment with and utilize the IoT in the factory.
The role of the IoT in factories is growing
Connected devices are revolutionizing the modern factory and the manufacturing sector as a whole. In fact, a recent report conducted by Business Insider estimated global manufacturers will invest $70 billion in IoT solutions in 2020, which is an increase from just $29 billion in 2015. As the report describes, IoT solutions are currently being used by manufacturers to:
Track assets in their factories.
Consolidate their control rooms.
Increase their analytics functionality through predictive maintenance.
The global trend toward IoT technologies in factories translates to a necessity for countries to invest in their own infrastructure to accommodate these advancements and remain competitive. As it turns out, Mexico is doing exactly that. According to BNAmericas, data from consultancy IDC revealed Mexico planned to invest $620 million in the expansion of the IoT and devices in 2015, which was a 12.7 percent increase from 2014. Latin America as a whole was expected to invest $8.8 billion in IoT in 2015, most of which would be applied toward transportation, government, manufacturing and public services. For companies considering offshoring their manufacturing operations, it will become increasingly more important to consider IoT infrastructure as a deciding factor, and Mexico is positioning itself as an appealing destination.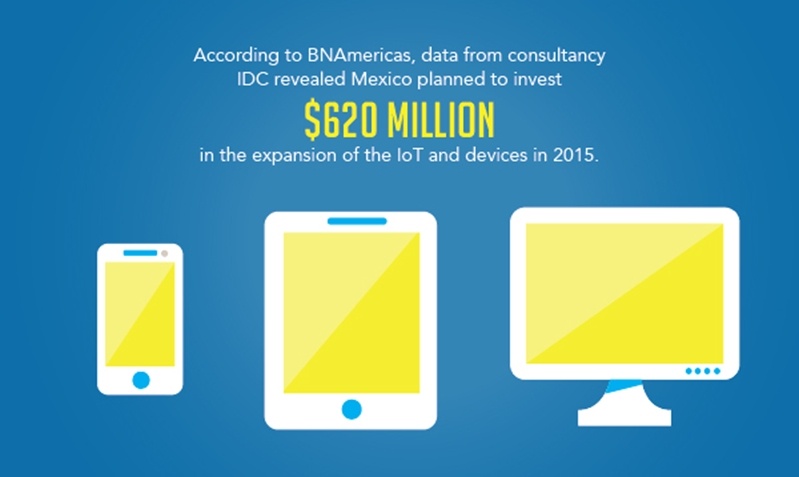 A landscape for advanced technology
In Mexico, manufacturers will find an industrial environment where technological advances such as the IoT can thrive. For one, the country has a workforce that is both educated and skilled. According to Area Development, Mexico already produces more engineers annually than either Germany or Canada. Additionally, Mexico has doubled the number of its public two-year colleges and four-year universities over the past decade, and financed 140 new colleges and universities, with 120 of those emphasizing science and engineering. Coupled with the fact that in many of Mexico's prime manufacturing cities - such as Guaymas and Guadalajara - the local educational institutions collaborate to meet the needs of the industrial sector, and manufacturers in the country have access to a workforce capable of handling advanced technologies in the factory.
Mexico's participation in the North American Free Trade Agreement also plays a role, because manufacturers in the country can more easily gain access to the technologies they need to enhance their factories from neighboring countries.
Finally, the country's dedication to advancing connectivity for citizens and businesses alike means manufacturers in Mexico can more easily implement IoT-driven processes in their factories. On the one hand, wireless services overall are increasing. As Area Development pointed out, AT&T announced plans to invest $3 billion to extend its high-speed mobile Internet service to Mexico. However, Mexico is also leading the way in advanced wireless capabilities. For instance, AlphaGalileo wrote Mexico is the first country to commercialize light fidelity connection technology, which eliminates the need for modem and Wi-Fi signals and may be ideal for a technologically advanced environment.
The impact of the IoT
To understand the importance of choosing an offshoring destination where IoT technology is feasible, it is helpful to know how this enhanced connectivity is shaping manufacturing environments. According to GT Nexus, 18 percent of industrial machine companies are already using the IoT. The cloud-based global supply chain management platform listed three important ways IoT technology is creating a "smart manufacturing" revolution:
Connected devices enable manufacturers to take control of their outsourcing, no matter where they are at any given time. IoT technology provides transparency into processes and allows for real-time communication and helpful data that speaks to productivity. Coupled with the help of a shelter services company, manufacturers can rest easy, even when they're away from the factory.
As demand constantly fluctuates, IoT data and connected machines allow for rapid adjustments in capacity and output, which means manufacturers save money.
The IoT in factories will use real-time data and analytics to predict demand, which will create a production system that is in tune with markets.
A success story in Mexico
To underscore the positive impact on the IoT on manufacturing, it is helpful to explore a success story that comes directly from Mexico. Cisco reported the experience of Stanley Black & Decker with IoT in its Reynosa, Mexico factory. Before implementing advanced technologies, the manufacturer struggled to execute a real-time production schedule, estimate labor costs accurately, understand the effects of shift changes, and gain visibility into equipment effectiveness.
By implementing two different IoT solutions, including AeroScout Real-Time Location System and Cisco's Wi-Fi infrastructure and plantwide ethernet, Stanley Black & Decker saw a 24 percent increase in overall equipment effectiveness, faster decision making, and labor utilization improvements from 80 to 92 percent. Furthermore, the company reduced inventory or material holding costs by 10 percent and gave workers the tools they needed to notify their supervisors on product quality. As is evident from the case of Stanley Black & Decker, the IoT give manufacturers the ability to drastically reduce their costs and improve efficiency. With this in mind, it makes sense to consider advanced technological infrastructure when considering offshoring destinations.
"By implementing two different IoT solutions Stanley Black & Decker saw a 24 percent increase in overall equipment effectiveness"
Enhancing existing offshoring advantages
The most important thing about the IoT and how it impacts manufacturing in Mexico is the fact that these technologies bolster the country's existing advantages. For example, manufacturers already have the opportunity to create logistical efficiencies and shorten their supply chains by nearshoring in Mexico rather than China. Additionally, companies save a tremendous amount of money tapping into the country's low labor costs compared to China, Canada or the U.S., and IoT technologies allow businesses to reduce this particular cost even more.
As IoT technologies in the manufacturing sector become a norm rather than a trend, businesses will need to find ways to incorporate connectivity into their industrial environments. While much of this will involve a deep understanding of the technology and how it works by both business leaders and workers, connected factories simply cannot thrive in a location where the infrastructure doesn't exist. Access to IoT advancement should be a top consideration when weighing the offshoring advantages of various locations. Based on its commitment to infrastructural development and its highly skilled workforce, Mexico stands to win in terms of IoT growth.
Subscribe
Sign up and stay informed with tips, updates, and best practices for manufacturing in Mexico.