5 Challenges faced when Manufacturing in Mexico & How to Overcome Them
Though choosing to manufacture in Mexico has many benefits, it can also present many challenges without the right guidance – but electing to work with a shelter service provider can make any obstacles much easier to overcome.
Challenge #1 – Determining where to set up your manufacturing facility
Mexico is a big place – and figuring out what location and site are best for your operation can be extremely challenging. There are many considerations for selecting an optimal manufacturing site, including choosing a region and city, the type of location required, presence of a relevant industry cluster, and proximity to infrastructure, supply chain, and customers. Beyond these factors, knowledge of labor markets (which are very localized in Mexico), real estate availability, and security are also essential, and many times difficult to reasonably determine for a new company trying to establish itself in Mexico.
Making the best decision on where to manufacture in Mexico can only occur with reliable, data-backed analysis. Working with a trusted shelter service provider can make the site selection process more manageable. Tetakawi, for example, provides site selection services that help you compare the operating costs, risks, and benefits for each location you are considering using the factors that are important for your business.
Challenge #2 – Creating a an entrance strategy
After overcoming the first challenge of determining where to manufacture in Mexico, another awaits – creating your entry strategy for manufacturing. Gaining an understanding of the modes of entry into Mexico is particularly important in overcoming the challenge of determining your strategy. There are several different models companies use to begin manufacturing products. These include the standalone model, the contract manufacturing model, the merger or acquisition model, the joint venture model, and possibly the most comfortable, straightforward way – the shelter model.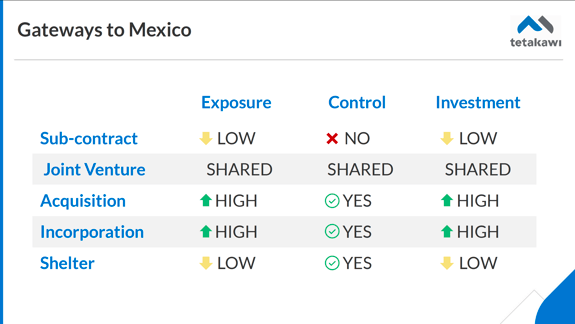 By operating in Mexico through a shelter company, you own and control your production assets, processes, engineering, quality control, and supply chain, while the shelter company handles the administrative and legal functions that make manufacturing in Mexico challenging. Tetakawi's shelter services, for example, combine a legal framework and comprehensive services that remove regulatory and fiscal burdens for foreign manufacturers operating in Mexico. Ultimately, this dramatically lowers the financial and operational risks of entry and is a great way to approach the challenge of creating an effective manufacturing entry strategy.
Challenge #3 – Uncovering accurate cost information
Without the right financial knowledge, manufacturing in Mexico is akin to a game of chance. Several factors make determining accurate manufacturing costs in Mexico challenging. For one, published sources of information can often be dated – national statistics agency Instituto Nacional de Estadística y Geografía (INEGI), for example, provides a variety of information but it can often be two or more years old. Fluctuations due to inflation, exchange rates, and market dynamics within that period can make this data unreliable for financial projections.
Costs can also vary widely due to location, and Mexico's markets, in particular, are highly localized. Aggregate cost data is often available but is also often broadly geographical in scope. Even further, understanding of these localized conditions can be challenging to estimate for those unfamiliar with the Mexican manufacturing landscape. Cultural, regulatory, and demographic factors can lead to alterations in the way costs are calculated – and without the right guidance, these calculations may drastically differ from what the actual costs end up being.
To overcome this challenge, consider working with a shelter service provider that offers cost estimation consulting. These companies are typically close to and knowledgeable about costs in Mexico – Tetakawi, for example, has access to real-time expense data, field studies, and daily statistics from firsthand company touchpoints.
Challenge #4 – Finding the right talent and labor
Once established, the success of your operation is dependent on your labor force. Making sure that you have reliable talent skilled in your particular manufacturing industry can be challenging, especially with limited knowledge of the localized labor markets in Mexico. Though there is ample well-trained talent available for a wage commensurate with the needs of your company, the process of managing the employee lifecycle can certainly be daunting.
Beyond hiring and termination, proper implementation of a productive workforce in Mexico also requires management of employee and labor union relations. Understanding Mexican labor law can be confusing, and ensuring all legal requirements are met – especially at scale – can be particularly challenging. Negotiation of terms with labor unions that result in favorable contracts and balanced interests can also be daunting for those unfamiliar with the ecosystem of the Mexican labor market.
As a solution, companies may look to a provider like Tetakawi, who have experts experienced in Mexican labor market analysis and management to help overcome the challenge of building a stable, well-trained workforce at a competitive rate.
Challenge #5 – Remaining in compliance with Mexican business law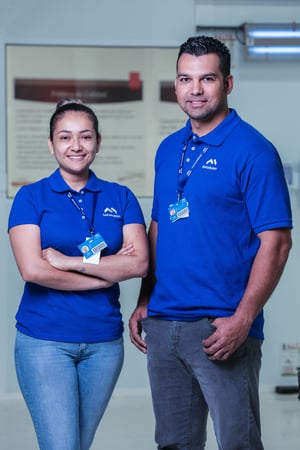 Successfully running manufacturing operations in Mexico requires compliance with numerous regulations across many areas of your business. Mexican labor and employment, tax, environmental, social security, and immigration law must all be handled appropriately and in compliance for your business to maintain operation – and given their complexity, this is one of the most difficult challenges companies face. Customs compliance, in particular, is an area where many companies face risk from legal exposure, especially in environments like Mexico, where the trade environment changes rapidly.
From import/export goods classification and tariffs to free trade agreements and penalties, the process of remaining in compliance can be highly simplified when working with a shelter service provider well-versed and experienced in the Mexican regulatory environment and can advocate on your behalf.
Though there are several challenges in establishing manufacturing operations in Mexico, there are providers like Tetakawi who are knowledgeable and experienced in helping companies overcome them. To learn more about how a shelter service provider can help you successfully and efficiently overcome your manufacturing challenges in Mexico, contact Tetakawi.
START YOUR JOURNEY INTO MEXICO TODAY!
50+ Questions to ask before expanding into Mexico
Thinking about expanding into Mexico? Step 1 of your due diligence process is answering all of these questions. Over the last 33 years, thousands of companies have used this guide to accelerate their expansion into Mexico.