USMCA Spells Opportunity for Manufacturing Operations in Mexico
While the United States-Mexico-Canada Agreement (USMCA) may give automotive industry suppliers reason to reevaluate and strengthen their supply chains, manufacturers across other industries may face little change. So if your decision to invest in a Mexico-based manufacturing operation is awaiting an end to the debates circulating through the three countries' legislative bodies, then rest assured that the future looks bright for Mexican manufacturing.
As the Congressional Research Service predicts, "The full effects of the proposed USMCA on U.S.-Mexico trade relations would not be expected to be significant because nearly all U.S. trade with Mexico is now conducted duty and barrier free… If the USMCA is approved by Congress and it enters into force, many economists and other observers believe that it is not expected to have a measurable effect on U.S.-Mexico trade and investment, jobs, wages, or overall economic growth."
Of course, that's not strictly true. Whether it happens before or after the passage of USCMA, the agreement does hold the promise of tariff-free access to the North American market for exported goods.
As the National Association of Manufacturers in a statement of support for USMCA, "This moves us one step closer to restoring certainty to the North American market."
Textile manufacturing changes
So what exactly changes under USMCA? While the automotive and agriculture industries are likely to see the greatest impact from the strengthened trade agreement, other manufacturers will see updates that impact rule of origin requirements.
This is particularly true of textile manufacturers. New provisions under USMCA limit rules that had allowed for some use of non-NAFTA inputs in textile and apparel trade. That may be good news for Mexico-based textile industry suppliers which suddenly become a more cost-effective alternative to Chinese suppliers.
The new agreement also lays out provisions that requires sewing thread, pocketing fabric, narrow elastic bands, and coated fabric, when incorporated in most apparel and other finished products, be made in the region for those finished products to qualify for trade benefits. With 20 percent of all manufacturing in Mexico in textiles, this presents an opportunity to further expand the local supply chain to support apparel manufacturing.
Improved product quality
USMCA also includes new provisions covering trade in specific manufacturing sectors such as Information and Communication Technology, Pharmaceuticals, Medical Devices, Cosmetic Products, and Chemical Substances.
Many of these industries' largest players are offering their support for an agreement that could help ensure industries in each country meet the same regulatory standards. Compliance with these requirements could offer new reason for U.S.-based companies to expand their manufacturing into Mexico.
For example, the agreement includes several enhancements long sought-after by the U.S. chemical sector, according to the American Chemistry Council. ACC said in a statement that the organization "strongly supports the inclusion of the final Sectoral Annex for Chemical Substances, which embraces the principles the North American chemical industry jointly recommended to enhance Regulatory Cooperation."
In 2010, the Mexican chemical industry saw imports of $26.3 billion but exported only $9.3 billion. Heightened regulatory requirements under USMCA could be key toward bringing Mexico's chemical manufacturing into standards that will allow for greater export opportunities.
Strengthened supply chain
Other manufacturing-based industries may see a strengthened North American supply chain lead to increased opportunities in Mexico.
Take electronics manufacturing, for example. Mexico already is the second largest supplier of electronic products to the United States market. In 2016, electronics manufacturing made up 5.3% of Mexico's manufacturing GDP. Many of the leading electronics manufacturing companies—think Intel, LG, HP, Sony and Samsung—have established a presence in Mexico. While much electronics manufacturing has been sourced from China in the past, the new rules of origin requirement could encourage major appliance manufacturers to turn to suppliers based in Mexico to source more competitively priced materials.
"Building a stronger U.S. electronics industry depends in no small measure on building a stronger North American supply chain," commented John Mitchell, President and CEO of the Association Connecting Electronics Industries, in a statement. "The USMCA promises to spur even greater integration among the North American economies and strengthen the region's stature as a formidable global manufacturing base. Improving the manufacturing competitiveness of North America will unlock more growth, innovation and job creation, benefiting people across the continent and the world."
Reduced burden
The USMCA annex covering medical devices, the majority of whose components are manufactured in Mexico, lays out strategies to reduce duplication of regulatory requirements.
Medical devices products are put through rigorous quality control processes under both Mexican and United States agencies. The Mexican Official Standards office, the U.S. Food and Drug Administration, and the Federal Commission for the Prevention of Sanitary Risks all play a role in safeguarding medical device production.
While these layers of oversight ensure safety, many are duplicates, which adds costly burdens upon manufactures. An article in MD+DI, the trade publication for the Medical Device and Diagnostic Industry, predicts that the industry should see reduced administrative burden, which ultimately can translate to lower costs.
Given that medical device manufacturing is one of the fastest growing manufacturing sectors in Mexico—predicted to grow from $9 billion in U.S. exports in 2018 to $15 billion by 2020—these new provisions could add greater fuel to an already skilled and highly motivated workforce.
Ultimately, both the United States and Mexico stand to benefit from a strengthened supply chain, through new jobs, new opportunities and higher-quality end products. If you're ready to learn how manufacturing in Mexico could give your company a competitive edge, contact us today.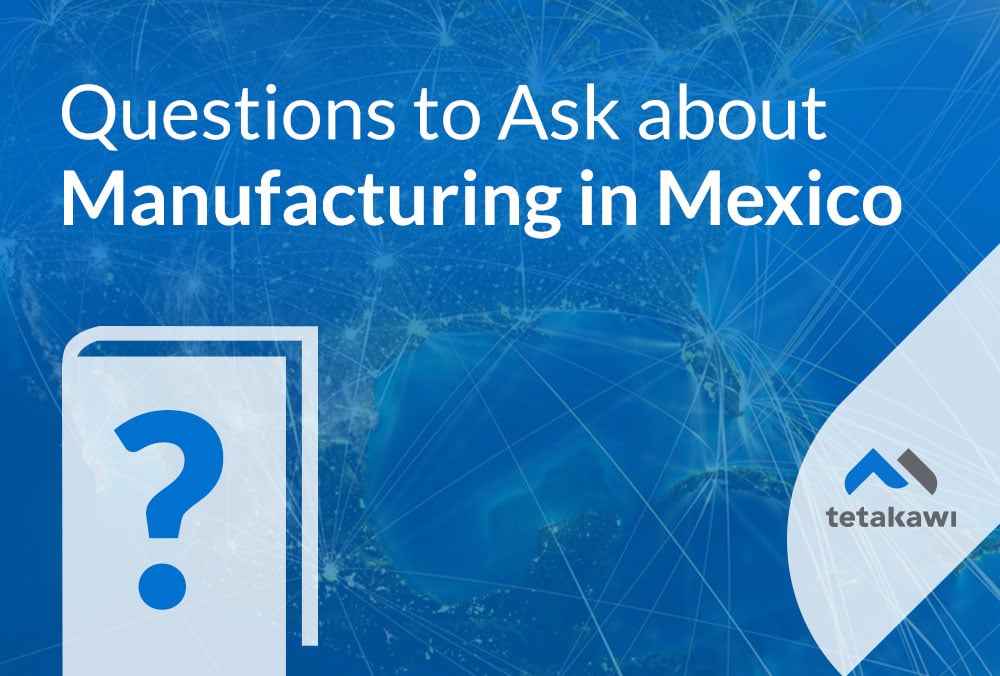 Start your journey into Mexico today!
50+ Questions to ask before expanding into Mexico
Thinking about expanding into Mexico? Step 1 of your due diligence process is answering all of these questions. Over the last 33 years, thousands of companies have used this guide to accelerate their expansion into Mexico.