The benefits of the IMMEX and Maquiladora Programs in Mexico
IMMEX builds upon the benefits first laid out under the Maquiladora program in the 1960s. Through the program, the Mexican government offered foreign companies special tax breaks that helped build up the border economy between the United States and Mexico.
Then, in 2006, the Mexican government set out new rules to increase the competitiveness of the Mexican export sector. Through the IMMEX Decree, the government simplified compliance requirements for export trade. The rules reduced costs, created new ways for companies to operate, and overall modernized procedures.
Essentially, IMMEX provides a tax incentive that allows Mexican companies to temporarily import goods that will then be used in the manufacture or repair of products, without having to pay general import tax or the value added tax (VAT) of 16 percent on those imported goods. However, within a set timeframe, six to twelve months depending on the nature of the finished product, the finished manufactured product must then be exported, transferred to another IMMEX company in Mexico or be granted as a "definitive importation" rather than "temporary importation" status.
The rules are broad, applying to raw materials and components that are to be totally integrated into export goods, as well as fuels, lubricants and other materials that might be used during the production process. In fact, it also covers shipping containers, boxes, package labeling and the machinery, equipment and tools that might be used in the production process.
5 different types of IMMEX Registrations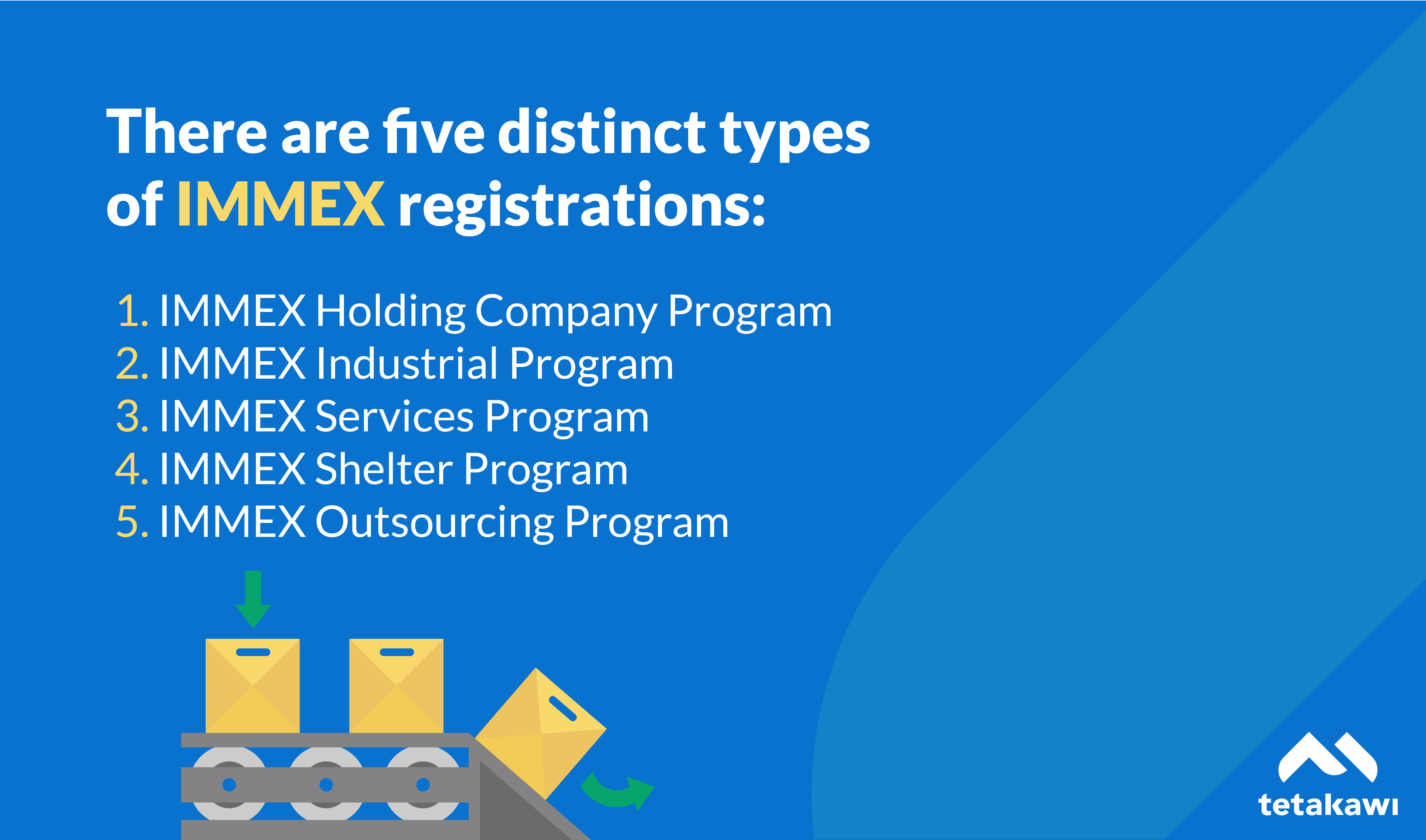 To take advantage of this tax savings, the company must be registered with Mexico's Department of Economy under the IMMEX program. This is a status granted to companies with annual sales abroad of at least USD $500,000, or invoice exports accounting for at least 10 percent of the total company invoices. IMMEX companies are required to report annually on their total sales and exports to ensure they continue to meet this minimum requirement.
It's important to understand that there are five distinct types of IMMEX registrations:
Holding Company IMMEX: This allows for one entity to hold IMMEX registration that encompasses the manufacturing operations and one or more of its subsidiaries. Holding companies will be required to submit more detailed records, including minutes from shareholder meetings, and contracts between the subsidiaries and parent companies that detail contracted obligations.

Example:

ACME MANUFACTURING along with its 3 affiliates have 4 legal entities in Mexico that manufacture various types of goods. Rather than require each of the 4 companies to have their own unique IMMEX registration, one company designated the "holding" company can act as the controlling entity for purposes of ensuring compliance with IMMEX requirements.

Industrial IMMEX: The most straightforward approach, this registration covers a manufacturer that is using imported goods in an industrial process to produce or transform a product that it will then export.

Example: ACME MANUFACTURING transforms raw materials into finished goods in Mexico which are subsequently exported.

Services IMMEX: This registration covers companies that provide necessary services to support the export of relevant goods under IMMEX registration. For example, legal entities, recyclers, software developers and certain other service companies might be registered in Mexico under the IMMEX Services Program. Registration is granted at the discretion of the Department of Economy.

Example: ACME LOGISTICS is a legal entity in Mexico that distributes goods within Mexico that are subsequently exported or used in products that are exported. This designation may also be given to manufacturers' recyclers, special processing, software developers, and other types of service companies. The criterion for approving SERVICE IMMEX registration is at the discretion of the Department of Economy.

Shelter IMMEX:

A registered Mexican company can serve as a legal entity that assumes all legal risk and liability for manufacturers operating beneath its IMMEX registration. Foreign entities

gain the advantage

of an experienced partner's knowledge of the local requirements and can thus focus on the manufacturing work they do best.

Example: Tetakawi has a legal entity in Mexico that that is registered as a "shelter" provider to foreign manufacturers that want to make products in Mexico without having to have their own legal entity and corresponding IMMEX registration.

IMMEX Outsourcing Program or Third-Party: If a certified company doesn't own the facilities necessary to perform its production processes, it can manufacture through a third party that it registers in its program. However, the companies performing the outsourcing accept joint liability for the temporarily imported goods. The Ministry of Finance and Public Credit must approve the outsourcing program as certified company.

Example: ACME INDUSTRIES is a legal entity in Mexico that does not have manufacturing infrastructure of its own and therefore contracts its manufacturing with third parties. Rather than require all of the subcontractors to have their own IMMEX, ACME INDUSTRIES can be registered as IMMEX and include each subcontractor under that one IMMEX.
How to quickly access the benefits of the IMMEX program in Mexico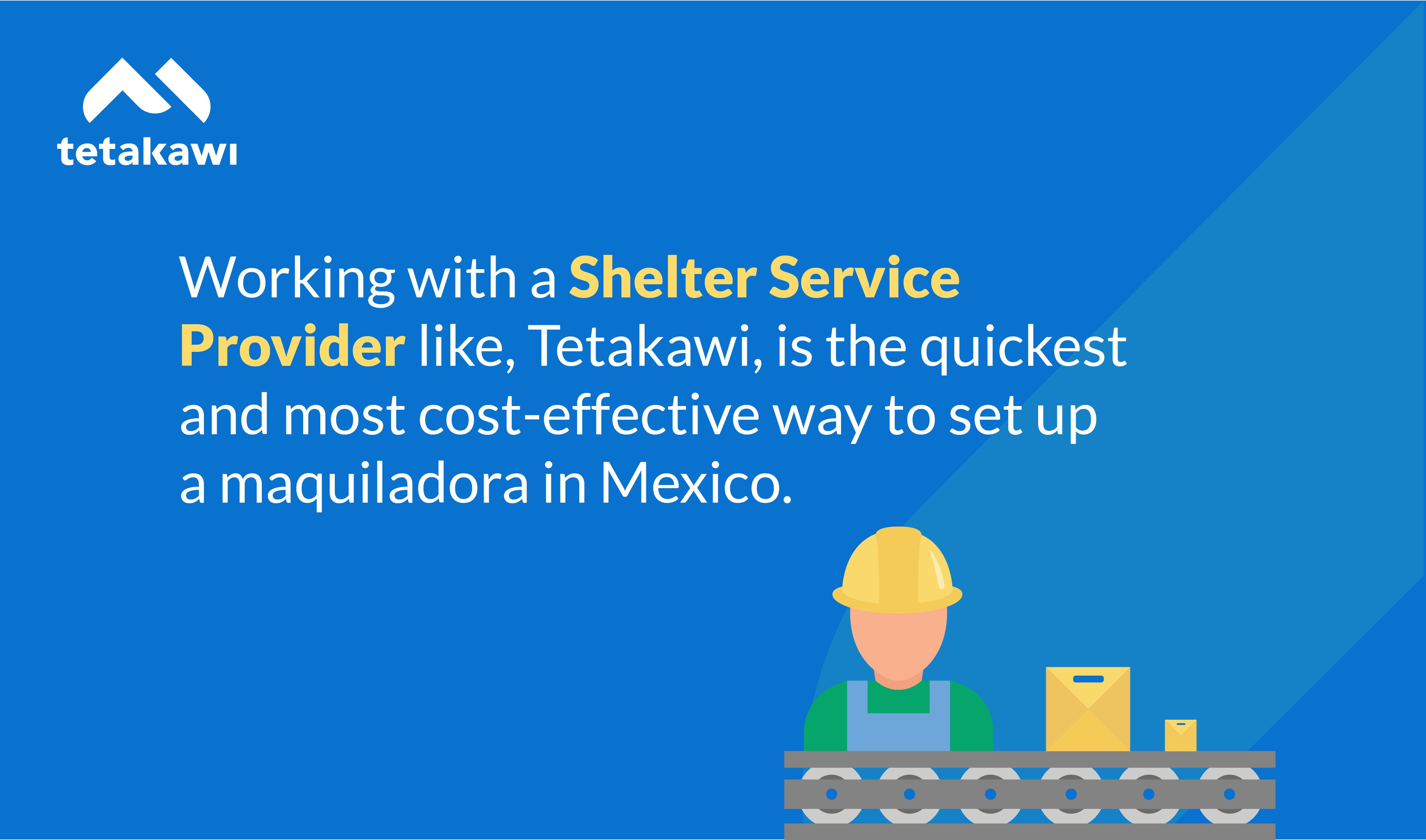 Because there are numerous reporting requirements that companies must fulfill in order to gain IMMEX registration, many entities new to Mexico opt to work with a shelter company. These experienced partners can help navigate the red tape to get manufacturers quickly up and running. Better still, companies have many options in the level of control they receive from their shelter provider. Options range from full-service shelter companies that manage everything from registration to real estate to hiring, to pick-and-choose shelter companies that allow foreign entities to select exactly the areas where they need assistance.
If you're ready to dive deeper into the benefits of the IMMEX program, we can help. Reach out to discuss your options today. Also, by watching the webinar below you can learn more about Maquiladoras and how to manufacture in Mexico.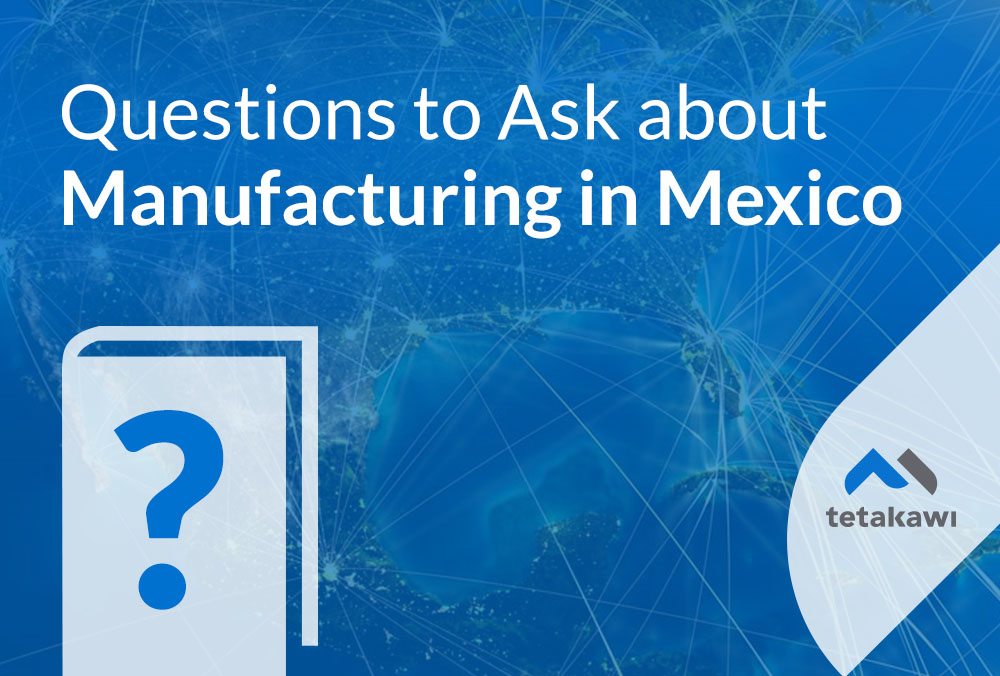 Start your journey into Mexico today!
50+ Questions to ask before expanding into Mexico
Thinking about expanding into Mexico? Step 1 of your due diligence process is answering all of these questions. Over the last 33 years, thousands of companies have used this guide to accelerate their expansion into Mexico.