The global medical devices market size was valued at USD $512.29 billion in 2022, and it's projected to grow from USD $536.12 billion in 2023 to USD $799.67 billion by 2030, exhibiting a CAGR of 5.9% during the forecast period. This explosive growth requires medical device and equipment manufacturers looking to expand to balance skilled labor with low production costs and accessibility to global markets.
It's for this reason that medical device manufacturing is thriving in Mexico. As the top manufacturer of medical devices in Latin America and the eighth largest such manufacturer globally, Mexico provides a competitive environment for the industry. The country's medical device manufacturing sector produces $15 billion in medical devices and continues to grow. However, as it grows, this sector is expanding into new areas, providing new opportunities for medical device industry suppliers and manufacturers ready to grow.
What are the main locations for medical device manufacturing in Mexico?
For many years, the lion's share of medical equipment produced in Mexico has originated from the Baja California region. This state, which shares a border with the San Diego life science hub, has become home to over 75 companies that comprise around 50% of Mexico's total medical device industry.
However, this high concentration of medical device and equipment manufacturers in Baja California has given rise to steeper costs. Consequently, a growing number of companies are exploring alternative locations, with Sonora, Mexico, emerging as a top contender.
Currently, Sonora boasts 26 medical device manufacturing enterprises, which collectively provide employment to over 17,240 individuals. Many of these companies are drawn to Sonora due to its advanced border crossings, a plethora of transport networks, deep-sea ports, and its close proximity to Phoenix Sky Harbor International Airport, one of the world's busiest commercial airports. Furthermore, the sister manufacturing cities of Hermosillo, Guaymas, and Empalme each present their own unique advantages to manufacturers.
Medical equipment manufacturing in Sonora, Mexico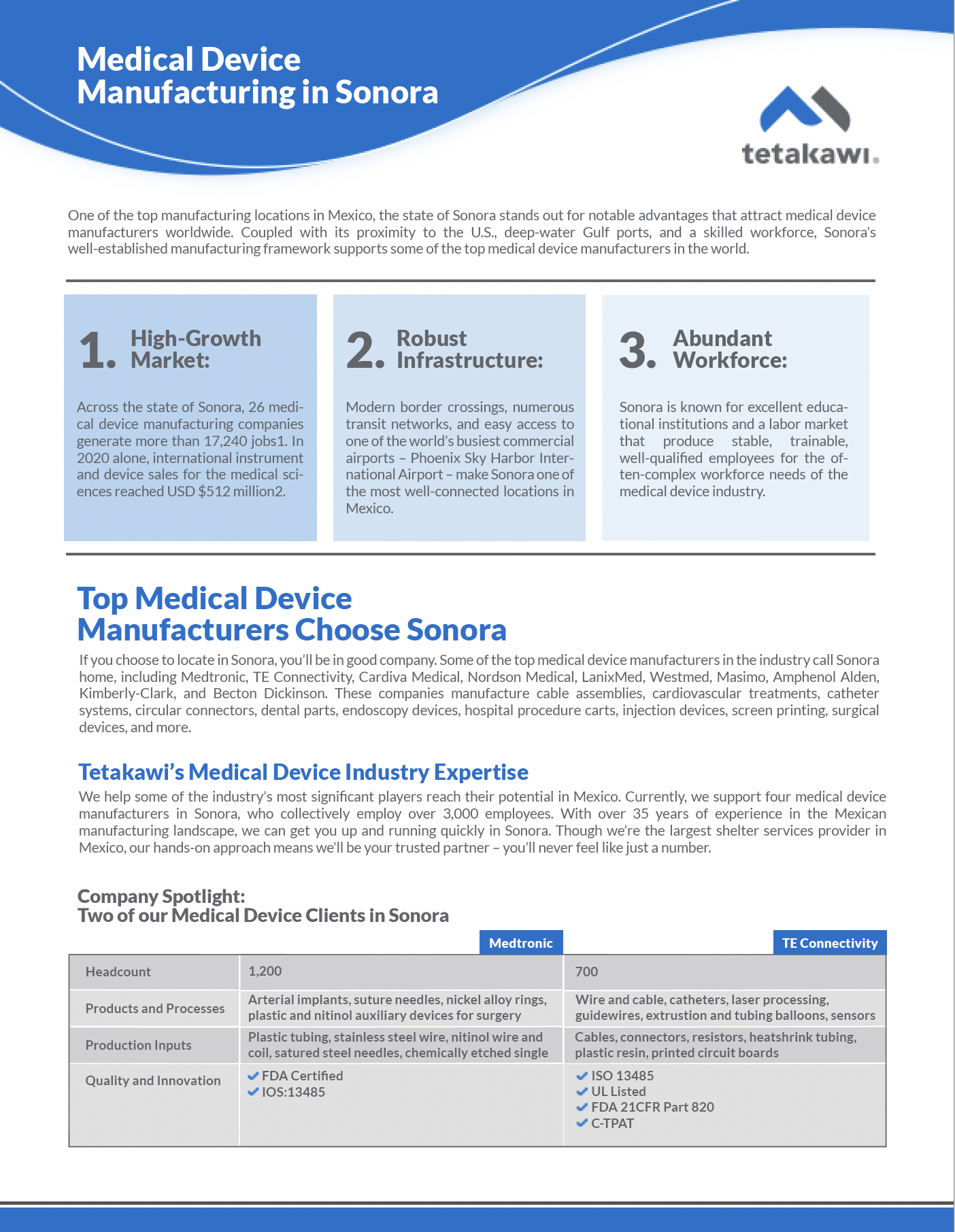 Many of the top medical device manufacturers in the industry operate in Sonora, manufacturing cable assemblies, cardiovascular treatments, catheter systems, dental parts, endoscopy devices, hospital procedure carts, injection devices, surgical devices, and much more.
Minneapolis-based Medtronic, a global technology leader, employs 1,200 people at its manufacturing plant in Empalme, Sonora. From this location, it manufactures arterial implants, suture needles, nickel alloy rings, plastic, and nitinol auxiliary devices for surgery. All of its products are certified by the FDA and ISO 13485 for sale in the U.S. and worldwide.
While TE Connectivity manufactures for a range of industries, it employs 700 people at its facility in Empalme for medical device manufacturing. The company's medical business supports a range of brands that require advanced precision engineering. It manufactures FDA-registered and ISO 13485-compliant wire and cable, catheters, laser processing, guidewires, extrusion, and tubing balloons, and sensors, among other products.
Other medical device and equipment manufacturers in the state include Haemonetics, Nordson Medical, LanixMed, Westmed, Masimo, Amphenol Alden, Kimberly-Clark, and Becton Dickinson.
Advantages of medical device manufacturing in Sonora
Sonora is home to a population of more than 3 million people, and a significant amount of its economically active population is employed in manufacturing. As of 2016, manufacturing made up 26.8% of the state's GDP. As a result, a robust infrastructure is in place to support manufacturing needs. In addition to its transportation infrastructure, Hermosillo, Empalme, and Guaymas are each home to Manufacturing Communities that provide companies with Class A industrial real estate, administrative support, and a wide range of amenities to attract employees, all in a single secure location.
Manufacturers in the state also can leverage the strong relationship between Sonora and Arizona, which has birthed a "megaregion" based on collaborative economic development. For decades, the two border states have coordinated to smooth import and export processes, provide collaborative educational opportunities, improve transportation safety, and efficiently move goods. This local work has only been strengthened by the USMCA trade agreement.
Discover if Sonora could be right for you
Sonora has long had a reputation for manufacturing excellence, and more medical device and equipment manufacturers are taking note. Today, Tetakawi supports various medical device manufacturers in Sonora and their more than 3,000 collective employees. These companies benefit from the ease of operating under the umbrella of an experienced shelter service provider.
With more than 35 years of experience in the Mexican manufacturing landscape, Tetakawi can help medical device manufacturing companies get up and running quickly in Sonora. Though we're the largest shelter services provider in Mexico, we're committed to serving as a trusted partner. Our hands-on approach means you'll never feel like just a number.
To learn more about how you could benefit from manufacturing in Sonora with the support of a trusted partner, contact Tetakawi today.
Subscribe
Sign up and stay informed with tips, updates, and best practices for manufacturing in Mexico.