Mexico is quickly becoming a leader in manufacturing as many industries choose to nearshore and expand their company into the country. Growing industry clusters throughout the country are providing Mexico's labor force with an opportunity to advance numerous skill sets that U.S. manufacturers can use to their advantage. From producing aircraft wings to assembling cable, the Mexican workforce is one of the most specialized in the world.
The main production output that employs the Mexican workforce is metal fabrication, automotive parts manufacturing, and electronic device production. The manufacturing workforce in Mexico is mostly supported by parts manufacturers and suppliers that provide specialty production processes to OEMs and assembly plants. In fact, Mexico invests resources to make the country a central destination for businesses to offshore their production. The labor force in Mexico has benefited from governmental programs that vary in approach, but ultimately aim to build the skills and population within every job sector in the country.
1. Metal Fabrication
Although China was a metal fabrication hub for a long time, Mexico is becoming a hot-spot for steel manufacturing as more businesses return from overseas markets. Companies like Blickman and Hydro Aluminum have decided to set up shop in places such as Sonora and Coahuila to take advantage of the country's logistical ease and the emerging skills of the Mexican labor force, who are becoming experts in metal assembly. According to Businessweek, numerous industries require certain types of metal parts and with more than 70 manufacturers in the country, components makers and assemblers are seeing their skills utilized across industries.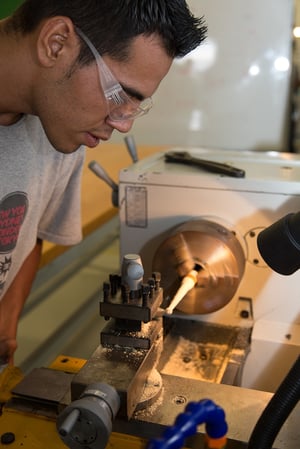 2. Automotive Parts
Mexico has become the go-to place for the automotive parts industry is the past decade. According to The Washington Post, Mexico produces the most vehicle components and automobile models for auto heavyweights like Audi, General Motors and Chrysler. Mexico is the 5th automotive parts producer in the world with $85 Billion in revenue annually, according to export.gov.
Alberto Rabago, a union official, told The Post it is no accident that many automakers are focusing on part production in the country, as Mexican workers have become specialized in automotive assembly.
"The Mexican worker is a natural craftsman, and global investors are showing their confidence in Mexican labor," Rabago said.
In fact, The Washington Post reported that Mexico has been growing in prominence as an auto-making center for decades, resulting in Mexican laborers gaining specialized experience in manufacturing unlike during any other time. The newspaper reported that in 2015, Mexico created approximately 3.2 million of the 15.5 million vehicles produced around the world.
3. Electronic Devices
With the rise of the digital age came more electronics makers searching for ways to increase their manufacturing supply to meet demand. Appliance and telecommunications companies have focused their efforts on the northern part of the country to take advantage of still being close to the U.S. while employing highly-skilled workers.
Guadalajara, Jalisco has become the home base for 12 technology companies and has poured more than $14 billion into the local economy, spurring additional benefits as members of the Mexican workforce began to grow up around electronics manufacturing. Similarly, Tijuana is the country's top electronics manufacturing region with 120 electronics manufacturing companies providing parts and assembling products.
As more industries pour into the country, the Mexican labor force is set to continue specializing in manufacturing areas and developing expertise in metal assembly and electronics production. With the majority of the auto industry in the country, the Mexican workforce has been able to take their manufacturing knowledge and apply it to other fields, such as electronics, when companies in those industries entered the country. More Mexicans are growing up in and around manufacturing centers and see their parents employed at the factories, and will be a valuable resource in the future for manufacturing companies.
Subscribe
Sign up and stay informed with tips, updates, and best practices for manufacturing in Mexico.