5 Start-Up Costs to Consider Before Manufacturing in Mexico
As companies prepare to launch operations in Mexico, many focus on the savings they'll see in terms of ongoing operational expenses. However, it's equally important to budget for one-time start-up costs. With appropriate upfront planning, these costs can be minimized, and your expansion into Mexico can move forward smoothly on time and on budget.
In general, there are five manufacturing start-up costs that you must consider when expanding into Mexico for the first time. These include:
· Legal and incorporation costs.
· Leasehold improvements and facility expenses.
· Regulatory fees and expenses.
· Physical assets and internal staffing.
· Training costs.
Below, we provide insight into standard costs in each of these five areas.
For a deeper dive in, listen to our podcast on this topic:
1. Legal and incorporation costs
Before manufacturing in Mexico, you must consider the flow of your inputs and outputs. This will guide most organizations to the type of legal entity they need to establish. Companies planning to export most products benefit from operating as an IMMEX corporation. Under the IMMEX program, foreign companies can avoid paying or later recover, value added tax. Companies that also want to sell to customers in Mexico may need a trading corporation to process those transactions. Companies have the flexibility of being able to establish more than one organization under the umbrella of several legal structures.
This legal structure doesn't have to be complex or expensive. Companies often can incorporate for between $5,000 and $7,000 USD, particularly when they have experienced Mexican accounting and legal assistance in place.
Of course, this manufacturing startup cost is much lower for companies that operate under the IMMEX registration of a shelter service provider. Since the shelter company holds an active IMMEX registration, there is no need for the foreign manufacturer to establish a corporate entity from ground zero – and, consequently, there are no incorporation costs. An added benefit of this approach is that companies can often begin operating much faster. While shelter registration can take place within a week or two, creating and registering a corporate entity in Mexico may take three to six months for a company to complete on its own. This incorporation delay means waiting longer for your manufacturing operation to become profitable.
2. Leasehold improvements and facility expenses
Whether building new or negotiating a lease, many manufacturers start with specifications for a bare building. Typical improvements include upgrades to factory lighting and expanded capacity on electrical transformers, as well as ventilation and fire protection system updates that bring the working environment up to required manufacturing safety standards. Many manufacturers also expand the number of dock doors and dock levelers and even install automated levelers and doors. In some cases, structural reinforcements may need to be upgraded to support overhead cranes or heavy floor loading. Additional changes to office and exterior space may be needed, such as fencing, security lighting, and cameras.
Companies can sometimes get around this added cost by leasing space from an industrial park in Mexico specifically designed for manufacturing. In other cases, landlords may be willing to finance a limited number of leasehold improvements. Either way, it's essential to visually inspect the premise before leasing, so you know what's included and can plan for any necessary upgrades.
Other manufacturing startup costs include one-time utility connection fees for gas and water, as well as security bonds for gas, telecom, and data providers. Depending on your location, your budget may need to account for the cost of transmission lines or piping and any electrical installation upgrades. Prices will vary based on location and needs.
3. Regulatory fees and expenses
There are a number of permits that are required at the state and municipal levels. While these costs may vary, they include things like sewer discharge permits, hazardous discharge permits, and operating licenses. In addition, companies will need to get the approval of a health and safety plan and fire plan, as well as a training plan that supports it, from local authorities. A budget of $10,000 USD generally covers additional regulatory permitting.
To comply with federal requirements, every manufacturer must submit an environmental survey performed by a third-party consultant for approval. This survey will list your waste streams and proposed control strategies. For standalone companies, this costs between $3,000 and $5,000 USD, although costs may rise for complex waste streams requiring complicated treatments.
It's a good idea to review your company's requirements with an expert knowledgeable in permitting to reduce the likelihood of needing to resubmit a plan or permit application.
4. Physical assets
Physical assets will vary from company to company, so it's difficult to pinpoint starting costs here. Universal items to consider generally include things like signage. While easy to overlook, it's helpful to budget for wayfinding signage as well as required signage for specific regulated processes. Keep in mind, too, that some of that signage may need to be bilingual if individuals from your home office visit or manage the startup process in Mexico.
Furniture and fittings are another universal manufacturing startup cost to consider. This includes everything from wastebaskets to lunchroom microwaves or cafeteria fixtures to first aid basics. It may include containment for hazardous materials, depending on your manufacturing processes. Because there are so many factors to consider here, it's helpful to list and budget for these upfront before costs start to mount. Another way to keep costs under control is to ship surplus supplies from your headquarters.
5. Internal staffing and training costs
Manufacturers know there will be labor costs to consider, but it's important to understand the scale of the initial investment in hiring and training. The upfront cost of recruitment, testing, qualifying, and interviewing candidates will be much higher than the ongoing operating level of activity. There may also be more turnover to manage in the early days.
In addition, everyone must be trained, from top to bottom, to understand job expectations. Training should primarily be in Spanish, with supporting Spanish language training materials. Many companies opt to have senior-level people travel to the home office for training and to understand the organization's culture. Companies also often find it helpful to have a liaison – perhaps an engineer or production manager from the home office – provide intermittent support in Mexico as things come up to speed.
Altogether, this requires a higher level of resources to support this part of your startup phase than will be required in the future. Organizations may be able to secure funding to support training from the federal government to help offset this cost.
Plan better with the right support
Every company will face unique variables that can skew their Mexico manufacturing costs up or down. The better you can plan for those variables in advance, the more easily you can pivot in the face of unexpected challenges.
Compared to other regions of the world, Mexico's a relatively inexpensive and open place to launch and operate. But given the unknowns that come with operating in a new country, many companies find they can better plan – and reduce their upfront spend – with the help of an experienced partner like Tetakawi.
For more insight, listen to the full podcast and subscribe for future updates at tetakawi.com/resources/podcasts.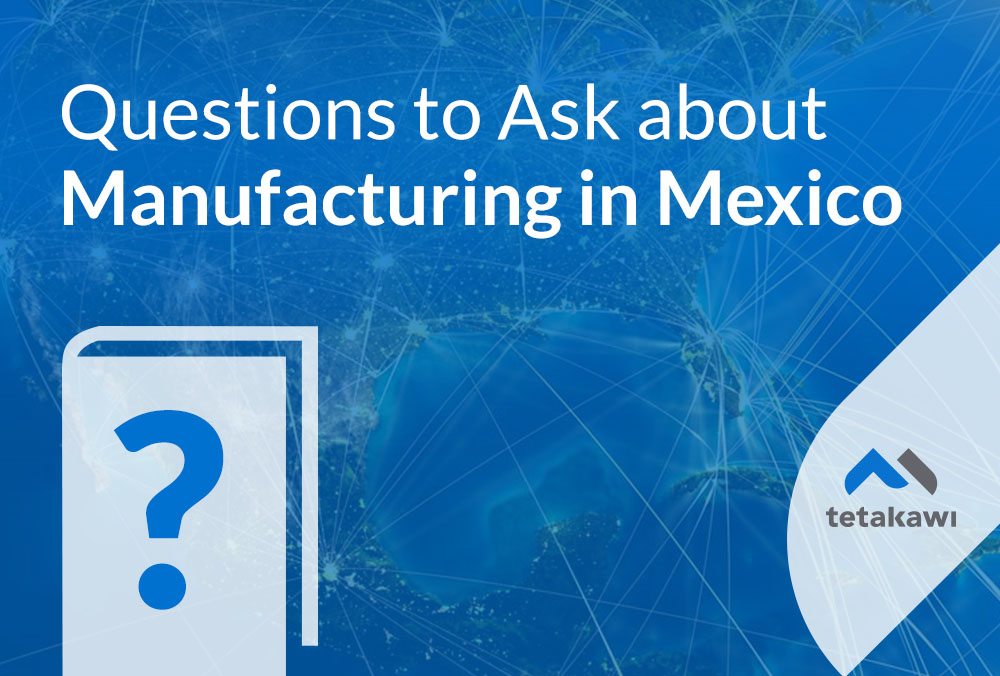 START YOUR JOURNEY INTO MEXICO TODAY!
50+ Questions to ask before expanding into Mexico
Thinking about expanding into Mexico? Step 1 of your due diligence process is answering all of these questions. Over the last 33 years, thousands of companies have used this guide to accelerate their expansion into Mexico.