5 Ways to Manufacture in Mexico
There are many modes of entry to help decide how to expand a manufacturing operation into Mexico. Many times the deciding factors deal with the preparation for and understanding of operation possibilities, and the potential for business growth. These factors come with various benefits and challenges for companies manufacturing in Mexico.
One of the key factors to manufacturing in Mexico is obtaining an IMMEX certification. The IMMEX certification program provides a tax incentive to companies exporting goods from Mexico to foreign countries. An IMMEX certification can remove the 16% Value Added Tax on imports and enables companies to temporarily import goods and asset that are part of the production process. Although this program provides ample benefits, detailed record keeping needs to be set in place to control inventory during regulatory audits.
The benefits of expanding your operation to Mexico are based on logistics, infrastructure, and labor. The logistics of shipping and transportation around North America is timely and enables better product management. There are many supply chain clusters for top industries including aerospace, automotive, medical device, and electronics manufacturing along the various highways and ports that connect the country to global markets. Specifically, Mexico's proximity to the rest of North America, and South America position the country as a hub for suppliers and provide a competitive advantage with access to a global market. Mexico's history with manufacturing provides a basis for industry skills and education that boast a strong workforce.
Companies are capable of growth and transformation when manufacturing in Mexico and there are many ways to begin the business expansion. Deciding on a mode of entry can be based on many factors including budget, capability, logistics, market, and management preferences. A company can choose to go the journey alone or seek various levels of help with the manufacturing process. Below are 5 of the most popular way to manufacture in Mexico as a foreign entity:
Stand-alone
Many large manufacturing companies will expand to Mexico as a standalone or full subsidiary operation. These facilities usually employ upwards of 800 employees and function as a Mexican entity. A standalone entrance in Mexico allows businesses to take charge of every single management detail from accounting functions, purchasing, human resources, and recruiting to regulatory compliance, taxes, and import and export management. Hiring the right people to lead and carry-out the many details it takes to run a manufacturing operation has its pros and cons.The pros include having control of every aspect in the operation, while the cons are also having to manage every aspect of a manufacturing operation in a different country with a different language and culture, including new laws and regulations. Companies operating a standalone facility will also have to acquire an IMMEX certification to export outside of the country, and deal with the paperwork on their own or through third party providers.
Contract Manufacturing
Companies who want to manufacture their products in Mexico without starting a new business will outsource their production line and leave it in the hands of a third party contract manufacturing company. Contract manufacturers in Mexico are usually IMMEX holders and are held to the standards of the program requirements. This option can be beneficial to companies with a small operation or project that is looking to save money and grow internationally. The challenges that come with contract manufacturing arrive with the sharing of sensitive company data including intellectual property. Another challenge deals with the lack of control over your production line. If slow delivery times, poor product quality, and overall inefficiency occur, the operation could be a financial loss.
Joint Venture Manufacturing
If you don't want to go it alone or leave your operation in the hands of another manufacturer, one option is to start a joint venture partnership in Mexico with another manufacturer. In a joint venture, companies share resources and expertise to maximize efficiency and take control of production management. Joint ventures also have the ability to initiate internal administrative and HR departments, or outsource them to third parties. The advantages of joint ventures comes for companies who build partnerships and expand their network to improve their market value and drive competition. A disadvantage is that a partnership might bring about disagreements and misunderstandings, so contracts and operational functions must be clearly outlined.
Shelter Service Companies
Shelter companies in Mexico let manufacturers take full control of their production line, including using their own equipment, raw materials, and design process while using their own team of operators. The shelter service provides recruitment, payroll, and other administrative functions including import and export management, purchasing, tax and fiscal compliance issues and compliance with environmental regulations. The benefits of working with a shelter service company come with having the ability to focus on your production line while legalities and administrative services are taken care of. Shelter service providers also help with IMMEX certifications. Some of the challenges that come with a shelter service are dealing with cultural differences when hiring your production team, and financing an operation in Mexico.
Manufacturing Communities
One more option is the manufacturing community which includes Class A industrial space within a scalable environment that caters to a specific industry - much like a specialized industrial park in Mexico that utilizes economies of scale. The manufacturing community provides HR, administrative, legal, and trade regulations similar to shelter services. Infrastructure within the manufacturing community provides the real estate, utilities, and facility security that meets environmental and safety policy regulations. Most manufacturing communities have a strategic location in the middle of industry clusters to locate supply chains and to quickly connect to the global market. Operating in manufacturing community comes with many advantages including working in a space that is connected to a variety of valuable resources while maintaining the ability to oversee the production line. The IMMEX certification is also taken care of by the manufacturing community and holds every operation to the program standards. Some of the challenges that might arise are deciding on a location closest to the company's customers and also dealing with high financing rates.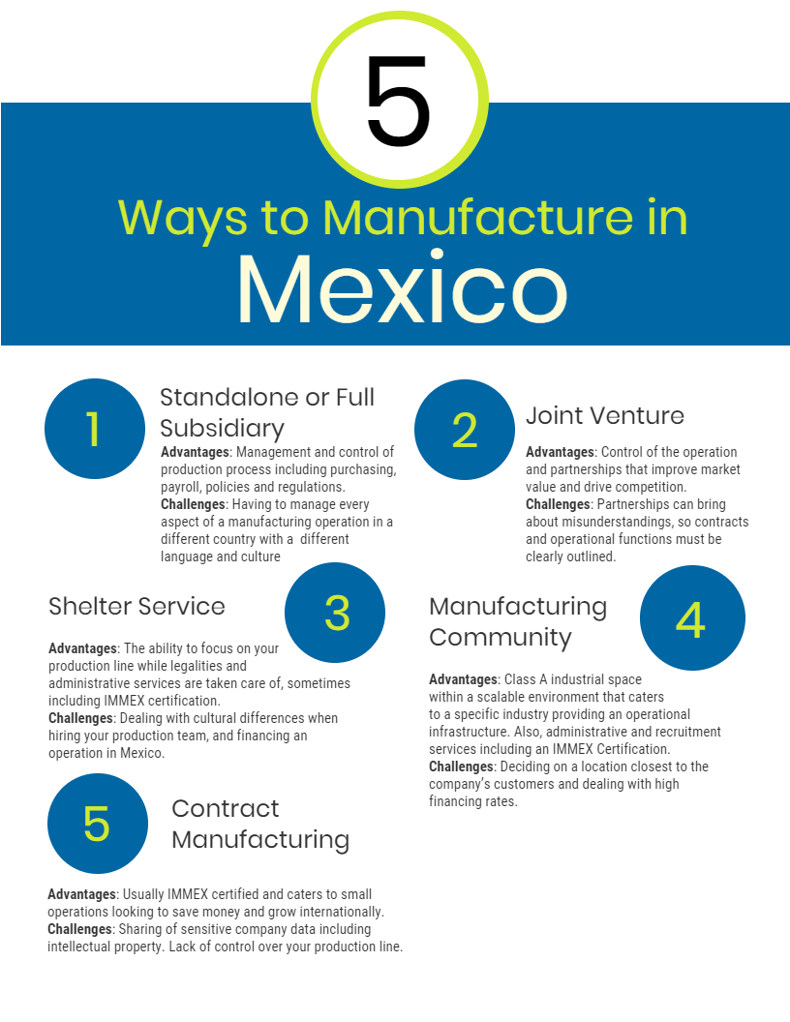 Any one of these options can benefit different types of companies manufacturing in Mexico. The size and scope of the manufacturing operation is a good start to help decide on a mode of entry. Conducting in-depth research on each of these choices will get a company closer to growing their business and maintaining a sustainable manufacturing operation in Mexico.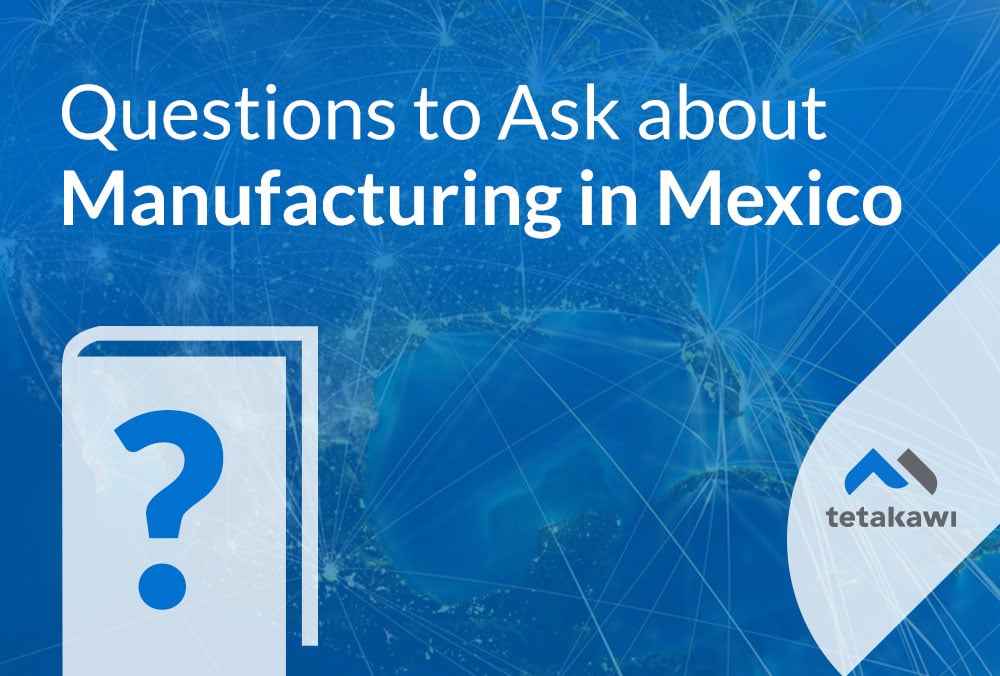 Start your journey into Mexico today!
50+ Questions to ask before expanding into Mexico
Thinking about expanding into Mexico? Step 1 of your due diligence process is answering all of these questions. Over the last 33 years, thousands of companies have used this guide to accelerate their expansion into Mexico.