Mexico's automotive industry has a long history. In the nearly hundred years since Buick launched the first automotive production facility—and now-parent company General Motors became the country's top auto producer—the country has built a robust automotive manufacturing ecosystem. Today, most major OEMs have a presence in Mexico to benefit from the country's numerous competitive advantages.

Are you thinking about expanding into Mexico? Below we provide an overview of Mexico's automotive industry so you can determine how your Tier 1, Tier 2, or Tier 3 company can best position itself to join one of Mexico's automotive clusters.
How big is Mexico's automotive industry?
Back in 2005, when Mexico's National Institute of Statistics and Geography (INEGI) began publishing statistics on the country's vehicle exports, only six large car manufacturers operated in Mexico: Ford, GM, Honda, Nissan, Chrysler, and Volkswagen. By 2011, Fiat (now part of Stellantis) and Toyota had been added to the list. Today, Audi, BAIC Group, BMW, Kia, Hyundai, Mazda, and Mercedes Benz have cars made in Mexico. Combined with the numerous Tier 1, 2, and 3 suppliers that manufacture here, Mexico's automotive industry employs more than one million people nationwide.
With virtually all of the major automotive OEMs now operating in some way in Mexico, the country's automotive sector is more significant than ever. In fact, the automotive sector makes up 20 percent of the country's overall manufacturing GDP. In 2020, cars were the country's largest export at nearly 10 percent of total exports; vehicle parts made up an additional 6.4 percent. That makes for a combined value of $68.7 billion in vehicles and related components and makes Mexico the fifth largest automobile exporter in the world.
Looking into the future, Mexico's automotive industry is poised to grow even larger. OEMs, like Tesla and Foxconn, are considering establishing assembly facilities in Mexico for electronic vehicles (EVs).
Map of Automotive OEM Assembly Plants in Mexico
(Click here to download a map of automotive factories in Mexico)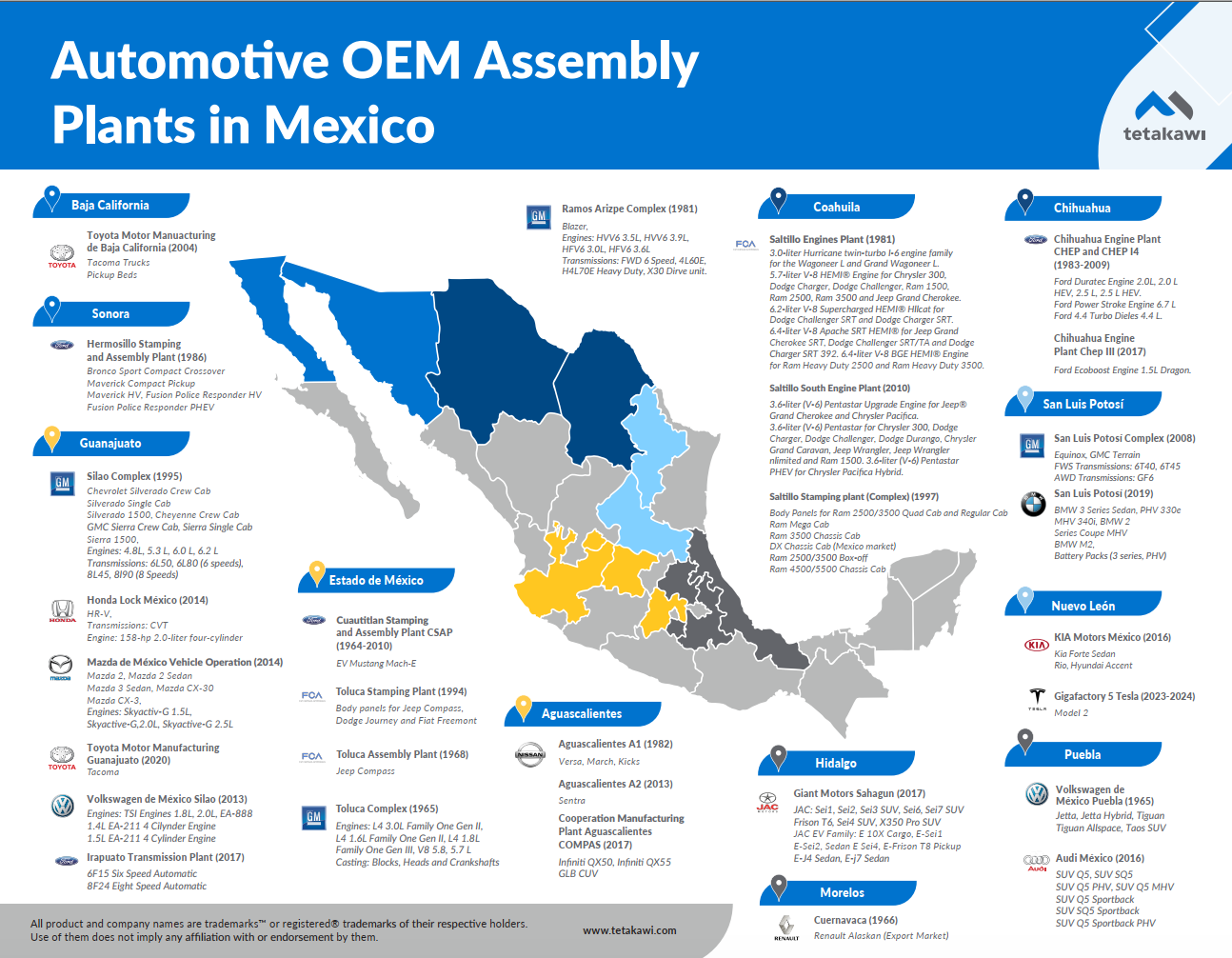 Why are auto manufacturers and their suppliers moving to Mexico?
There are many reasons most of the world's leading automotive OEMs want their cars assembled in Mexico. A few of those reasons include the following:
Labor: Mexico has long been known as a source of highly skilled labor at wages that are highly completive compared to other low-cost manufacturing countries. However, Mexico also offers demographic stability that has become increasingly important to countries experiencing manufacturing labor shortages.
Location. Mexico's proximity to the world's largest vehicle importer (The United States) only adds to its appeal as a manufacturing location.
Free trade incentives. With the USMCA free trade agreement, auto manufacturers that want to import into the United States and benefit from duty-free incentives must have 75% of their auto content made in North America Combined with Mexico's global network of free trade agreements, manufacturers from around the world have an opportunity to reduce their export costs with a factory in Mexico.
Robust supplier network. After more than a century of supporting automotive manufacturing, Mexico has attracted hundreds of Tier 1, 2, and 3 suppliers. Over time, automotive clusters have grown up throughout the country as a way to more effectively support local manufacturers through economies of scale. Additional resources, including automotive manufacturing training institutions, likewise have emerged to strengthen support for this sector.

Where are cars made in Mexico?
The vast majority of the Mexico Automotive Industry is located within one of the many economic clusters spread across the country. These clusters bring together industry supply chains and boost manufacturing efficiency through collaboration. Through the National Automotive Clusters Network, 11 of these industrial clusters share best practices that can be passed onto their regional members. The national network encompasses more than 600 automotive companies in Mexico.
Saltillo is a leading choice for many manufacturers seeking to establish automotive operations in Mexico. Known as the "Detroit of Mexico," Saltillo is located in the state of Coahuila, which shares a border with Texas. It is connected to the U.S. via I-57, to the rest of Mexico through its international railway networks, and to the world through its international airport with customs processing and cargo shipping. General Motors has three divisions in Saltillo, Daimler Chrysler has two plants here, and the KIA plant is located a short drive away in Monterrey, which will also be home to Tesla's newest Gigafactory.
Hermosillo, in the border state of Sonora, is another popular location to have cars made in Mexico. The automotive industry here has deep roots, courtesy of the Ford Stamping and Assembly plant established in 1986. More recently, companies have benefited from comparatively lower costs by locating in the nearby cities of Empalme and Guaymas, which offers the additional benefit of deep-sea port access.
The state of Queretaro is also well known for its strong automotive cluster. In 2020, Queretaro exported more than USD $3 billion in motor vehicle parts and accessories, courtesy of more than 100 local Tier 1 and 200 Tier 2 manufacturers. To encourage additional investment, the state recently became home to Mexico's first automotive industry university, the Center for Innovation and Automotive Development. The center is located within Queretaro Polytechnic University and runs in connection with the automotive supplier Brose.
The Mexico automotive industry continues to evolve
Today, more cars are made in Mexico than ever, and that trend does not seem to be slowing down. Between its availability of labor, duty-free advantages, and speed to the U.S. market, Mexico provides car manufacturers with powerful competitive advantages.
However, one of the biggest advantages of manufacturing in Mexico is that you don't have to go it alone. Tetakawi has more than 35 years of experience helping automotive companies find the right site from which to grow. For assistance in diversifying your global footprint with a location in Mexico, contact Tetakawi today.
Subscribe
Sign up and stay informed with tips, updates, and best practices for manufacturing in Mexico.