Overview of the Automotive Manufacturing Industry in Mexico
Automotive manufacturing has a long history in Mexico. In the nearly hundred years since Buick launched the first automotive production facility—and now-parent company General Motors became the country's top auto producer—the country has built up a strong automotive manufacturing ecosystem. In fact, automotive manufacturing in Mexico is stronger than ever.
Consider, in 2005 when Mexico's National Institute of Statistics and Geography (INEGI) began publishing statistics on the country's vehicle exports, only six large car manufacturers operated here: Ford, GM, Honda, Nissan, Chrysler and Volkswagen. By 2011, Fiat and Toyota had been added the list. Today, Audi, Kia, Mazda and BMW have also opened Mexican production operations.
That big presence in Mexico has made a huge difference. In 2017, cars made up Mexico's largest export at nearly 11 percent of its total exports; vehicle parts made up an additional 6.7 percent. That makes for a combined value of $112 billion in vehicles and related component, and makes Mexico the fourth largest automobile exporter in the world. In 2018, the automotive sector for the first time became the country's largest contributor to manufacturing GDP.
Map of Automotive OEM Assembly Plants in Mexico
(click here to download map of automotive factories in Mexico)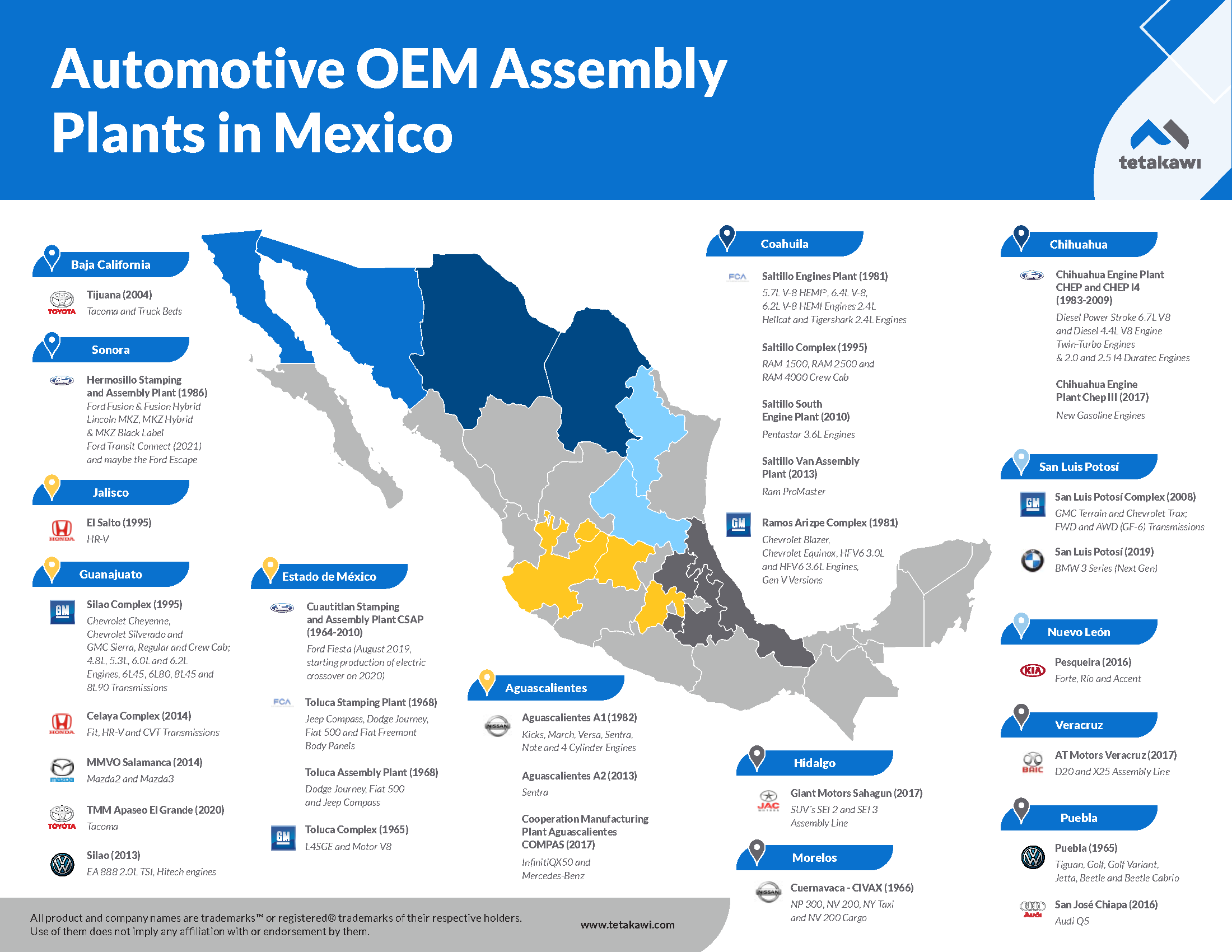 Why do automotive companies Manufacture in Mexico?
In truth, there are many reasons most of the world's leading manufacturers have a presence in Mexico and the country has been touted the "new capital of the automotive industry." It's well-known for its availability of laborers experienced in complex assembly, able to work for cost-effective wages. Its proximity to the world's largest vehicle importer and government incentives add to its appeal as a manufacturing location.
The Center for Automotive Research notes that Mexico's strong network of free trade agreements (FTAs) also make it appealing as a global export base. According to the center's calculations, Mexico's FTAs lead to tariff savings of more than $4,000 per vehicle in exporting a $25,000 vehicle to the EU. The tariff advantage grows proportionally with vehicle value.
Mexico has a strong automotive supply chain
In addition, the country's strong support network of suppliers, built up over a century of supporting automotive manufacturing, ensures the high quality of products made in Mexico. Strong automotive clusters that have grown up throughout the country to simplify the supply chain and better support local manufacturers. Mexico's 30 automotive OEM assembly plants are supported by hundreds of Tier 1, 2 and 3 suppliers.
Most of those suppliers are located within one of the many automotive clusters spread across the country. These clusters bring together industry supply chains, boosting manufacturing efficiency through collaboration. More recently, representatives from nine of these clusters signed an agreement to develop a National Automotive Clusters Network to further bolster their value. The association aims to strengthen the auto industry by sharing best performance practices and ensuring all local players have exposure before relevant purchasers.
Of these clusters, the Saltillo region's automotive cluster is the largest in the country. Strategically situated along the Texas border, its location has proven valuable to manufacturers seeking to shorten U.S. supply chains. With its strong educational foundation, well-connected infrastructure, and longstanding automotive culture, Saltillo is a leading choice for many manufacturers seeking to establish automotive manufacturing in Mexico.
However, the Central Bajio Region has become the heart of manufacturing in Mexico. The states of Guanajuato, Celaya, Queretaro, and Aguascalientes form a manufacturing powerhouse that grew its manufacturing by 47 percent from 2013 through 2018.
The automotive industry in Mexico will continue to grow
Based on its current trajectory, automotive manufacturing in Mexico will continue to increase, particularly as evolutions in global trade add to its appeal. As a case in point, Chinese automaker BAIC announced in 2018 that it would build a plant in Mexico, in part to avoid tariffs imposed by the United States.
While these and other global challenges threatened to rattle faith in Mexico manufacturing in 2019, most automotive manufacturers have doubled down on their investments. For example, Motor City's newest resident is set to open its doors in December 2019. Toyota's $700 million Guanajuato facility opens as the first plant in the world to be built based on the company's New Global Architecture principles. It's a revolutionary model that will reportedly allow Toyota to build more models on shared platforms using common parts to build unforeseen levels of flexibility into manufacturing.
As automakers adapt to shifting consumer demands, innovation, low-cost manufacturing and market proximity will play an increasingly critical role in helping automotive manufacturers stand apart.
In fact, one of the biggest advantages of automotive manufacturing in Mexico is that you don't have to go it alone. For assistance in diversifying your global footprint, contact Tetakawi today.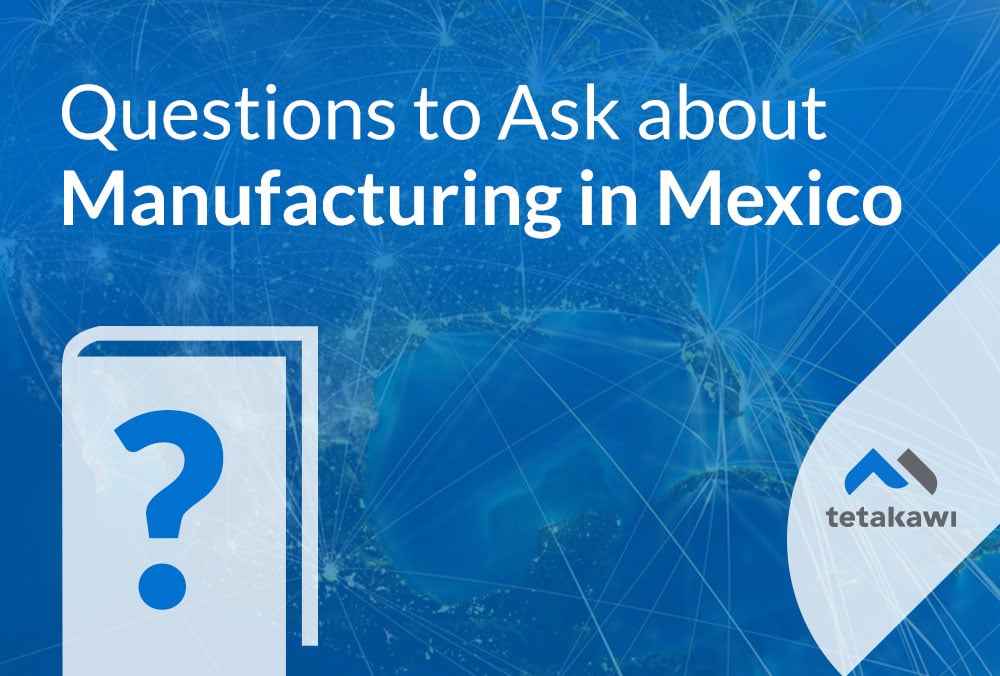 Start your journey into Mexico today!
50+ Questions to ask before expanding into Mexico
Thinking about expanding into Mexico? Step 1 of your due diligence process is answering all of these questions. Over the last 33 years, thousands of companies have used this guide to accelerate their expansion into Mexico.