Four Steps to Successfully Ramp Up A New Operation in Mexico
If you've already made the decision to invest in Mexico, you're likely eager to get underway and start taking advantage of the benefits to be gained from your new facility. But selecting your site is only the first step in this process.
Don't be daunted by the length of the project before you. Instead, consider taking advantage of the benefits of working with a shelter company. Based on decades of experience in helping manufacturers set up operations in Mexico, Tetakawi has found that firms that partner with Mexican shelter companies to initiate and maintain their Mexican operations can ramp up for production within about 90 days.
Shelter companies typically have started up numerous such operations and have in place the people, processes and expertise necessary to ensure that everything happens on time and keep things moving in an orderly fashion. An experienced partner also can help reduce risk.
Manufacturers launching a wholly owned subsidiary in Mexico may have a different experience. It may take somewhat longer to begin manufacturing and shipping product under Mexico's maquiladora program. But understanding the specific phases of operation launch can help these firms to in their planning process.
Let's walk through what to expect in the process of ramping up your new Mexico operations.
Step 1: Facility construction
You've already settled on the ideal region for your manufacturing facility based on your transportation and workforce needs and cost expectations. Now it's time to develop a facility to house your operations.
Depending on your needs, you'll either be constructing a new facility to meet specific requirements or make improvements to a leased property. While new construction can ensure that very specific facility needs are met, it will take longer — on average four to six months. Many manufacturers find that facilities available for lease fit their space needs and can be appropriately fitted out within 30 to 60 days.
No matter the type of facility you ultimately choose, your company will likely be involved in some level of construction. During this phase of the project, you will:
Prepare physical drawings.
Determine IT specifications and requirements.
Solicit and review bids from contractors.
Contract utility services.
Construct or fit-out the industrial building and have it inspected.
Step 2: Hiring and training
As construction gets underway, it's time to start building your future staff. Most companies are looking to fill a combination of positions that include direct labor production workers, engineering staff, quality control personnel and plant management. Outside investors coming into Mexico may find the recruitment process to be perplexing. But with the aid of an experienced partner, the process of staffing the new production plant can be achieved in 30 to 60 days.
Experienced insiders can put together a multi-pronged recruitment plan that takes advantage of the leading methods employees use to find work based on regional preferences. This might include recruitment combinations at job fairs, on social media, in newspaper ads and more. In addition, your staffing consultant should understand the importance of targeting specific neighborhoods. This can increase referrals from family and friends, particularly when partnered with a transportation benefit from your company.
Specific activities required to staff operations will include:
Recruitment of both direct and indirect Mexican labor.
Selection of direct and indirect workers.
Hiring workers selected to work in the production facility.

Training both on and offsite.
Step 3: Build your supply chain
The third piece of this puzzle is forming a supply chain to service your Mexico manufacturing operations. This critical step typically lasts 30 to 90 days.
First, you'll need to source component suppliers for your Mexican operations. As Mexico-based industries have grown significantly in recent years, more component and material suppliers are launching facilities in Mexico to support these industries. However, it is also typical to source materials from the United States. Routine maintenance, repair and operating supplies should be procured in Mexico in order to keep costs low.
Next you'll need to address customs requirements. This includes classifying and valuing raw materials, components and equipment; reviewing rules and requirements for export; and training personnel in Mexican customs rules and regulations. It is also important to research freight and logistics services providers, determine shipping costs, and contract with service providers. Consider building relationships with multiple transportation providers so that you can keep your products moving no matter what unexpected challenges may arise.
Step 4: Production start-up
Once all the previous pieces are in place, it's finally time to start production. Knowledgeable manufacturers know this isn't as simple as turning on equipment and waiting for profits to roll in. With experienced assistance, however, this stage of the Mexican manufacturing project can take place within 60 to 90 days.
During this phase, expect to perform the following:
Install your production plant machinery and equipment based on your predetermined layout. If possible, work closely with the machinery supplier to train operators, prepare for maintenance and understand any troubleshooting that may be required in the future.
Ship materials needed to produce finished goods and prepare inventory space if needed.
Procure maintenance, repair and operating items to be used during production.
Finally, you're ready to start producing the first articles for shipment to your end users.
Speed up the start-up process
Although you may be eager to begin production, it takes careful planning in the early stages to ensure that you have a quality manufacturing process in place and the staffing ready to man it. However, working with an experienced partner is one surefire way to speed up the process. By banking on the insight of a shelter company, manufacturers can clear many of the common hurdles to operation more quickly.
Reach out today to learn how Tetakawi can help your company start manufacturing in Mexico tomorrow.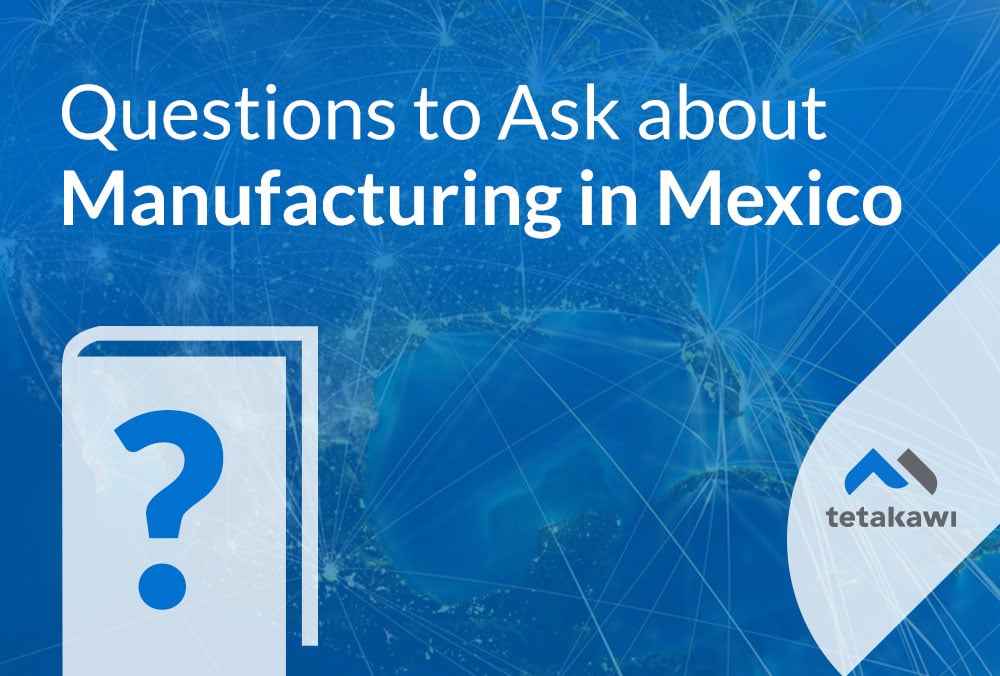 Start your journey into Mexico today!
50+ Questions to ask before expanding into Mexico
Thinking about expanding into Mexico? Step 1 of your due diligence process is answering all of these questions. Over the last 33 years, thousands of companies have used this guide to accelerate their expansion into Mexico.