Nestled in the high desert of Coahuila, Mexico's third-largest state, Saltillo stands as a booming hub for automotive manufacturing in Mexico. Its strategic location, skilled workforce, and well-connected infrastructure make it a top destination for foreign companies aiming to extend their automotive operations.
Below, we delve into how Saltillo's advantageous attributes, such as its connected infrastructure, strong educational base, and well-established automotive culture, make this city a frontrunner for any businesses looking to establish car factories in Mexico.
Saltillo's Role in Mexico's Auto Industry
As of today, Mexico is the world's 4th largest auto parts-producing nation and the primary vehicle exporter to the U.S. Much of this activity is concentrated in Saltillo, Coahuila. Accounting for 27% of Mexico's automotive fabrication, Saltillo is the leader in automotive manufacturing in Mexico. Here, 30% of passenger vehicles and 62% of trucks made in Mexico get their final touches. Simply put, the region is a globally recognized platform for the automotive industry.
Saltillo has been a hot spot for car factories in Mexico for over four decades. Chrysler and General Motors laid their foundations here back in the 1950s, branding the city as "the Detroit of Mexico."
Why Saltillo? Location, Location, Location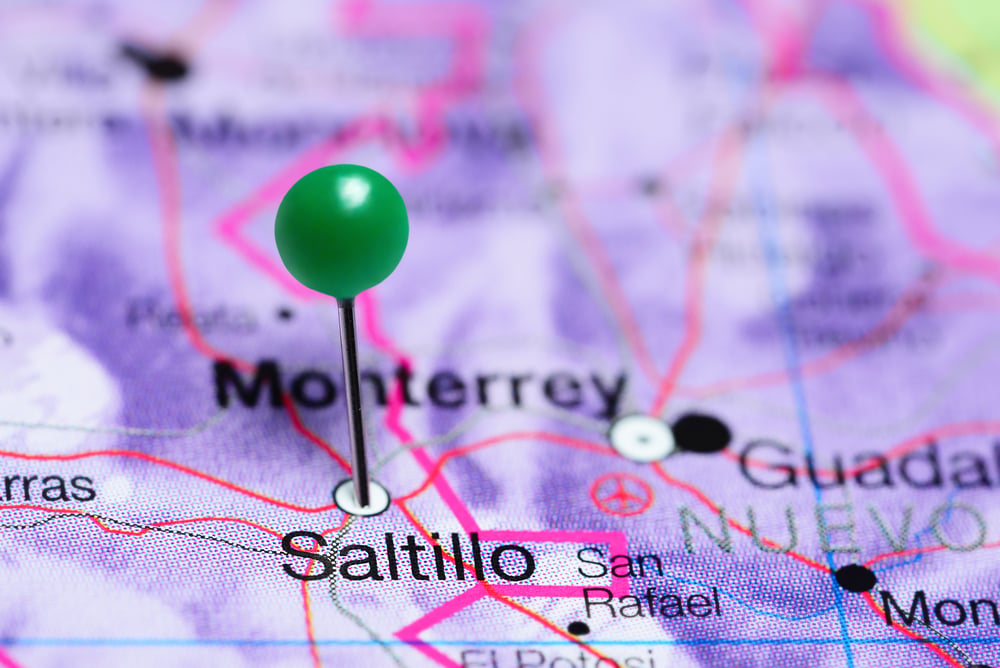 Saltillo is the capital of Mexico's third largest state, Coahuila, which is situated in the country's northeast corridor. Covering an area of over 16,000 miles, Coahuila borders the U.S. state of Texas for 318 miles. It's an extremely valuable location for manufacturers looking to shorten U.S. supply chains.
Saltillo's unique geography offers strategic benefits compared to alternate locations in the region, particularly nearby Monterrey. Perched high in the Zapaliname mountains, Saltillo's elevation reaches 5,200 feet. Despite its location near the Chihuahuan desert, the city's height makes it a cooler and windier locale than other areas of Mexico, with sunny winters and scarce rainfall. This moderate climate means low air conditioning and heating costs year-round – an often-overlooked feature unique to Saltillo that helps reduce the operational bottom line.
Well-Connected Infrastructure, Easy Transport Access
Part of Saltillo's appeal as an auto manufacturing hub is due to its infrastructure. Saltillo is located just 180 miles from the U.S. border, a short 3.5-hour drive from McAllen, Texas, along highway networks I-40 and I-57. Alternately, Saltillo's regional airport, Plan de Guadalupe Saltillo, hosts an international air terminal with customs processing, shipping, cargo, and sanitary inspection services.
In addition, Saltillo is also a mere 50 miles away from Monterrey, the Monterrey International Airport, and the many manufacturers who operate – or, like Tesla, will soon operate – in the metropolitan city. Falcon Premium railway, A new Canada-U.S.-Mexico rail service between Canadian National, Union Pacific, and Ferromex, connects Monterrey to Toronto. In some cases, the rail route improves transit times by 6 to 8 days compared to highway shipments.
Given all of the city's infrastructure conveniences, Saltillo is a great option for automotive manufacturers who want to maintain or increase production without significantly driving up costs.
Incentives that Make Saltillo an Ideal Choice
Location isn't the only advantage Saltillo offers. The local government helps incentivize foreign direct investment that creates strong jobs for the more than 900,000 working in the region. The state government may offer tax abatements and can connect companies with institutions, including the Federal Electricity Commission, Institute of Ecology, National Migration Institute, and local universities, to identify opportunities for partnership and support.
When TitanX announced in April 2023 that it would expand its operations at its plant in Ramos Arizpe, a suburb of Saltillo, plant director Krzysztof Cuber noted that the company chose to continue increasing its presence because at the site because Coahuila is one of the most competitive states in Mexico.
Saltillo's growing research and expansion capabilities also offer cost advantages to automotive assembly plants and OEMs for product development. Major automakers have realized this and continue to flock to Saltillo, creating a robust industry cluster in the area.
OEMs and Automotive Suppliers in Saltillo
Chrysler – now Stellantis – and General Motors have significantly grown their presence in Saltillo over the last 40 years. Today, General Motors has three divisions in Coahuila: motor and transmission assembly, body part stamping, and car assembly. The GM Ramos Arizpe facility produces propulsion systems, as well as the Chevrolet Blazer and Equinox. However, a $1 billion investment in the plant is preparing GM for an all-electric future.
Stellantis has five plants in Saltillo: an engine plant in Ramos Arizpe, as well as a south engine plant, stamping, truck assembly, and van assembly plants. The majority of Dodge Ram trucks and Ram ProMaster vans are assembled in Saltillo. Altogether, Stellantis employs about 6,700 people in the city.
In addition to these household names, there are several Tier 1 supply companies that operate in Saltillo. These include Aptiv, Arnecom, Benteler, Brown Corp., Cooper-Standard, Kay Automotive Graphics, Lear Corporation (which also operates a Lear Corp. division for Ford in the area), and Matcor-Matsu, among others. Additionally, the KIA plant in Monterrey is located a very short distance from Saltillo.
A Sophisticated, Rapidly Growing Workforce for Auto Manufacturing
Because Saltillo's economic base is comprised largely of auto industry firms, the region has invested in developing automotive skill sets. With a robust educational infrastructure, workers and professionals interested in automotive manufacturing have access to over 17 universities, 11 research centers, and 17 technical schools. Their sophistication is reflected in stats on the labor force: Saltillo boasts one of Mexico's highest productivity rates with below-average employee turnover.
At the same time, workers in Saltillo typically cost 25% less than workers in nearby Monterrey, adding yet another cost benefit to automakers in the region. The city is known for establishing and maintaining cooperative relationships with labor unions, and connections with the local business community are solid.
How to Establish Automotive Manufacturing Operations in Saltillo
Given Saltillo's attractive environment for auto manufacturing, it is a popular choice for establishing operations. Tetakawi offers several resources for determining if Saltillo is an ideal location for your business:
Get informed with our helpful infographic on

automotive manufacturing in Mexico

, which covers the industry's three prominent auto regions in the country.
Explore the Tetakawi Zapa Manufacturing Community, which is the quickest and most cost-effective way to manufacture in Saltillo. More than just an industrial park, Zapa offers a turnkey solution and allows aspiring auto companies the opportunity to achieve higher efficiencies and productivity.
Learn more about Saltillo's benefits in our comprehensive ebook, The Benefits of Manufacturing in Saltillo.
Contact us to talk to an expert in automotive manufacturing operations in Saltillo and get your questions answered.
Subscribe
Sign up and stay informed with tips, updates, and best practices for manufacturing in Mexico.